BMW Vision EfficientDynamics Concept on display in Pavilion KL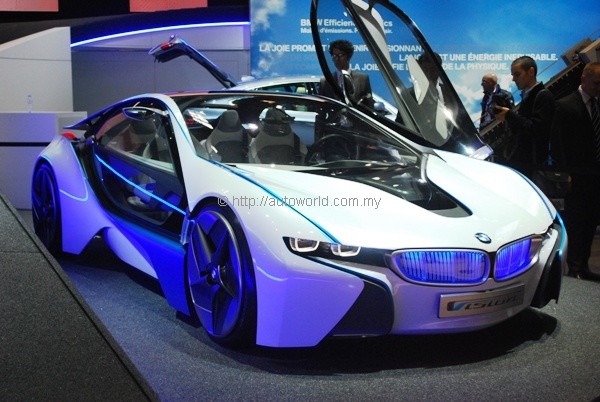 If you happen to be strolling around the Pavilion shopping mall in Kuala Lumpur, one attraction worth checking out would be the BMW Vision EfficientDynamics Concept being parked at Level 3, Couture Pavilion from 18 to 22 January 2012. This display is a follow up on the company's showcase of the ActiveE concept that was displayed at the same location last year.
In the company's own words, the Vision EfficientDynamics concept car is the physical manifestation of the its vision of developing a sustainable, contemporary sports car with an innovative plug-in hybrid concept combined with a modified electric drive system to deliver the performance of a sports car while retaining the fuel consumption and emission levels of a 'green' car.
The plug-in hybrid system powering the car features a three-pot turbodiesel matched to two electric motors resulting in a net output of 356hp and a staggering 800Nm of torque. The result is a century sprint of 4.8 seconds delivered from a powerplant that can also achieve a fuel consumption rate of 3.76 l/100km and emit 99g of CO2 per km.
A precursor to the new BMW i range of electric vehicles, the Vision EfficientDynamics Concept was prominently featured in the most recent Mission: Impossible movie installment, Ghost Protocol, along with a host of BMW vehicles in a well-publicized product placement exercise.
According to Mr. Geoffrey Briscoe, Managing Director of BMW Group Malaysia, this showcase in Pavilion was intended to provide Malaysians with an understanding of the broad technology spectrum for the premium automotive industry the BMW Group is exploring for today and the imminent future which includes Advanced Petrol and Diesel combustion engines, Hybrid Technology as well as Electric and Hydrogen vehicles.
"Moving into 2012, we will continue to expand on our sustainable technology offering here in Malaysia. As modern engines have evolved into intelligent and efficient machines, we also see a need for the legislative infrastructure to change from one that is based solely on engine size to that of efficiency with the reduction in emissions being the main target," said Briscoe.
"It is important for Malaysia to move further up the green technology and sustainability chain, not only in its commitment towards the environment but as a matter of automotive and industrial policy as the future success of the automotive industry will be driven by sustainable products, policies and practises. The Malaysian government's long stated intention of introducing Euro IV specification for fuel for instance is a critical step towards the country's evolution into an actual green technology advocate and it is our hope that greater emphasis will be given towards the alternative engine technologies that are readily available today in the discussion of the second review of the National Automotive Policy scheduled for this year," he added.
In the last three years, BMW Group Malaysia has been actively promoting the environmental benefits of modern diesel technology, offering turbodiesel engines in the 3 Series, 5 Series, 7 Series, X1, X3, and X5. According to Briscoe, diesel models account for 15 – 20% of total BMW sales in Malaysia, an encouraging development indicating the increased receptiveness to a once maligned technology.
"It is vital that while we pursue new alternatives to achieve sustainability in the automotive industry that attention is also given to improve on existing technologies such as Advanced Petrol and Diesel engines which run on the lower sulphur content Euro IV specification fuel, as well as the introduction of incentives for all hybrid technology including those for hybrid vehicles above the 2,000 cc capacity as these engine can prove to be more efficient than their smaller counterparts. This move will provide a holistic support to what remains to be a very young segment of the industry at the moment," said Briscoe.
Briscoe announced that the market can expect to see the imminent arrival of at least two hybrid-powered BMWs, namely the ActiveHybrid3 and ActiveHybrid5, based on the 3 Series and 5 Series sedans respectively. The all-new 3 Series is scheduled for launch in March, and CKD production of the E90 in Kulim has already ceased.
Strong sales is projected for the 5 Series, recently updated with the company's new 2.0-litre N20 engine in the 520i and 528i. The company is heading into 2012 in good spirits, following a record breaking year of sales which saw them sell 5,003 BMW passenger cars, 301 MINI cars, and 300 BMW Motorrad motorcycles, a 24% increase from 2010.