J.D. Power annouces IQS 2011 survey results for Thailand and Indonesia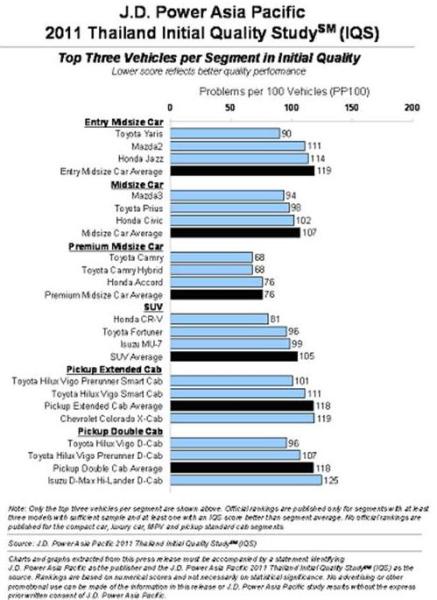 J.D. Power Asia Pacific has released the results of its 2011 Initial Quality Study (IQS) for Thailand and Indonesia today. In both countries, the study examines more than 200 problem symptoms experienced by owners in the first two to six months of ownership covering eight categories, which include vehicle exterior; engine and transmission; driving experience; features, controls and displays; HVAC; seats; vehicle interior; and audio, entertainment and navigation.
Results of the Thai study were formulated based on responses from 4,275 car owners of 64 different vehicle models from 13 different makes. Vehicles were organized into six separate categories, namely Entry Midsize Car, Midsize Car, Premium Midsize Car, SUV, Pick-up Extended Cab, and Pick-up Double Cab. Findings show an overall decline in quality, with the industry average number of defects rising from 106 problems per 100 vehicles (PP100) in 2010 to 113 PP110 this year.
The biggest contributing factor to this decline is attributed to increased incidence of engine and transmission problems, which accounted for 22% of all vehicle problems this year. Engine and transmission-related problems reported most frequently by owners are excessive fuel consumption (particularly among utility vehicle owners), difficulty getting engine into gear (particularly among pickup owners), and abnormal noises.
The Toyota Hilux demonstrates why it is such a popular pick-up in the region, with four of its variants occupying top two spots in both pick-up truck categories and reporting above market average quality. The Toyota Camry enjoys similar success in the Premium Midsize Car segment, with the petrol and hybrid model both beating the Honda Accord. The Toyota Yaris, Mazda3, and Honda CR-V are the other star performers of the study, emerging top in their respective categories.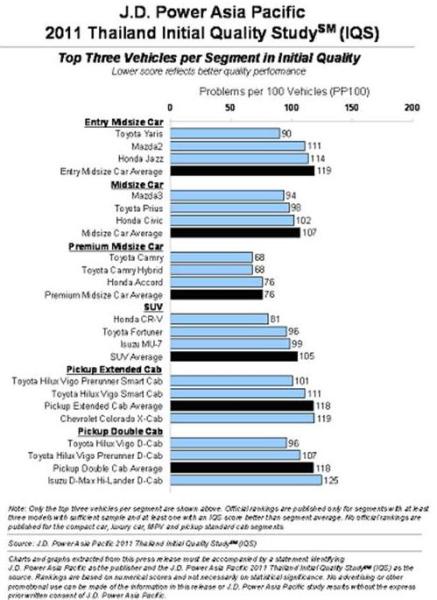 A smaller sample pool was taken in the Indonesia study, with response from 2,890 owners of 45 different vehicle models separated into five categories – Premium Compact Car, Entry SUV, SUV, Entry MPV, MPV. The industry average reported a 6-point improvement to 83 PP100. Problem rates have declined in three of the eight IQS problem categories, particularly engine/ transmission, vehicle exterior and seats. On the other hand, the incidence of reported problems related to HVAC and driving experience has increased slightly from 2010.
Unlike the Toyota-dominated Thai study, results of the Indonesia study sees each vehicle category topped by a different make. The Mazda2 had best quality among Premium Compact Cars, while the Isuzu Panther and Nissan X-Trail topped the Entry SUV and SUV segments respectively. In the crowd of people carriers, we have the Toyota Avanza and Honda Freed named top Entry MPV and MPV respectively.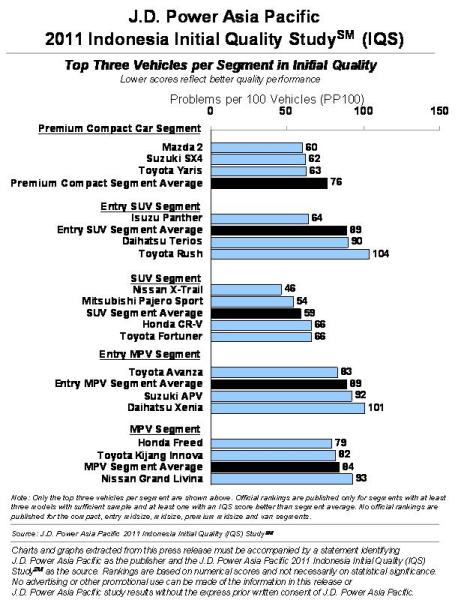 KON
Charts: J.D. Power Asia Pacific
See also:
– Myvi wins again
– J.D. Power: New vehicle quality on the drop
– Japanese Big Three top J.D. Power initial quality survey
– J.D. Power – Significant improvement of new car quality in India