Subaru after-sales receive highest satisfaction in J.D. Power survey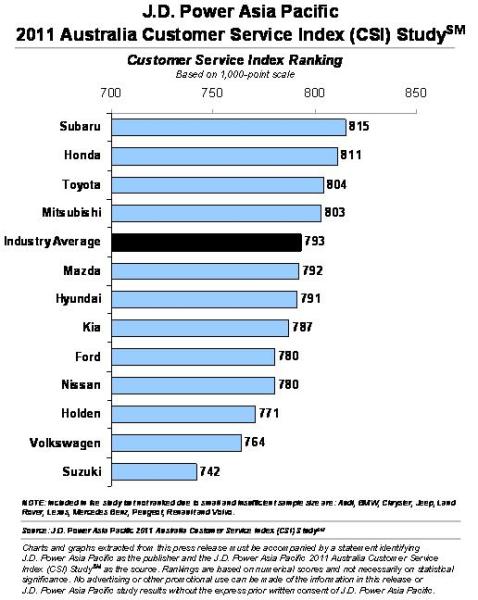 Subaru has emerged top among 12 brands ranked in the J.D. Power Asia Pacific 2011 Australia Customer Service Index (CSI) Study published earlier this week. Against an industry average of 793, Subaru scored 815 in the 1,000-point scale measured based on five factors which are, in order of importance, service quality, vehicle pick-up, service advisor, service initiation, and service facility.
Also performing well were Honda, Toyota, and Mitsubishi, all of whom scored above the industry average with 811, 804, and 803 points respectively. The results were obtained from a two-month study fielded in August and September 2011 involving 4,137 new vehicle owners who purchased their vehicles between August 2006 and August 2011, and then took their vehicles for servicing between August 2010 and August 2011.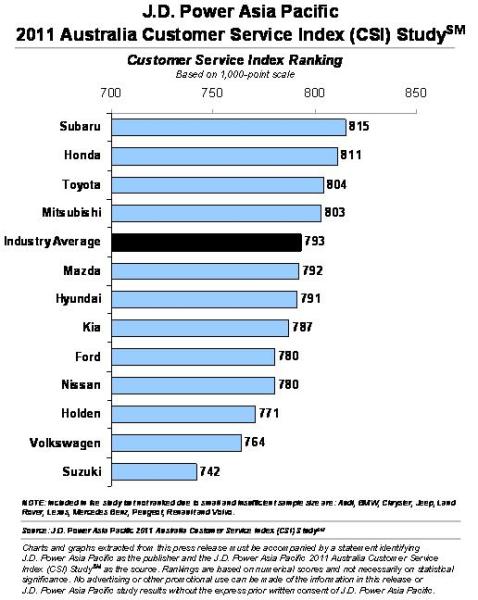 Short service times naturally improve customer satisfaction, and findings from the study show that vehicles returned within three hours average 817 points compared to 776 scored by vehicles that take a longer time. Nevertheless, it was found that 59% of customers had to endure waiting periods in excess of three hours.
"Customers wait an average six hours for their vehicle to be serviced," said Mohit Arora, executive director at J.D. Power Asia Pacific, Singapore.
Arora then added, "Dealers that provide expedient service not only delight their customers, but also benefit from dealership profitability as a result of higher levels of asset utilization."
Handling of service appointments was also found to have a big impact on scores. Dealers who are able to slot their customers in within two days score average 828 points in satisfaction. In contrast, satisfaction was found to decline considerably to an average of 748 among customers who wait eight days or more for their service appointment.
"When customers in Australia call the dealership to make a service appointment, the average wait time to receive service is five days," said Arora.
"Reducing wait times for service appointments not only increases overall satisfaction, but also improves customer retention rates," he added.
KON
Charts: Official J.D. Power release.