BMW calls for end of Open APs and upgrade to Euro 4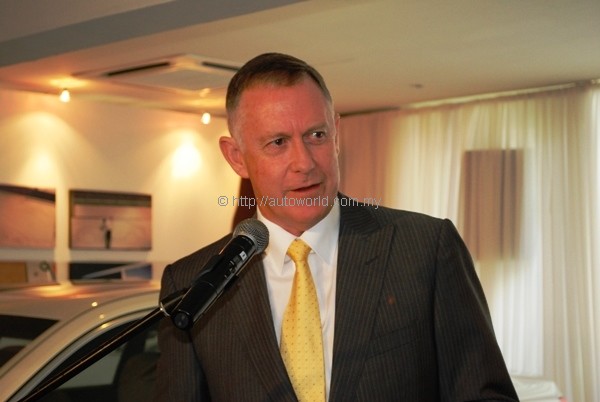 The announcement of Budget 2012 will soon be upon us, and BMW Group Malaysia yesterday released a statement by its Managing Director, Mr Geoffrey Briscoe outlining the company's wishlist for the upcoming Budget regarding its impact on the country's automotive industry.
Briscoe's statement revolves around several long-standing issues of the industry, being focused on the much-maligned Open AP system, fuel standards, and tax exemptions for green vehicles, which he feels should be widened to include electric vehicles and also modern diesel engines, and further extended beyond 2011.
BMW has been actively pushing its latest line of diesel-powered vehicles in our market, and in recent years, their efforts have begun to bear fruit – more than 15% of BMW's total sales volume in Malaysia are from its Advanced Diesel line-up, which includes the 320d, 520d, 730Ld, X1 xDrive20d, X3 xDrive20d, and X5 xDrive30d.
The performance and fuel economy advantages of modern diesel engines are well-documented among the motoring circle, and furthermore, according to Briscoe, "Diesel engines on average emit 25% less carbon dioxide (CO2) than their equivalent petrol counterparts which significantly reduces the amount of harmful emissions being released into our environment."
Briscoe is also complimentary of the Government's decision to gradually implement mandatory use of B5 biodiesel throughout the country. He added, "Now that B5 Biodiesel is readily available in Malaysia, BMW Group Malaysia would like to also see Budget 2011 allocate a concrete roadmap for the upgrading of the existing Euro 2M based fuel specification to Euro 4 fuel specification. The introduction of Euro 4 fuel specification will amplify the positive benefits for vehicles even further."
Commenting further on his call for the tax exemption for green vehicles to not only be extended beyond 2011, but also expanded to include diesel and electric vehicles, Briscoe said that, "The extension on tax exemption for Clean and Green vehicles should also be put into place to develop Malaysia as a regional hub for Advanced and Environmentally Friendly Automotive Technology as Malaysia already has necessary capability and infrastructure to achieve this with Clean Technology alternatives such as Advanced Diesel and Hybrid Technology domestically, while spurring greater economic opportunities for the country throughout ASEAN and beyond."
Briscoe also took the opportunity to comment on the controversial AP system relating to import of motor vehicles into the country. He notes that the decision to abolish the system is a strong step in the right direction, but advocates a gradual phase out rather than an immediate cessation on deadline day. It was announced in late 2009, as part of the National Automotive Policy Review, that the Open AP system will be abolished by 2015 and Franchise APs will be gone by 2020.
"This move will limit the manipulation of vehicle prices and the rampant import of 'gray' models into the country," said Briscoe. Indeed, consumers should be wary before putting their money down on 'gray' imports as the electronic and mechanical systems of those vehicles may not have been acclimatized to local conditions in Malaysia. Factors such as climate and fuel quality vary greatly from country to country, and settings that are right in one region may not work well in another.
"Lastly, BMW Group Malaysia also hopes that the government will continue to utilise a consultative approach with the private sector in implementing any efforts that may have an impact on the automotive industry in Malaysia, from the implementation of green initiatives, the imminent introduction of Euro 4 specification for fuel, the potential gradual revision of fuel subsidies and others so that vital market concerns can be addressed in an efficient and insightful manner," Briscoe concludes.