Hyundai buyers the happiest lot in Vietnam – J.D. Power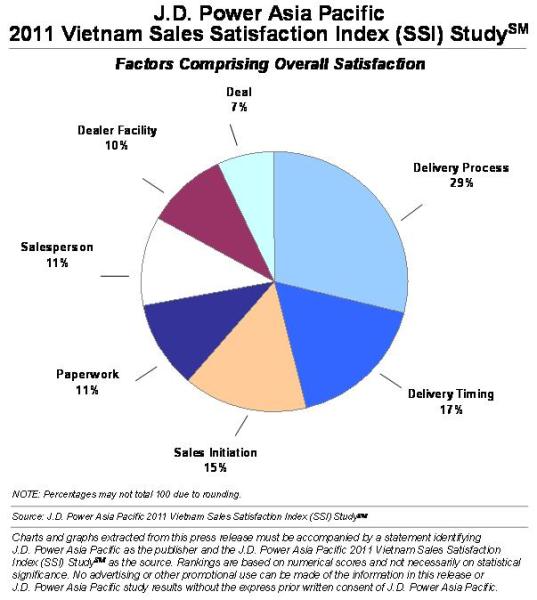 J.D. Power Asia Pacific has released the results of its 2011 Vietnam Sales Satisfaction Index (SSI) Study, and results from its 900 respondents suggest that Hyundai buyers have the highest level of satisfaction with their dealers.
The study, fielded from May to July 2011, took feedback from buyers who purchased their vehicles between October 2010 and July 2011 and evaluated dealerships based on the following seven factors (in order of importance): delivery process; delivery timing; sales initiation; paperwork; salesperson; dealer facility; and deal.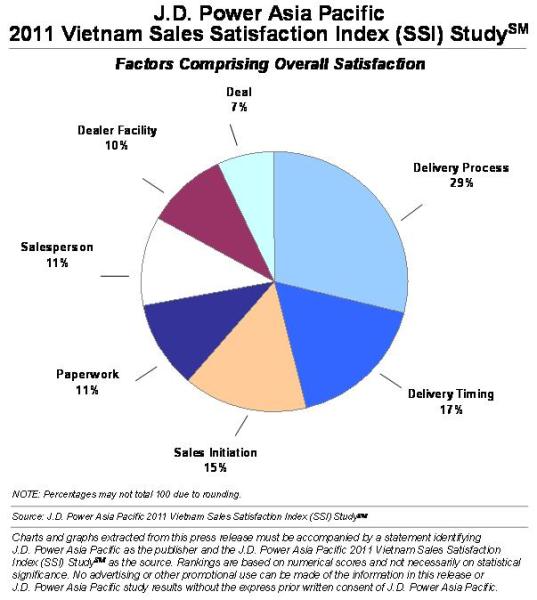 Only six brands were ranked in the study, with top-finisher Hyundai scoring 875 on the 1,000-point scale. Honda and Toyota follow close behind at 869 and 861 respectively, while GM Daewoo was found to be the most improved brand from 2010. Industry average has increased by 20 points from 2010 to an average of 861 in 2011. Improvement in satisfaction were noted in all seven studied factors.
A great correlation was found between delivery time and satisfaction. Customers who received their cars within 10 days gave higher satisfaction points (870 average) compared to those who had to wait longer (835 average). Average delivery time in the industry has nevertheless been shortened from 16 days in 2010 to 10 days this year.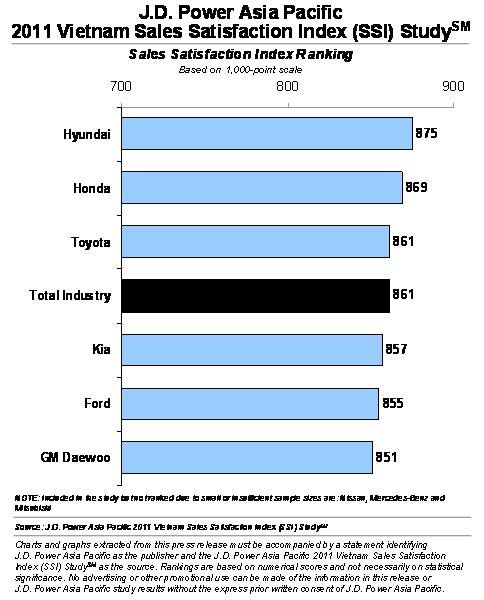 Rajeev Nair, senior manager at J.D. Power Asia Pacific, said, "Dealerships that are able to best manage customer expectations on delivery time through accurate initial estimates and then meet the time promised to the customer benefit from increased customer satisfaction."
Another factor also observed to affect satisfaction levels of customers is the available of test drives by the dealership. The study finds that 67 percent of customers were offered a test drive by the dealership, up from 49 percent in 2010. Satisfaction is higher among customers who are offered a test drive than among those who are not offered a test drive. Rightfully so. Here in Autoworld, we always advocate that you insist on test driving a car before buying.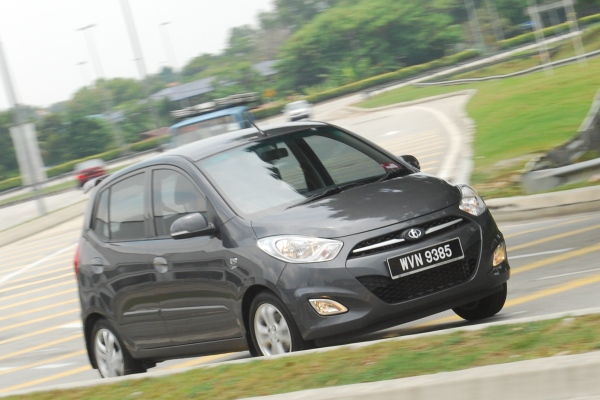 "Test drives are a great opportunity for the salesperson to demonstrate and highlight the benefits of their product to customers, answer any queries that they may have, and help to differentiate their product from those of competitors," Nair said.
Another finding by the survey points to the increasing importance of the Internet in the vehicle purchasing process. Some 70% of Vietnamese new car buyers use the internet to perform their market research. Within this group of buyers who research through the Internet, 70% of them visited at least one other dealer before committing to purchase, compared to 45% among non-Internet users.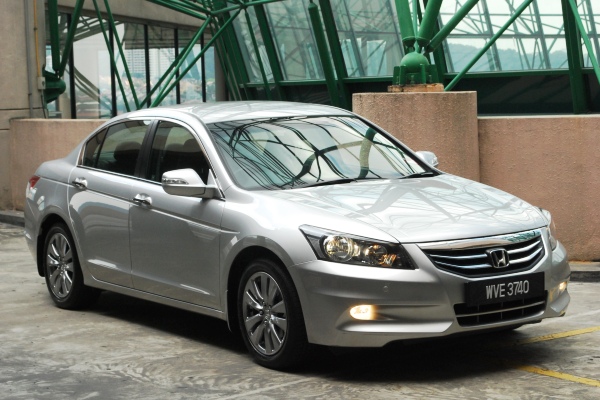 KON
Charts: Official J.D. Power release.
See also:
– J.D. Power Asia Pacific 2010 Malaysia Sales Satisfaction Index (SSI) Study released
– J.D. Power announces sales satisfaction study reports for Thailand & Taiwan
– Nissan tops J.D. Power Sales Satisfaction survey in the Philippines
– Skoda ranks highest in India for sales satisfaction