Chevrolet, Suzuki make huge strides in after-sales satisfaction in the Philippines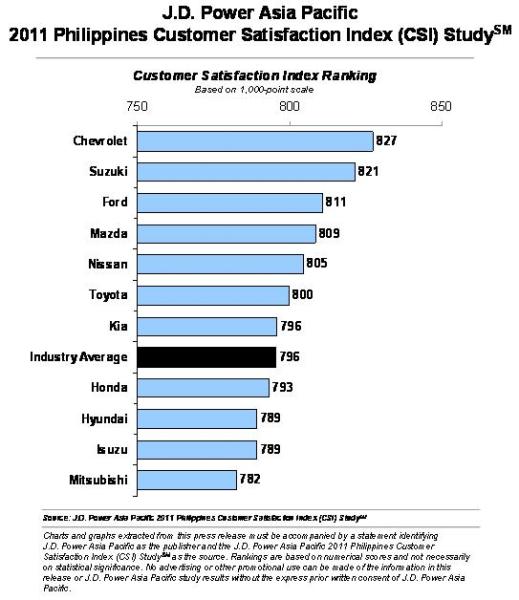 Chevrolet and Suzuki are the most improved brands of the recently released J.D. Power Asia Pacific 2011 Philippines Customer Satisfaction Index (CSI) Study. Both manufacturers improved their 2010 scores by margins in excess of 40 points to take top two spots of the survey's ranking.
Fielded from February to July 2011, the study collected responses from 1,674 new vehicle owners of 60 different models who purchased their vehicles between January 2009 and April 2010, and then sending the vehicles into an authorized service centre between July 2010 and April 2011.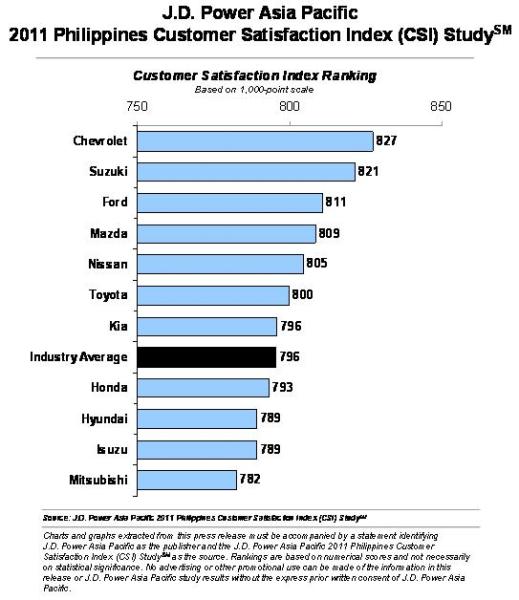 Eleven brands were ranked in the study, and Chevrolet sits top among them with a score of 827 points, followed by Suzuki with 821. Ford finished third with 811. The industry average score was 796 points, and pleasingly, seven out of the 11 ranked brands recorded year-on-year improvements of their scores.
Factors examined in the study, in order of importance are service quality, vehicle pick-up, service initiation, service advisor, and service facility. Nevertheless, dealerships should note an important finding that shows customers who had to wait for a shorter period of time during pick-up average higher satisfaction scores than those who wait longer.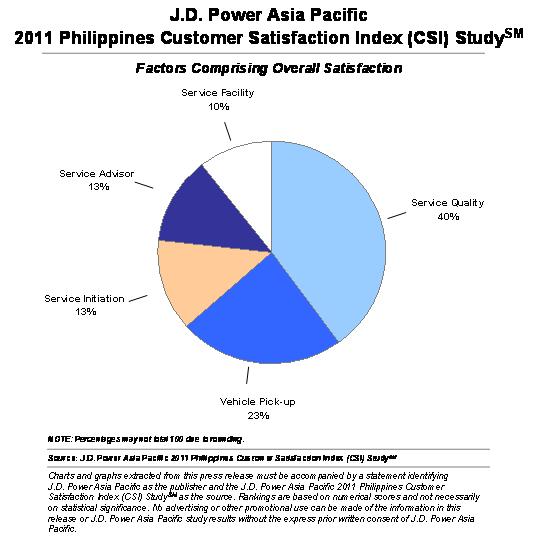 The study finds that more than half (55%) of customers waited longer than 10 minutes at the dealership counter to complete paperwork and pick up their vehicle after service was completed. Just 14 percent of customers waited five minutes or less to pick up their serviced vehicle, and approximately 30 percent of customers waited between six and 10 minutes.
Satisfaction averages 815 among customers who waited five minutes or less when picking up their vehicle. Among customers who waited six to 10 minutes, satisfaction decreases to 808 and further decreases to 783 points among owners who waited beyond 10 minutes. Time for those at the front desk to speed up their work.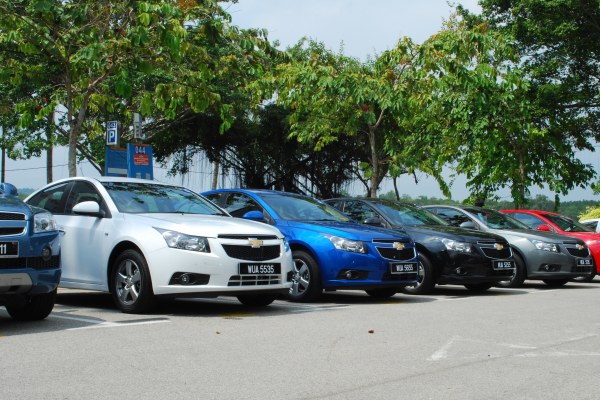 "For new-vehicle owners in Philippines, the amount of wait time required to receive their serviced vehicle punctuates their impressions of the way work is managed at dealerships," said Mohit Arora, executive director at J.D. Power Asia Pacific, Singapore.
It was also confirmed that advocacy and loyalty are closely related to satisfaction levels with the overall service performance of the dealer. Nearly 59 percent of highly satisfied customers (service satisfaction scores averaging above 856) say they "definitely will" return to the same dealership for post-warranty service. In contrast, fewer than one-third (29%) of customers with low satisfaction (scores averaging 745 and lower) say the same.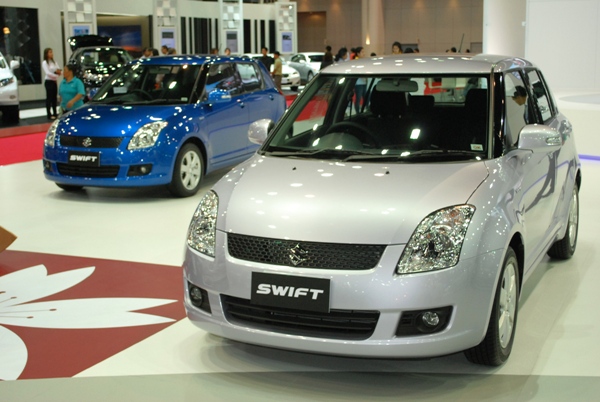 KON
Charts: Official J.D. Power release.
See also:
– J.D. Power Asia Pacific 2010 Malaysia Customer Service Index (CSI) Study results released
– J.D. Power announces after-sales survey results in Thailand and Indonesia
– Lexus tops J.D. Power service satisfaction study in Taiwan for 13th consecutive year