GM opens US$200m diesel plant in Thailand
Thailand may not have its own local brand of vehicles, but it is a universally accepted fact among auto industry observers that Thailand is the undisputed automotive hub of South East Asia. That recent reports have surfaced about Toyota mulling over the possibility of exporting some of its Thai-built vehicles back to Japan shows just how far the Thai auto industry has come.
Despite constant changes to its political climate, auto makers have flocked to Thailand being attracted by the size of its market and also its ability to consistently maintain policies despite regular changes to its government. Over the years, various auto makers have invested huge sums setting up world class plants there, and among the bigger players of the Thai market are General Motors.
Since 1998, GM has pumped in US$1.3 billion worth of investments into the Thai economy, the latest being a US$200 million diesel engine plant that was just opened in Rayong. Spanning an area of 54,275m2, GM's first diesel engine plant in the region is built with an annual capacity of 120,000 engines to cater for Thailand and global consumption. By 2012, this plant is expected to supply some US$94 million worth of engine components into GM's global supply chain.
The first engines that will roll out from the plant will be the all-new Duramax four-cylinder engines, with displacements of 2.5 and 2.8 litres, featuring turbocharging and aluminium cylinder heads. The engines, claimed to meet Euro IV emission standards, have been tested for durability in Africa, Asia, Europe, North America and South America. First to use the new engines will be the upcoming Chevrolet Colorado pick-up to be produced also in Rayong.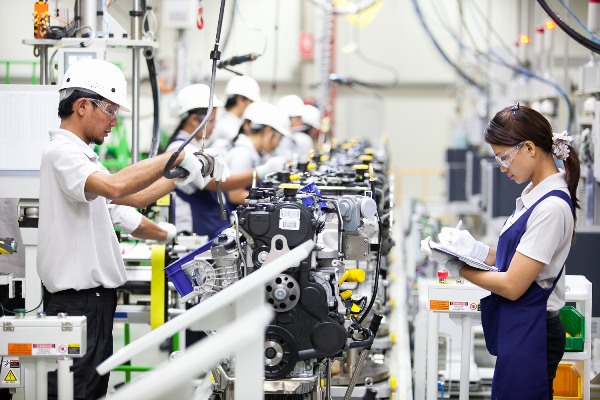 The opening of this new diesel engine plant comes a month after GM announced the reactivation of its Bekasi plant in Indonesia. With an expected capacity of 40,000 vehicles per annum, the Bekasi plant represents a US$150 million investment by GM and jobs for 800 Indonesians.
"GM is committed to growing our footprint and business throughout Thailand and Southeast Asia," said GM Southeast Asia President Martin Apfel.
So, Thailand gets US$200 million, Indonesia gets US$150 million, and Malaysia is once again left out. In all honesty, can we blame GM for overlooking us?
KON
Pictures: Official GM release.

See also:
– Chevrolet Colorado Show Truck unveiled in Bangkok
– GM reactivates its Indonesian plant