Hyundai Grand Starex Royale updated for 2011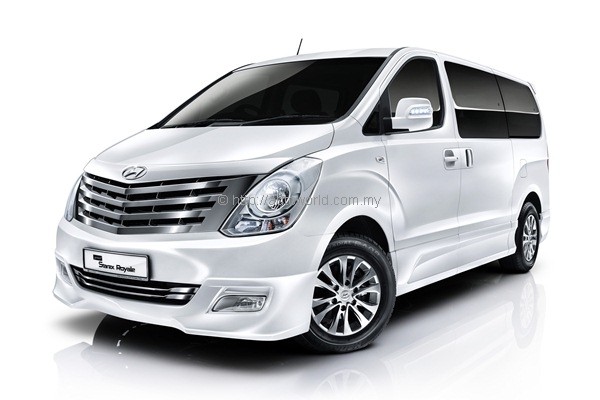 In the market today, few vehicles offer you the same amount of metal for your money than the Hyundai Grand Starex Royale. For less than RM150k with insurance, you get a big spacious MPV with eleven seats powered by a highly potent 2.5-litre diesel engine. To top it off, it is also very pleasant to drive, and it also winner of the Best Large MPV category in our CIMB Autoworld Car of the Year Awards 2010.
If there is one complaint that can be leveled against the Starex, it probably would be the slightly low rent looking plastics used to put to cabin together. Spacious it may be, but the Starex's interior does not carry a premium look. A new updated version, introduced today, seeks to address that issue.
Prices now start at RM153,888 (OTR with Insurance) for the standard 2.5 GLS model, but opting for the premium package bumps it up to RM165,888. One of the most notable items bundled into the premium package would be the power sliding side doors that open and close at the push of a button.
Other updates include a new chromed front grille, LED daytime running lights mounted on the side mirrors, side skirting, new bumpers, and a new spoiler with built-in third brake light. The seats are clad in Nappa leather, and the second row features swivel function to allow for a conference room atmosphere at the back.
For the driver, there is a new instrument cluster featuring a trip computer, and GPS navigation is now standard offering. Electronic Stability Programme (ESP) is also included in the list of equipment.
Outputs from the 2.5-litre Variable Geometry Turbo (VGT) diesel motor are unchanged, so from 2,000 to 2,500rpm, there is 392Nm worth of torque shunted down the prop shaft to the rear wheels. Full power of 168hp, meanwhile, is available at 3,800rpm.
The newly updated Hyundai Grand Starex Royale is available for viewing, booking, and test drive at all Hyundai showrooms nationwide start 28 July 2011. Customers have the option of four colours – Crystal White, Stone Black, Sleek Silver and Carbon Grey. After sales peace of mind is guaranteed with a 5-year / 300,000km warranty.
Pictures: Official Hyundai release.