BMW 528i (F10) – Last of its Generation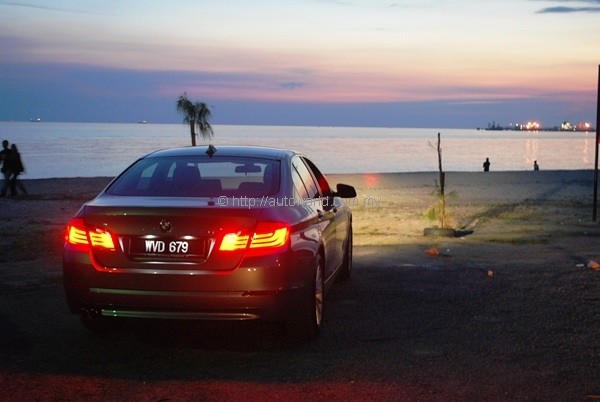 Torque. The latest generation of European engines produce plenty of torque. So much so they become quite intoxicating to drive. Imagine, at just a flick of the throttle, you are propelled forward in rapid yet almost effortless fashion. No lag, but plenty of punch.
The marriage of turbocharging and direct injection has advanced the internal combustion engine's game in Europe by leaps and bounds. It has allowed European manufacturers to deliver high performance from smaller engines, and retain a good balance of fuel economy. What's not to like when you can achieve six-cylinder performance with four-cylinder economy? The sums add up very convincingly.


A case in point is the MINI Cooper S which we reviewed last month. It has a 1.6-litre engine with twin-scroll turbo and direct injection. It goes like a freaking pocket rocket, but its real world fuel consumption is just 9.3 litres/100km, and that was achieved despite a couple of bursts to the double ton. Naturally aspirated Japanese engines of the same capacity can barely match that kind of consumption even with a light foot.
The recent trend of European manufacturers embracing direct injection turbo engines is partially motivated by consumer demand, but the underlying driving force behind this migration is legislation. Since the 1990s, the European Union has been gradually tightening requirements on car makers to continuously drive emissions downwards. That, on its own, is pretty easy, as all you need to do is scale down your engine's power output and emissions will go down accordingly, but let's be frank, will you accept your brand new BMW 5 Series making LESS power than its predecessor?


The car makers obviously didn't think so either, and they have found that turbocharging their engines represent the best way forward to bring emissions down and maintain the performance levels of their cars. Hence, the sprouting of Volkswagen's TSI, Merc's CGI, and Ford's EcoBoost as some of the more prominent examples.
The rise of the turbos will also see the unfortunate demise of highly-strung naturally aspirated engines, which provide a different type of driving pleasure altogether. Rather than hammer you forward in brutal fashion, NA motors deliver their power in a smoother linear fashion. Properly setup and balanced NA engines are quite a joy to rev.


In the last couple of years, we have already seen the Honda Civic Type R canned, along with the last-generation BMW M5's F1-derived 5.0-litre V10 powerplant. Similarly, we see Mercedes-AMG's 6.2-litre V8's days are likely to be numbered, with a new 5.5-litre blown V8 ready to usurp its place. A slightly less-heralded motor, but no less loved, is BMW's award-winning N52 straight-six engine, introduced in 2005.
Available in 2,497cc or 2,996cc displacements, the N52 is built from magnesium and aluminium, giving it incredibly light weight to aid BMW's design goal of always giving its cars 50:50 weight distribution. It features Valvetronic and Double VANOS technology as standard, so it's still a pretty advanced piece of equipment by today's standards. In the 528i test car pictured here, the 3.0-litre N52B30 makes 258hp @ 6,600rpm and 310Nm @ 2,600 – 3,000rpm.

Revs smoothly all the way to 7,000rpm.

But numbers alone do not do justice to this magnificent motor. The smoothness of this engine as you pull the tacho to its red line and the soundtrack that accompanies make for a very satisfying and fulfilling driving experience. And it is still a very fast car, though not in a kick-in-the-pants sort of way. Aided by its smooth-shifting 8-speed auto, acceleration is smooth and seamless – 200kph is very easily accessible if you have a long enough straight to try it.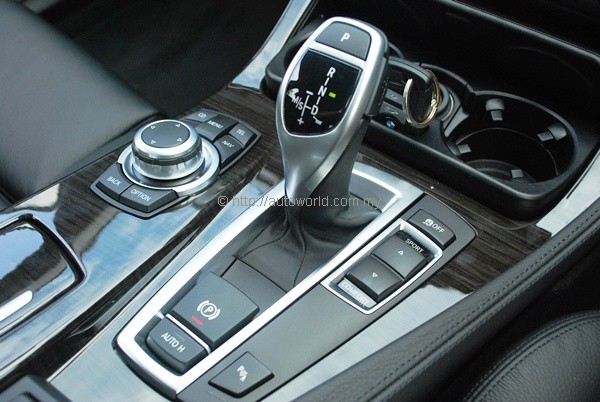 8-speed automatic transmission by ZF.

Sadly though, we are already seeing the writing on the N52's wall, and these writings come from within BMW itself. In fact, BMW has already introduced a successor to the N52 in 2007; the N53 naturally aspirated direct injection engine, which went into facelifted versions of the E60 5 Series and E90 3 Series. An evolution of the N52, BMW only offers the N53 in markets with low sulphur fuel, and Malaysia is not among them.
Recent developments are even more damning for this venerable motor. BMW has just announced the updated international line-up of the F10 5 Series, now with a 2.0-litre twin-scroll turbo four-pot powering the 520i and 528i. The aforementioned 3.0-litre N53 has been moved 'upstairs' to power the re-introduced 530i, while the 523i has been discontinued.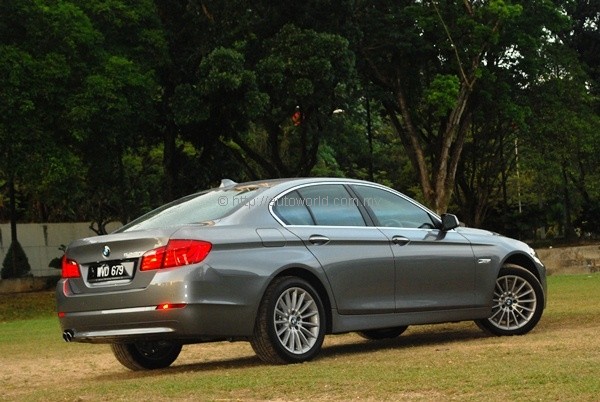 BMW Malaysia no longer sells the 528i in this standard trim. It's M-Sport only from now on.

In the Malaysian market, BMW currently offers the 5 Series with the N52 in 2.5-litre (523i) and 3.0-litre (528i) guises, though we suspect it won't be long before the local line-up is updated to reflect international changes. The 528i as tested here was sold at RM449,800 on-the-road before insurance, but it has now been replaced with the 528i M Sport (still powered by the N52) sold at exactly the same price.
For many years, BMW has prided itself for legendary smoothness of its naturally aspirated straight six engines. Realities of the world are bringing that chapter to an end within the next few years. When the curtains finally come down on the N52, it would be a very unfortunate development indeed.