Thirteen entries in Perodua Eco-Challenge 2011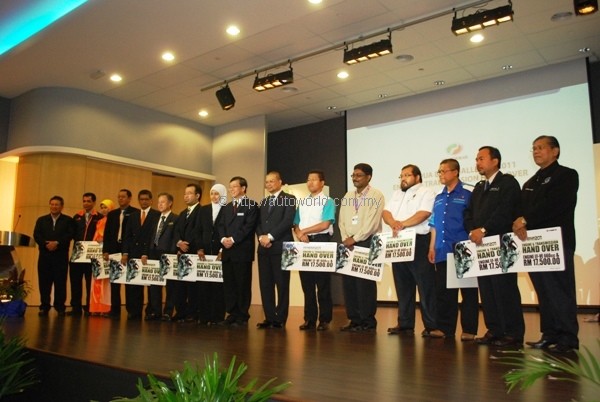 Perodua's increasingly prominent Eco-Challenge competition has been renewed for a third installment this year, with thirteen institutions selected for participation. Out of 27 private and public institutes of higher learning invited to submit proposals for this year's event, Perodua received responses from 23.
As before, participating universities have five months to prepare a car that can go the furthest distance on precisely 1 litre of petrol. The difference this time, however, is that Perodua is giving only an engine and transmission rather than a whole car as they did in previous iterations. Each of the participating institutes received a unit of the 659cc EF-VE engine mated to a manual transmission.
This change in parameters has no doubt increased the overall difficulty level of the challenge, but Perodua has also resolved to help out in other ways. The development grant given to each uni has been raised from RM10,000 to RM17,500, and the handover period has been brought forward by a month, giving the teams that much additional time to prepare. Perodua's allocation for this programme adds up to RM1.2 million for 2011.
Currently featured in the Perodua Viva 660BX and 660EX, the three-cylinder EF-VE features 12 valves, twin camshafts, and DVVT. In the Viva, it makes 47hp @ 7,200rpm and 58Nm @ 4,400rpm. If lessons from the previous years were any indication, we expect more than a few participants to de-tune the engine way below those modest figures.
One potentially major stumbling block for the participating institutions will be the task of designing and building the car's body and framework. Although the finished product will not be pushed in a rigourous manner, there remains the need for a sturdy framework to underpin the car. This is first and foremost a safety concern, and Perodua engineers will make their expertise available to guide the students in building a sufficiently solid chassis for the competition.
"The Perodua Eco-Challenge is very unique because it not only promotes innovativeness and creativity from its participants but also underscore the importance of conservation by coming with practical means to meet with the growing energy crisis," Perodua Managing Director, Datuk Aminar Rashid Salleh said.
Tentatively, the race day will take place once again at the Melaka International Motorsports Circuit on 25 June 2011. Participation in this programme represents an excellent opportunity for students to hone not only their engineering skills and knowledge, but also various other soft skills such as teamwork, leadership, negotiation skills, and responsibility.
"A total of RM77,000 has been allocated for prizes at this year's Eco-Challenge with the longest distance winners taking home RM20,000. As this year's challenge is more on engineering, the winners of this category will be taking home RM15,000; RM5,000 more prize money than last year!" he said.
Participating institutions for the Perodua Eco-Challenge 2011 are as follows:
– Universiti Teknologi Malaysia
– Universiti Kuala Lumpur
– Politeknik Sultan Azlan Shah
– Universiti Malaysia Pahang
– Universiti Sains Malaysia
– Universiti Teknologi MARA
– Universiti Teknologi Petronas
– Universiti Tenaga Nasional
– Universiti Industri Selangor
– Politeknik Engku Omar
– Politeknik Port Dickson
– Universiti Kebangsaan Malaysia
– Universiti Teknikal Malaysia Melaka