Toyota Introduces New Avanza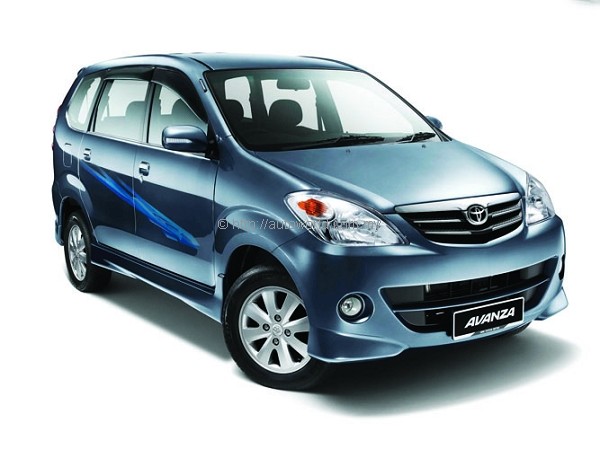 Since its introduction in September 2004, the Toyota Avanza has been an extremely popular MPV among Malaysians with its affordable price, spaciousness and of course, the renowned Toyota quality. Over 130,000 units (as of Oct. 2010) have been sold nationwide, a large proportion to customers with families.
With kaizen (constant improvement) philosophy as an integral part of Toyota's business practices, feedback from Avanza customers has been constantly studied to form the basis of making the product even better.
The new Toyota Avanza launched today continues to be available in four grades with the following prices in Peninsular Malaysia:
Toyota Avanza 1.5 S Automatic – RM77,490
Toyota Avanza 1.5 G Automatic – RM74,990
Toyota Avanza 1.5 E Automatic – RM69,990
Toyota Avanza 1.3 E Manual – RM62,000
Exterior Colour
With this latest update, the model is also available with a new colour choice – Grey Metallic – besides four other choices, namely:
Dazzling Silver
Black Mica
White
Light Green Metallic
Exterior Design
The overall appearance of the Avanza is unchanged but for the optional Aerokit, there is a new 2-tone design which gives a more sporty appearance with a restyled front bumper extension. Available for the Avanza 1.5 G AT, 1.5 E AT and 1.3 E MT, the Aerokit has been custom-designed for the model.
New body stripes along the side of the vehicle also identify the latest range. The Avanza 1.5 S AT has its own sporty design while the Avanza 1.5 G AT, 1.5 E AT and 1.3 E MT have a more updated designs.
Interior
Spaciousness has been one of the strong points of this Toyota MPV and while there are no major changes to the interior, it now has a dark colour theme. This change is in response to feedback from customers and will prove to also be easier to maintain (less visible dirt stains). Besides the change in colour for the upholstery, other fitments around the cabin such as the carpet mats, bag hook and centre console box have also been changed to a black colour for coordination with the dark interior theme.
The functional layout of the dashboard is retained and with amber-coloured illumination reduces glare for less distraction to the driver. As before, variants with automatic transmission have gear position indicator lights displayed between the speedometer and tachometer. A separate clock is provided on the centre console.
Comfort & Convenience
Being an MPV, versatility is expected of this vehicle and the Avanza certainly provides it. The three rows of seats accommodate up to seven people and depending on needs, the second and third row can be folded flat to increase cargo volume and carry long items. The second row also has a split-fold feature where half the seat can be folded, making movement to the third row easier. For more storage space, the third row can be double folded.
With seven people aboard, storage space is going to be much needed for everyone – especially in these times when most people carry handphones and children will want drinks on long journeys. Toyota's interior designers have thoughtfully provided many storage spaces around the cabin with bottle holders within reach of all passengers.
Long or short journeys will be a pleasure in the Avanza because every effort has gone into providing a comfortable atmosphere. Cool air reaches further back, thanks to the ceiling-mounted second blower which complements the dashboard blower. A new 2-DIN audio head unit (only for versions with the 1.5-litre engine) has been fitted and besides playing conventional CDs, it is also compatible with MP3 and WMA formats. USB thumbdrives and portable music players can also be interfaced with the unit as it has USB and AUX connection points.
Performance
Both the 1.3-litre and 1.5-litre engines of the Avanza feature VVT-i – Toyota's Variable Valve Timing with intelligence mechanism. The system provides the optimum air and fuel mixture for any driving condition, varying the timing of the valves within thousandths of a second. Both engines have dual overhead camshafts (DOHC) and four valves per cylinder. The 1.5L engine delivers up to 109 ps of power at 6,000 rpm and peak torque of 141 Nm is available at 4,400 rpm, whereas, the 1.3L engine delivers 92 ps at 6,000 rpm and peak torque of 120 Nm at 4,400 rpm.
Transmission
The Avanza 1.3 E is available only with a 5-speed manual transmission and the Avanza 1.5 versions are available only with a 4-speed automatic transmission. For added convenience, there is now a release button for the Shift Lock of the automatic transmission. Depressing this allows movement of the shift lever out of the PARK position without having to step on the brake pedal, in the event of engine fails to operate due to insufficient fuel or an accident.
Suspension
To provide ride quality and handling comparable to a passenger car, the Avanza has independent MacPherson front suspension and a 4-link live axle at the rear with coil springs. The use of a live axle at the rear is advantageous for a vehicle like the Avanza which can carry heavier loads, especially at the rear end. Barrel-shaped coil springs help to lower the centre of gravity for stability while moderating bounce but not sacrificing the suspension stroke for comfort.
Tyres & Rims
Avanza versions with automatic transmission have alloy rims while the Avanza 1.3E with manual transmission has sturdy steel rims. For the 1.3-litre variant, the wheel diameter is 14" and 185/70 tyres are fitted while the Avanza 1.5G AT and 1.5S AT gets 15" wheels with lower profile 185/65 tyres. The tyres fitted as original equipment have been tested extensively in local conditions to ensure suitability for the model.
Safety
Though an entry-level model, the Avanza offers a high level of Passive Safety, especially with respect to collision impacts. This is because its design is GOA-certified, 'GOA' being Toyota's tough in-house crash standards referred to as 'Global Outstanding Assessment'. All new Toyota models must pass meet these standards before they are allowed for sale. With a GOA bodyshell, impact energy is dissipated throughout the structure so as to minimize its dangerous effects on the occupants.
All seven occupants of the Avanza get seatbelts to ensure that they are restrained in the event of an accident or even during emergency braking. Both the front occupants of the Avanza 1.5S AT and 1.5 G AT also have additional protection from SRS (Supplementary Restraint System) airbags which will inflate immediately when the vehicle is involved in a frontal collision. However, the parameters for inflation are dependent on the speed and forces experienced and also the within a certain angle of the front of the vehicle.
Active Safety, which helps a driver avoid accidents, is also well provided in the Avanza. The power-assisted hydraulic brake system has fade-free ventilated front disc brakes and large rear drums brakes. For the Avanza 1.5S AT and 1.5 G AT, anti-lock capability (ABS) and Electronic Brake-force Distribution (EBD) are standard equipment.
Other Active Safety features of the Avanza include foglamps and a third brake light positioned at roof level where it is more visible to drivers behind, thereby reducing the chance of collisions from behind. Parents will be happy to know that the Avanza has childproof locking systems on the rear side doors. With the simply flip of a switch in the door, opening from inside is prevented so children cannot accidentally open the door while the vehicle is moving.
Security
The Avanza is equipped with a comprehensive security system that consists of an engine immobiliser, cabin sensor and siren with a back-up battery. The doors also lock automatically after a certain speed has been exceeded, providing both convenience as well as added security for the occupants.
The new Avanza comes with a 36-month/100,000 kms (whichever occurs earlier after first registration) warranty, subject to conditions stated in the Owner's Handbook.