Mitsubishi ASX compact crossover launched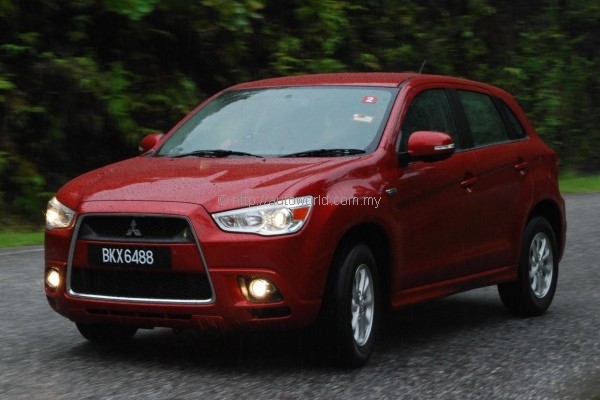 After starting to take in bookings nearly a month ago, Mitsubishi Motors Malaysia has finally launched the ASX compact crossover today. Fully imported from Japan, the ASX is offered with the option of only one variant – a 2.0-litre CVT model with front-wheel drive.
Pricing is best described as attractive. Including insurance, the ASX can be on your driveway for RM139,980 in Peninsula Malaysia. This puts it squarely in the territory of the Peugeot 3008 (RM143,888) and Hyundai Tucson 2.0 (RM129,888 & RM139,888), both of which are similarly front-wheel driven. (Comparison below)


We don't expect it to cause problems for the Honda CR-V and Nissan X-Trail, but that's down to a lack of size rather than lack of ability. We had an opportunity to put the ASX through its paces around the roads of Langkawi last week, and found that Mitsubishi's foray into the compact crossover segment to be a commendable one.
Omission of all-wheel drive is a notable disappointment, and you are painfully reminded of that by a round-shaped cubby hole sitting where a 4WD mode selector would usually reside. Nevertheless, a lengthy equipment list goes someway to make up for that deficit. There's Active Stability Control, ABS, EBD, Hill Start Assist, dual airbags plus driver knee airbag, immobilizer, leather seats, auto climate control, and a reverse camera.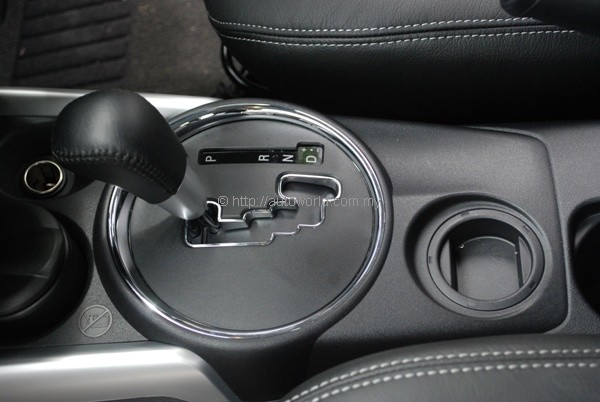 Cubby hole behind gear selector screams 'No AWD!!

Up front is something already familiar to us, and is about to get even more familiar over the next couple of years. The 1,998cc 4B11 engine and its partner, the INVECS-III CVT, needs no introduction. It powers the Lancer sedan and will also power the Proton Inspira. In fact, the aforementioned Hyundai Tucson's Theta-II engine is a distant relative of the 4B11, sharing the same block design.
Outputs are slightly reduced from the Lancer. From 153hp and 199Nm, Mitsubishi has scaled down the ASX's power and torque outputs slightly to 148hp and 197Nm, produced at 6,000 and 4,200rpm respectively. No big loss there actually, what's available was more than enough to keep the ASX going at a decent pace, even if this powertrain setup isn't the last word around for refinement.
That decent pace is not restricted to straight roads either. Even though traction is only supplied to the front, there is still plenty of grip for you to lean on during hard cornering. Pushing the ASX around was more fun than we actually expected, and the whole driving experience was a pleasant surprise.
The ASX's compact dimensions makes it a particularly nippy drive, but when we examine its interior, it reveals some of the packaging headaches that must have went through the minds of Mitsubishi's engineers when they put this car together. While the cabin is generally well put together, we found space to be at quite a premium in there. A load of four people will fit just nicely in there, but they will be well-advised to travel light.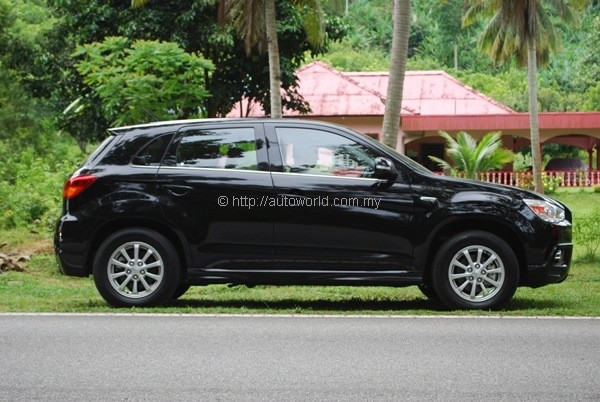 Compact dimensions make it an excellent urban dweller.

Compared to its rivals, the ASX has a rather high luggage area floor, which severely diminishes cargo volume. You get 442 litres of luggage space with the seats up, which works out to be less than even the little Mazda2 sedan. Lift up the removable floor, however, and you'll understand why – there is a full-sized 215/65 R16 spare tyre residing underneath.
Bear in mind that the ASX has a very short rear overhang, which creates quite a packaging constraint. In that limited space, Mitsubishi has to squeeze in a full-sized spare, the exhaust muffler, and multi-link suspension. Bear in mind also, that in markets where applicable, that space also has to house the rear drive-shaft for AWD models. Also in there somewhere, but sitting a little further in front, is a 63 litre fuel tank.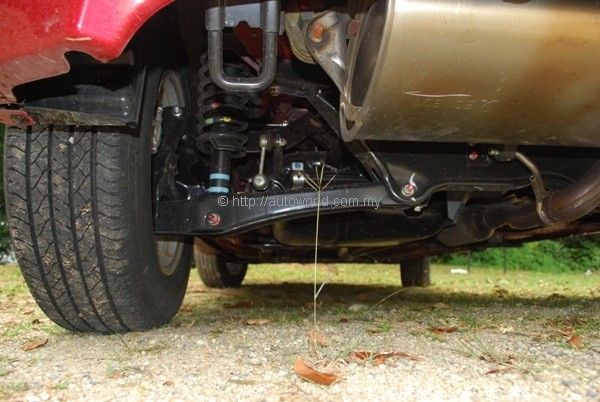 Multi-Link rear suspension

Things like space-saver spare tyres and torsion beam rear suspension will liberate more space at the back for the ASX, but considering my lengthy track record in bashing these items, I'll keep my mouth shut this time and live with the reduced luggage space. My passengers will just have to make do with fewer bags.
That aside, there is little about the ASX that we don't like. We are still hoping that an AWD variant will eventually make its way here, but if you don't mind living with front-wheel drive on a crossover SUV, the ASX is certainly worth your consideration.
To give you an added incentive, Mitsubishi will offer a 2-year Free Maintenance package which sits on top of a 3-year / 100,000km warranty. The maintenance package covers costs of wear & tear parts as well as labour. There is also an optional accessories package consisting of 13 items to deck up your ASX for RM6,490. MMM will display units of the ASX for customer viewing at Centre Court, Mid Valley on 10-14 November 2010.


During our visit to Langkawi with MMM, we also had a chance to try out the Lancer Sportback 2.4. Stay tuned for our test drive report on that one.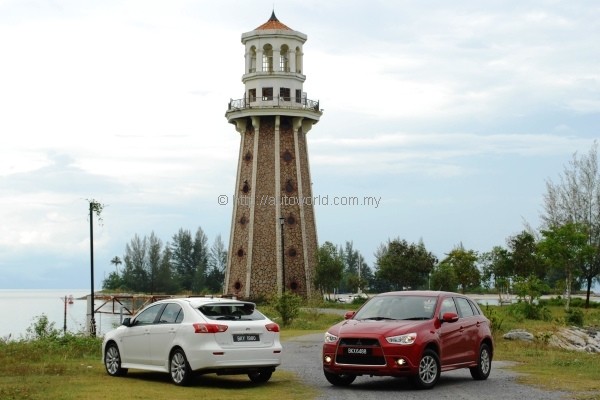 We also reviewed the Lancer Sportback in Langkawi. Stay tuned for our story.