Toyota Corolla Altis facelift officially launched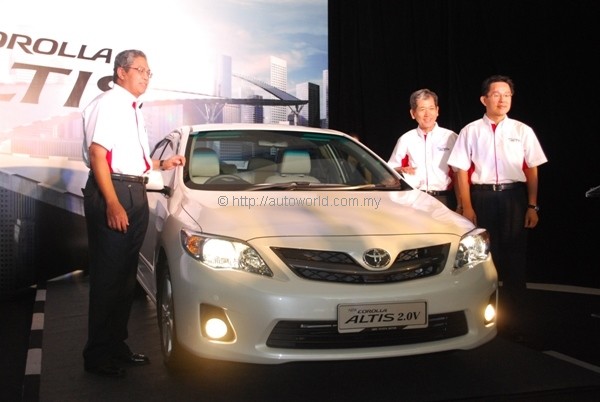 After inviting members of the media for a preview drive at the Sepang International Circuit earlier this month, UMW Toyota Motors (UMWT) has officially launched the facelifted Toyota Corolla Altis for the Malaysian market today. As before, the Corolla Altis arrives at our shores fully built-up in Thailand.
Commenting on the new Corolla Altis, Mr, Kuah Kock Heng, President of UMWT said, "UMW Toyota Motors expects to sell 800 units of the new Corolla Altis per month. As of today, we have received more than 300 bookings from customers."
"Since the launch of the 10th generation Corolla Altis to the Malaysian market in 2008 until August 2010, we have placed over 14,500 Altis on the road. We intend to continue to make it a popular choice of vehicle," said Mr. Kuah.
The highlight of this facelift is undoubtedly the long-overdue addition of a 2.0-litre variant to line-up alongside the 1.6 and 1.8-litre models. Unusually for a facelift, the 1.6 and 1.8-litre models also received engine and transmission upgrades, with the ZZ series engines carried over from the AE120 generation Altis removed and replaced with the all-new ZR series engines with Dual VVT-i.
The base model 1.6E uses the 1,598cc 1ZR-FE motor which produces 121hp @ 6,000rpm. Its peak torque of 154Nm is on par with rival 1.6-litre motors, but arrives at a notably high 5,200rpm, somewhat reminiscent of the old 4A-GE engine which made 148Nm @ 5,800 rpm in one of its most powerful states of tune.
Moving up, the 1.8E and 1.8G models, which from early indications look set to form the bulk of sales, are powered by the 1,798cc 2ZR-FE which makes 138hp @ 6,400rpm and 173Nm @ 4,000rpm. Topping the range is the 3ZR-FE powering the flagship 2.0V model. Displacing 1,987cc, this engine gets 5hp and 14Nm more than the 1.8, producing 143hp @ 6,200rpm and 187Nm @ 3,600rpm.
Transmission options have also received a much welcomed improvement. While the 1.6 soldiers on with a 4-speed auto gearbox, the 1.8 and 2.0-litre models get Toyota's new Super CVT-i (Continuously Variable Transmission with intelligence). Toyota has programmed the transmission with seven virtual ratios for manual selection should the driver decides to indulge in some sportier driving. The 2.0V even throws in paddle shifters for good measure.
Equipment-wise, the facelifted Corolla Altis comes standard with front fog lamps, LED tail lights, side-mirror mounted blinkers, trip computer, ABS, EBD, BA, dual airbags, front and rear parking sensors. The 1.8G and 2.0V gets Optitron meters, 8-way power adjusting driver's seat, and VSC among others.
Official prices of the facelifted Toyota Corolla Altis in various parts of the country are as follows:


The new Corolla Altis will be available for viewing at all Peninsula-based Toyota showrooms beginning tomorrow 24 September 2010. East Malaysia showrooms, meanwhile, will start displaying the car from 1 October 2010 onwards. Demo cars will be available for test drive, and will comprise primarily of 2.0V units.
Currently, the 1.8-litre variants form the bulk of orders. Customers looking to place a booking now will have to contend with a waiting period in the region of a month before getting their cars.
We are in the midst of scheduling official test cars from UMW Toyota Motor for a comprehensive review of the new Altis. Until then, follow the link below for drive impressions from editor YS Khong during a media test drive around the Sepang Circuit earlier this month.