Petronas Mofaz Racing clinch podium at Guangdong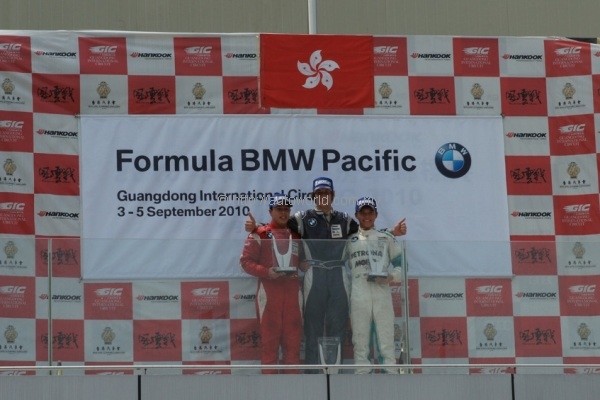 At the recent rounds of the 2010 Formula BMW Pacific Series in Guangdong, the Petronas Mofaz Racing Team rebounded from early disappointment to net a solitary podium finish for Calvin Wong in the final series race of the weekend. Held as part of the Hong Kong Autosport Challenge 2010, China's Guangdong International Circuit hosted Rounds 7 – 10 of the series on 4 – 5 Sept 2010.
Practice got underway on Thursday, followed by qualifying on Friday. With a best lap time of 1:33.674, Calvin was able to secure himself a 3rd place start on the grid for Rounds 7 & 8, but unfortunately it simply went downhill from there for both himself and teammates Ryan Ritchie, Natasha Seatter, and Abang Amirrul Hadi.
Ryan got off to a good start early on in Round 7, moving into 10th spot, but went off track at the last lap. He finished in 11th, sandwiched by Natasha in 10th place and Amirrul in 12th. Calvin overshot the track in the penultimate round and rejoined the pack in 8th place, and was eventually to overtake Pasin Lathouras to finish 7th.
Round 8 was declared a wet race, due to an overnight downpour. All four Petronas Mofaz drivers failed to cross the finish line. Calvin's race ended in the first lap itself, while Ryan went into the gravel in lap 3. Compounding the team's misery at the end, Natasha braked late into a corner and rear-ended Amirrul's car, forcing both drivers out of the race.
The team's fortunes improved slightly in Round 9. Although an accident with a Meritus car saw the top part of Ryan's car damaged, he was still able to bring his car home safely in 11th place, ahead of Amirrul in 12th, but behind 10th-placed Natasha. Calvin started the day in 7th, but fought his way up the pack to clinch 4th.
The 18-year-old Calvin continued his good form in Round 10. Starting from P15, he overtook four cars within the first lap and then another four in the next. He eventually made it to third, and despite attacking Oscar Tunjo ahead of him relentlessly, the youngster's charge was halted by an early finish of the race. Amirrul, Natasha, and Ryan all had incident-free races and returned their cars home unscathed.


Commenting on his podium finish in Round 10, Calvin said, "I know that a lot was riding on me after qualifying P3 for both race 7 and 8, but I let the pressure get to me too soon. However, Sunday came and I was more at peace and managed to gain better composure. After securing 4th during race 9 in the morning, I became more determined to set my course straight, and despite starting at the back of the grid in race 10 in the afternoon, I stayed focused on overtaking the drivers in front of me strategically, and am thankful for the podium finish!"
His technical director, Alex Somerset, added, "Overall, it was mixed emotions all around, with some disastrous moments that was indeed the lowest point for the team. Despite that, we were in good spirits and looked forward to transferring the great pace that the drivers were showing into better results. Calvin showed tremendous effort bouncing back from his accident in Race 8, to finally end up on the podium he fought so hard to gain throughout the entire race weekend. Now that we've gain more valuable data and wet race experience, we look forward to securing better and more promising results in Singapore!"
The next installment of the 2010 Formula BMW Pacific Series is scheduled to take place as a support event for the Singapore F1™ Grand Prix at Marina Bay Circuit, Singapore, from 24 to 26 September 2010.


Pictures & Tables: Official Petronas Mofaz Racing release.