Caltex supports Mini Escapade 2010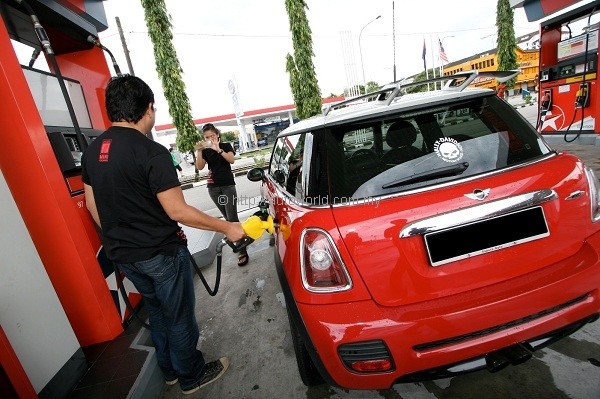 Chevron Malaysia Limited, operator of the Caltex brand of fuels in the country, recently teamed up with BMW Group Malaysia to sponsor the Mini Escapade 2010, which saw some 46 Minis driven from KL to JB in a 300km-long Amazing Race-style adventure challenge.
The 102 motor enthusiasts participating in the event were send scurrying around Johor Bahru completing various tasks and solving various clues at a number of heritage checkpoints. Further constraints on time and budget added to the tension between participants as they competed for the various prizes on offer.
The above-mentioned similarities to The Amazing Race series were deliberate, as explained by Uzma Nawawi, Chevron Malaysia Ltd's Brand Manager, "As a regional sponsor of The Amazing Race Asia (TARA) series, the idea of the Mini Escapade which drove multiple teams around Johor Bahru to 'amazing' heritage sites, seemed like the ideal activity to organise. From a business perspective, the racecapade provided our brand Caltex an opportunity to reach out to a special market of car aficionados, who have the specific know-how to take care of their vehicles on the road. The activity was also meant to fire the TARA fever and whet the appetites of TARA fans for the upcoming season."
Prizes up for grabs included two places in the inaugural MINI Driver Training Program in Malaysia valued at RM3,400 per person, Caltex Fuel Cards as well as various Mini Merchandise.
The second race of its kind to be organised for MINI customers in Malaysia, Farid Sulaiman, Mini Manager, BMW Group Malaysia said, "Excitement is what Mini is all about and initiatives such as the Mini Escapade go a long way in sharing Excitement with Mini customers in Malaysia. Whilst owners and enthusiasts of the brand have always shown great interest and passion in the sporty and integrated spirit of the Mini, we should also note that the reputation of our partner Caltex with proven cleaning power through its Techron fuel helps keep vital engine parts clean, aiding our cars to perform at its best. This reputation, together with our core Clean Technology strategy of minimalism, upholds the principles of efficiency, performance and all around driving fun of the Mini."
Meanwhile, fans of The Amazing Race series can look forward to the debut of The Amazing Race Asia Season 4 later this month. The grand prize in store for the winning team this time round is US$100,000. Bring on the height, worms, and all the other gross stuff!