Nabil Jeffri does aero testing for Lotus Racing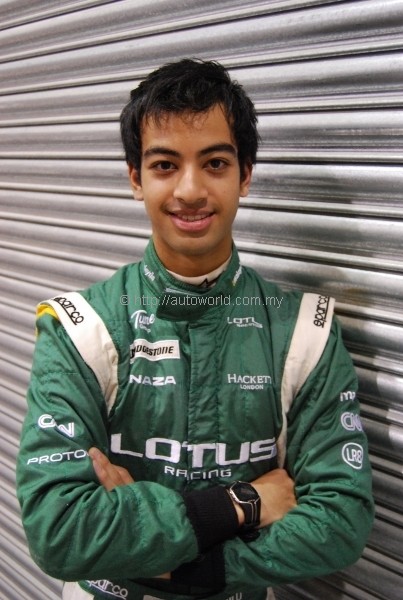 Young Malaysians with aspirations of making it to the pinnacle of motorsports can now nurse their hopes with a great dose of realism. Last month, Lotus Racing announced that 16-year-old Formula BMW driver Nabil Jeffri was to be given the opportunity to drive for the team in an aero test.
Less than a month down the road, the team made good on its word, as the young lad spent a whole day behind the wheel of the Lotus T127 at the Imperial War Museum runway at Duxford. Nabil still has a long way to go, of course, but his path is one that many Malaysian youngsters would have a realistic chance to follow.
Stepping out of the car at the end of the day, Nabil was understandably excited about his day behind the wheel of the T127, saying "I have had an incredible day, one of the best days of my life, and I want to thank Lotus Racing, Tony Fernandes and Mike Gascoyne for giving me the chance to drive their car. I have to admit that the first time I went out it was pretty scary – everyone told me the acceleration would be unbelievable, and the braking would be so much greater than anything I've ever experienced, and it took a while to get used to that, but Heikki and Fairuz gave me some advice on how to settle in to it, and after a while I was more comfortable, and was able to get through the day's plan. It's such an honour to have had this opportunity, and it'll be a long time before the excitement wears off, but I'll keep on working hard to one day join Heikki, Fairuz, Jarno and the rest of the F1™ grid, and with the support of people like Tony and Lotus Racing, I've got a great chance of doing so."
Also at the test was Lotus Racing driver Heikki Kovalainen, who joined the test to give Nabil some invaluable advice: "It's a great experience for Nabil and it's really good to see how well he did. He's obviously very young, and he'll remember this experience for the rest of his life. When you feel the power of a Formula One™ car for the first time it's an incredible feeling and I told him to enjoy it, and not get stressed about trying to impress everyone too much. He did a great job today – he quickly picked up the correct procedures, and was working well with the whole team, which is pretty awesome when you think we've got the proper race team here today which could have been a bit daunting. It's also great to see Lotus Racing investing in young talent, and we're showing that the ladder to success in F1™ is there for anyone, wherever they are in the world, which is pretty cool, however you look at it."
On hand to oversee the test was Chief Technical Officer Mike Gascoyne, who said "I'm delighted that Nabil has done such a good job and I'd like to thank him for the work he put in today. Aero testing is an important part of the ongoing development of the car, and it's great that we can give an opportunity to someone as young as Nabil to help us take another step forward. He completed the planned programme, gave clear and precise feedback, and we couldn't ask any more of him than that. I'm sure this experience will help him take another step forward in his career, and we'll be keeping a close eye on him to see if what he's learnt today can help him take that next step up, in performance terms, in the Asian Formula BMW Championship."
Team Principal Tony Fernandes was keeping a close eye on the day's proceedings from his office in Malaysia, and said "When I first offered Nabil the chance to drive our car he couldn't tell if I was joking or not, but I was very serious about giving a young Malaysian the chance to step up to the big time. He's repaid my faith in him and has performed incredibly well, and that's a source of real pride for me as he proves what I've always believed – keep dreaming, work hard to achieve what other people tell you is impossible, and your dreams will come true. I suspect Nabil will head back to Malaysia with his head spinning from everything that's happened to him today, but now he can say he's driven an F1™ car, and that will set his sights at the very top for the rest of his life. Congratulations Nabil – you're a superstar!"