Hyundai Tucson LM – Korean uprising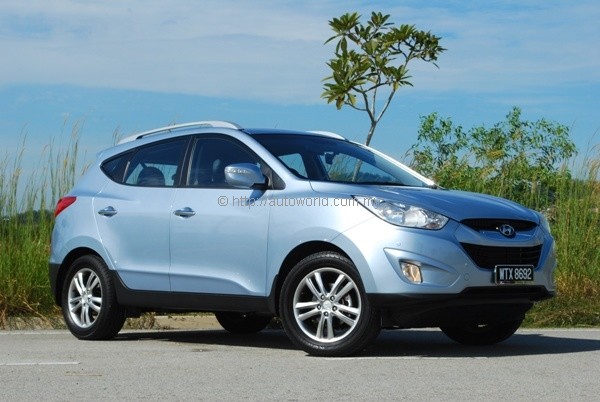 It is quite impressive how far the Koreans have come in recent years. In a short span of time, they have successfully transformed themselves from being the butt of automotive jokes to the forefront of the market. Previously, the only reasons why Korean cars ever sold in any numbers were simply because they were cheaper than Japanese equivalents.
Early Korean offerings were mostly dull and forgettable, which make the level of improvements that they have achieved in recent years all the more impressive. Remember the Hyundai Tucson? No, I don't suppose you do, unless you own one. The previous generation Tucson simply wasn't a car that would stay long in your memory.
Not the latest Tucson though. Hyundai's sudden and new-found talents in designing has embued the Tucson a level of sophistication that is light years ahead of its competition today, let alone its forgettable predecessor. The margins of improvement are impressive, and we are speculating if aliens have landed in Hyundai's backyard, because there is no humanly possible way that Hyundai could have suddenly become this good.
A media test drive was held recently for the Tucson, and we found ourselves allocated into the 2.0 Standard spec model for the drive from Petaling Jaya to Malacca. HSDM was unable to make test cars of the 2.4 model available as they have all been snapped by customers. In fact, response to the Tucson has been so good that Hyundai is fully booked until next year.
Despite being the lowest priced model, the Tucson 2.0 Standard hardly felt like a poverty-spec variant. Standard equipment still included dual airbags, ABS, EBD, active headrest, four power windows, electric side mirrors and a trip computer.
Early buyers got this car for RM126,888 in the Peninsula inclusive of insurance, though that figure has since been revised upwards to RM129,888. That still represents fantastic value for money – it's cheaper than the Honda Civic to start with, let alone the CR-V, which it is aimed at.
All variants of the Tucson derive propulsion from the all-aluminium Theta-II engines with dual CVVT. For the 2.0-litre model, the engine displaces 1,998cc and spins only the front wheels via an in-house developed 6-speed automatic transmission. According to Hyundai, the engine develops about 80% of its peak torque at 2,000rpm before dishing out the full monty of 197Nm at 4,600rpm. Max power of 164hp, meanwhile, is produced at 6,000rpm.
Customers also have the option of an all-wheel drive setup, but that is available only with the 2.4-litre model. Similarly, the bigger-engined model does not come with front-wheel drive as an option. Despite this constraint, we do appreciate Hyundai offering consumers the choice between front and all-wheel drive.
Hyundai's marketing team has yet to register demo cars dedicated for press review, so all of the test cars you see pictured here were pulled from showroom duty for us to drive. Our Tucson test car had clocked nearly 6,000km of mileage, and when you consider a typical customer test drive won't last more than five kilometres, it suggests that the car has went through a great number of hands.
For the most part, our test car felt neatly screwed together, but there remains room for improvement in the choice of materials. For the money, we would say the hard plastics are of acceptable quality, but the metallic trim on the steering wheel already showed slight signs of peeling.
Another area that could use improvement is the wide open field of black plastic surrounding the gear lever, which appeared at complete odds with a very sophisticated-looking cabin. Indeed, sophistication is what you would see when you take a step back and examine the bigger picture. Hyundai's engineers demonstrated a great amount of flair in the way they penned the Tucson's cabin, and yet the positioning of various controls also shows that they haven't forgotten their basics in getting the ergonomics right.
On the move, the Tucson can hardly be accused as being underpowered. The 2.0-litre engine has just about enough juice in it to get its modest frame moving along briskly. We would, of course, appreciate the extra horses that come with the 2.4, but for the most part, the 2.0 does its job nicely. The 6-speed gearbox proved remarkably smooth in its gear changes, but can sometimes be too eager in kicking down to aid the engine.
Ride and handling was impressively sorted out, and the Tucson was more than capable of holding its line when pushed through tight corners. Over less-than-smooth surfaces, the Tucson felt relatively firm without being bone-shakingly stiff, and the suspension had sufficient substance to keep bodyroll at a minimum. One criticism we do have is that the hydraulic power steering could use a bit more weight and feel.
Recent offerings from the Hyundai-Kia group, such as the i10, i30, and Forte have been products of immense sophistication and quality. The Tucson continues in that vein. There are areas, such as overall build quality and cabin practicality, where they are still somewhat second fiddle to the Japanese, but for the most part, these cars can consider themselves equal, or in some cases, having surpassed their Japanese counterparts.
The Tucson packs good looks, generous kit, and excellent driving dynamics into one very attractively-priced package. A lengthy 5-year / 300,000km warranty should also go someway to ensure a relatively carefree ownership experience. The Tucson should be considered not simply because it's cheaper than its Japanese rival; it is a genuinely credible alternative.
During the media drive, HSDM also brought along units of the Sonata for our review. Watch out for that report at a later date!