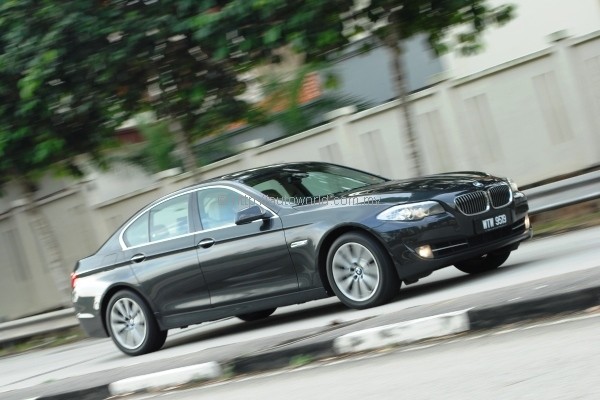 Wearing a nameplate with a long and illustrious history, BMW's F10 5 Series has some pretty big shoes to fill. The first 5 Series debuted in 1972, and BMW has never looked back, selling just under 6 million units in total worldwide.
The F10 made its global debut on 25 November 2009, coincidentally the same day that Mercedes-Benz Malaysia unveiled its fierce rival, the W212 E-Class in our shores. Just half a year later, the F10 arrived in Malaysia, and just weeks ago, we had the first CKD F10 rolling out of Inokom's plant in Kulim.
We recently had the chance to put the F10 through its paces, and pace is what it has in abundance; the 535i was blisteringly fast, and astonishingly agile…
Prices & Variants
The global launch line-up of the 5 Series comprised of four petrol (523i, 528i, 535i, and 550i) and three diesel (520d, 525d and 530d) variants. Alpina has since revealed its take on the 5, and BMW themselves have also added the 535d and 550i xDrive to the mix as well. Only the M5 is still awaiting its debut.
For our market, BMW Malaysia unveiled the F10 with two variants – the 523i and 535i. The 523i, powered by the 2.5-litre N52B25 engine carried over from the E60, has recently began local assembly; a move which allowed BMW to slash its price tag from RM398,800 (OTR without Insurance) to RM383,800.
Higher up, the 535i goes for a not insignificant RM598,800. For now, this variant will still arrive as a CBU import from Germany, but it is already announced that the 3.0-litre 528i will soon join the local line-up. Diesel power is another possibility, considering BMW Malaysia's active push in that area.
The Test Car
At the time of writing, BMW only has one car available for press review, and naturally, it is the more expensive 535i. However, a price difference of RM200k means that most buyers would probably be looking at the 523i rather than the 535i. We've put in a suggestion for a 523i test car to be registered, so watch these pages over the next few months.
The car reached our hands having clocked some 6,600km of mileage on its trip computer. It has a beige interior, and beige interiors are notoriously difficult to keep clean. Some parts of the upholstery had minor stains.
Exterior
Compared to the E60, the F10 is a far more low-key styling effort. As a result, it does not look at all striking in pictures, or in real life. Despite growing in all directions from the E60, the F10 actually comes out looking smaller in the flesh – that's not a bad thing for my eyes, but BMW's target customers might disagree.
It is by no means a regression from the E60 though. There's quite a bit of underlying sophistication in the F10's design. The sharp creases running along the bonnet and shoulder line are impressive both as a work of art and engineering. They may be easy to pen, but they are not at all easy to shape, especially since they're made of aluminium. If dented, you can't beat them back into shape – the panels will have to be replaced. Getting into an accident with one hardly represents the best news for your health.
Another notable design landmark of the F10 is its C-pillar which is the thinnest C-pillar ever used for a 5 Series. Accentuating it is a Hoffmeister kink that boasts the tightest radius ever in a BMW. Once again, this is a design touch of considerable sophistication both artistic-wise and engineering-wise. It not only involves higher-level metal pressing techniques, but also immense engineering to give that section the kind of strength demanded from a BMW chassis.
Interior
BMW interiors tend to be coldly efficient; they are well-built and functional but hardly special. In fact, most BMW cabins appear the same if you don't look hard enough. This tradition is maintained in the F10.
Controls are all well-laid out, easy to reach, and impressively for a car this sophisticated, they were also remarkably easy to operate. Being developed in parallel with the 7 Series means that a lot the big brother's toys are trickled down here as well. In fact, the 535i here even out-equips the 730Li we tested not too long ago.
Nothing is really wrong per se with the F10's cabin, but it just does not appeal to you on an emotional level. It nevertheless leaves the E60's cabin looking distinctly out-of-date now, so that's improvement for you.
The Mechanical … and Electronic … Bits
As we all know, one of the E60's technical highlights was its impressive body stiffness, which translated to highly composed ride & handling characteristics. With the F10, BMW naturally upped the ante – the new car is claimed to be 55% stiffer than the preceding one.
Remember that chassis stiffness and suspension stiffness should never be confused with each other – a stiff chassis provides superior ride, handling, and refinement; whilst a stiff suspension results in a crashy ride. The F10 continues BMW's recent trend of migrating from MacPherson struts to double wishbone front suspension. In fact, the whole set up is pretty neat and sophisticated.
The rear wheels are held in place by the Integral V multi-link suspension. BMW took deliberate care to angle the the roll centres of the front and rear axles in perfect alignment with each other. This, BMW says, 'gives the car exceptionally harmonious and stable behaviour in bends'.
For the first time in a 5 Series, BMW is adopting the use of electric power steering, a move claimed to aid fuel economy, but often derided by purists for ruining feel and feedback. The EPS is then merged with the rear wheel steering system from the 7 Series to form what BMW calls Integral Active Steering.
All that chassis trickery would go to waste without a good engine to do it justice, and in that respect the 5 Series, at least in the 535i that we tested here, does not disappoint. Displacing 2,979cc, the engine packs twin-scroll turbocharging, direct injection, and Valvetronic into one neat package producing 306hp @ 5,800rpm.
Pretty impressive, but that's not the headline story though. From 1,200rpm all the way to 5,000rpm, it produces a very useful 400Nm of torque to twist the rear wheels via a ZF-developed 8-speed automatic transmission – that's twice as many gears compared to most cars still on sale.
Those eight ratios are not just there for you to boast against your mates at the pub though. In Europe, most variants of the 5 Series are offered with the choice of this transmission or a 6-speed manual. Official figures quoted by BMW, where applicable, show nearly identical fuel consumption and CO2 emission figures between transmissions variants, and in some cases, the auto versions are the ones with the better numbers.
All of the above systems are centrally governed by what BMW calls the Dynamic Driving Control, which consists of four driving modes – Comfort, Normal, Sport and Sport+. At the touch of a button, the driver can choose between any of these four settings which varies the car's throttle mapping, gear changing patterns, suspension stiffness and steering response.
Driving Experience
Compared to the E60, the F10 looks like a pretty docile machine. In a congested urban setting, it goes pretty civilized too, but that all changes when you show it an open road and bury the throttle – the effect is just savage. Having 400Nm of torque at your disposal almost throughout the rev range is promising enough on paper, but it's application in the real world proved devastating. Even at 230kph, it was still accelerating, hard.
The 535i in all probability does not need all of the eight gears provided to it by ZF, but they certainly didn't hurt. As usual, you have the option of manually swapping cogs, but we suggest that you leave the transmission to do its job – eight gears is a bit too many to manage with the human brain. In any case, the machine is quite a smooth operator, rarely putting a foot wrong as far as I could detect.
The wide spread of ratios and the availability of max torque early on allows for low rev cruising in urban driving. Gentle footed drivers can probably potter around KL in a decent pace without having to breach 2,000rpm.
On the subject of pottering, that is probably the time when you would like to set your Dynamic Driving Control to 'Comfort' mode. Well, it doesn't work. For some reason, the F10 did not feel at all comfortable in this setting – the suspension telegraphs a shocking amount of road imperfections into the cabin, it just feels all wrong.
The best setting to use was actually 'Sport' mode, where everything just sharpened – throttle response, steering, gear change, and ride firmness. Strangely, the car actually seemed to absorb road shocks better in this setting than in 'Comfort' mode, but with a throttle response almost set to kill, this is not exactly the best mode to use for a Sunday cruise either.
Along winding back roads, the 535i was amazingly agile. Steering was nicely weighted and very precise, though feedback did not feel as authentic as good old hydraulic assist systems. When pushed hard through corners, there was nary a hint of understeer, as the car faithfully holds on to the chosen line.
Verdict
In terms of driving experience, the 535i is every bit as good as you would expect from a 5 Series. Its technical excellence is beyond question, neither are its driving dynamics. It is simply a stupendously good machine to drive.
Response is said to have been good. The first shipment of CBU 5 Series was sold out within a month. We would hope that most of them are keen drivers, because in all honesty the 5 Series does not do the wafting bit at all well. It is a machine meant to be driven hard.
But, regardless of the verdict we give to the 535i, at RM598,800 without insurance, it's not going to be the one attracting the most buyers. The 535i is not only good, it is astonishing; but for the 5 Series as a whole to succeed in Malaysia, the 523i needs to be almost just as good.