Honda CR-V – Class-leader ups the ante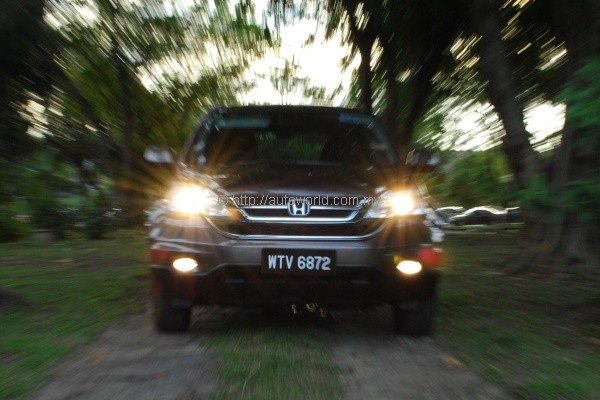 For a long time, the Honda CR-V has been an undisputed leader in the soft-roader market. Apart from a brief challenge from the now aging Nissan X-Trail some years back, there has been a scarce number of credible alternatives to threaten Honda's iron-clad grip on this market segment.
That is all set to change this year. Peugeot and Hyundai have fired warning shots across Honda's bow in the form of the 3008 and the Tucson, and for once the CR-V faces threats it cannot underestimate. Both the 3008 and the Tucson come with very lengthy lists of equipment, and both are priced with the sole purpose of destroying the CR-V.
Anticipating the threat that the upshot models are set to give, Honda made a preemptive strike by introducing a refreshed version of the CR-V to brace for a fierce battle ahead. The new model comes with a slight price increase, but justifies it with significant additions to the equipment levels.
What's been added?
Let's start with price. The facelifted CR-V costs RM2,000 more than the original, now going for RM149,980 in the Peninsula on-the-road inclusive of insurance. However, for the added money, you are getting a lot more than just a revised bumper and new alloy rims.
Improvements focus in the aspect of safety, and kudos to Honda for that. Two side airbags have been added to complement the existing dual frontal airbags. Vehicle Stability Assist has also been added, along with an uprated audio interface that features USB connectivity. New seat fabrics and a quartet of reverse sensors complete the additions made to this facelift.
It was also revealed to us by Honda's engineers that suspension tuning has also been revised, with settings now given a greater comfort bias. A powerplant update would have made this a perfect upgrade, but the realities of manufacturing mean that the 2.0-litre R20A SOHC i-VTEC engine soldiers on in an unchanged state of tune – producing 148hp @ 6,200rpm and 190Nm @ 4,200rpm.
While it is clear that these changes are made to fortify the base ahead of the Tucson and 3008's two-pronged assault, this revised CR-V still falls somewhat short in its kit count compared to Hyundai's and Peugeot's offerings. Nevertheless, as a facelift exercise, the CR-V can still be rated as a job well done when you consider what has been added, and for how much.
The Test Car
Our test car from Honda Malaysia showed 3,390km on its odometer on our first twist of its keys, from which we went on to clock just over 330km in our three-day test drive. This car was actually used as one of the support vehicles during the recent Honda Freed media test drive from KL to Penang, so we know that its mechanicals are already well run-in.
Compared to the last time a CR-V test car came to us a year ago, this one reached us still in pristine shape. Some dirt marks from shoes were visible near floor areas, but panels were still well screwed together, and moving mechanisms still functioned smoothly.
Interior
In models such as the Jazz and the Freed, Honda has demonstrated undoubted talent in designing practical and well-thought interiors. I personally regard the previous generation City as one of the best examples of an intelligently packaged interior which is unmatched in its price segment.
With the CR-V, however, that expertise did not appear to be fully exploited. Notable ergonomic errors, both carried over from the pre-facelift model, include a power window switch panel positioned too far back, and an instrument panel cover producing reflections that obscure reading of the gauges.
There were good touches though. Dashboard controls were well laid out and easy to use, and the use of a foot-operated parking brake liberated precious space for deep storage bins running along the centre tunnel area.
When I last tested the pre-facelift CR-V, I had noted with great dissatisfaction that its seats were very difficult to fold. It is therefore with great pleasure that I now report that this is no longer a problem. The seats fold smoothly into various configurations as advertised.
The luggage area is also very well thought-out, with a detachable shelf allowing owners to configure between a one or two-tier storage space. A retractable tonneau cover is especially useful for keeping precious items away from clear sight.
Should both the shelf and tonneau cover need to be detached to make way for a big object, Honda has designed the shelf to fit right into the boot floor like a jigsaw puzzle piece falling into place. The tonneau cover can be retracted into a roll and snapped into a slot at the base of the luggage area. This is indicative of the great amount of thought that went into designing the luggage space, though they slightly missed the mark when it came to shaping the area, as getting these two pieces to fit into their places required some elaborate maneuvering to avoid getting them stuck.
On the Road
My biggest gripe with the CR-V has always been the lack of poke from its motor. Since the facelift brought no changes to the powertrain, my opinion in this matter is unchanged. The R20A is a fine engine in the Accord, but in the CR-V, with an additional 65kg to lug and an extra two wheels to twist, it struggles a bit.
There is little complaint on the 5-speed automatic transmission, a standard fare across Honda's range in Malaysia. Gear changes are smooth, and it does a fair job to aid the overworked engine upfront. The only annoyance of Honda 5-speeder units is that there is no option to manually select 4th gear.
The CR-V's key selling point all along has been its ability to seamlessly blend the refined driving experience of a monocoque chassis passenger car with the space and practicality of an SUV. That continues to hold true. At speeds, wind and tyre noise are well suppressed, and if you remain gentle with the throttle, highway cruises at speed are reasonably quiet and dignified.
Strangely, however, for a suspension setup that Honda claims to have been tuned in the direction of comfort, this unit of the CR-V actually felt stiffer than we remembered of the pre-facelift CR-V. Bumps and potholes did not feel as well resolved, though body roll remains well suppressed when taking fast sweepers and corners. We won't recommend over-enthusiastic driving though – the steering and brake pedal felt devoid of feedback. You'll be running on guess work on the cars grip levels.
Verdict
For us, the premise of the facelifted CR-V boils down to this – the addition of airbags and VSA alone more than justify the RM2,000 price hike from the pre-facelift model. As a facelift exercise, this is a good one.
On its own, the CR-V remains a reasonably competent vehicle. That, coupled with the strength of Honda's brand will ensure that it continues to top the sales charts. However, with upcoming rivals taking broadsides of it by offering lengthier equipment at a lower price, we expect its margin at the top to be significantly slashed. It's going to be a tough year ahead.