Nasim launches Peugeot 3008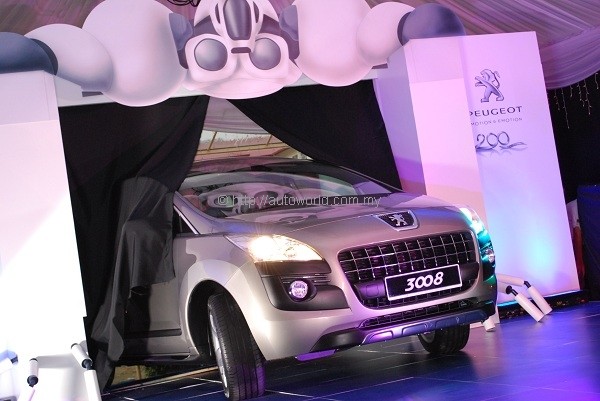 After much teasing over the months, Nasim Sdn Bhd has finally launched the Peugeot 3008 crossover for the Malaysian market. Early rumours of a RM150k price tag proved to be an over-estimate – the 3008 can be yours for RM143,888 inclusive of insurance.
Peugeot's marketing materials for this region refer to the 3008 as an SUV, but we hesitate to use that term for a vehicle sitting on a platform not even built to accommodate a 4WD drivetrain of some sort. It is technically a raised 308 Turbo.
Not that it matters. Urban SUV buyers do not need the off-roading capabilities of a Mitsubishi Pajero, they only want the increased ride height and the additional cabin space for the children and in-laws. The 3008 delivers both these traits and adds a touch of class into the mix.
"Combining the looks and high driving position of an SUV with elements of a family hatchback and an MPV, the 3008 is the perfect vehicle to commemorate Peugeot's rich 200-year heritage.
"The 3008 will be targeted at both executives who want a sporty premium ride as well as families who want space, luxury and comfort," said SM Nasarudin SM Nasimuddin, CEO of Nasim Sdn Bhd.
We had already tested the 3008 on a media drive which took us from the Klang Valley to Kuantan and back. Our impressions from that drive have been published earlier today. A link to that story is provided below in the listing of Related Links below.
Meanwhile, we shall leave you here with pictures snapped from the 3008 launch held earlier today.