Red Bull Rookies announce Sepang 1,000km line-up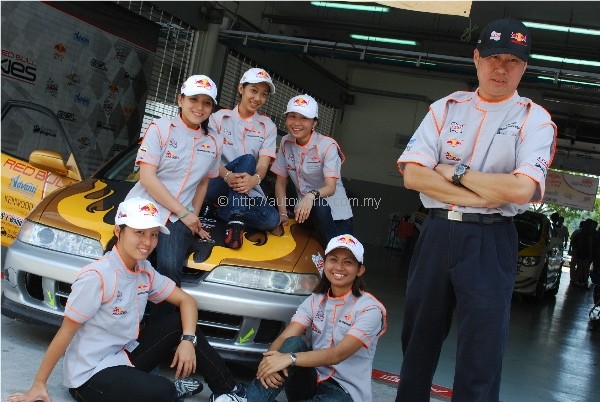 Less than two months after being officially introduced, the Red Bull Rookies team of 2010 have announced its team line-up for the upcoming Sepang 1,000km race to be held on 3 – 5 June 2010.
Team manager Kenvin Low announced the line-up after the night practice session which took place on 18 May 2010. The relative veteran of the team, Puteri Ayu Jasmin, will lead the way along Carmen Lim, Noradzlianayati Abdul Radzak and Melline Jaini. At the sidelines will be Lee Hui Jing serving as reserve driver.
Commenting on their selection, Kenvin said "Puteri is at a point where she can bring home wins and make a run for the race. Carmen, Liana and Melline earned their spot by exceeding our expectations during the trainings".
"We have been working on this project since December 2009. Our main goal was to put together a group of the right girls to represent the Red Bull Rookies. We are very happy with our current driver line-up; not only will we be able to take part in the race, but there is a great shot at exceeding the benchmark set previously," he added.
Senior member Puteri already has two years of experience with the Red Bull Rookies under her belt. She had lined up for the team in the Merdeka Millenium Endurance (MME) race 2008 and also the inaugural Sepang 1,000km race last year.
"We are hoping to build on our successes from previous years and maintain our 100% finish record," said Puteri.
"It is going to be exciting with the driver line-up that we have, there's some vast skills, some raw talent and a lot of passion in the team. We have a competitive car, and we are incredibly enthusiastic about the team's performance on race day," she added.
"Having the chance to be part of the Red Bull Rookies this year is incredible for me and a major step in my career. Obviously, what they've been able to accomplish in the last two years is unbelievable, which makes this an ideal situation for me to push myself further," said Carmen Lim.
Liana and Melline, both from Brunei Darussalam are ecstatic to be racing for the first time. "It's an honor to be representing the team," said Liana. "It was a big deal for me, personally, to get this opportunity to race with an all female team. Our goal is to give our level best and have a lot of fun during the race."
"I am extremely happy to be given this chance. My focus is on preparing as thoroughly as possible for the upcoming race. I hope I will do my country proud as well" said Melline