BMW F10 5 Series launched for Malaysia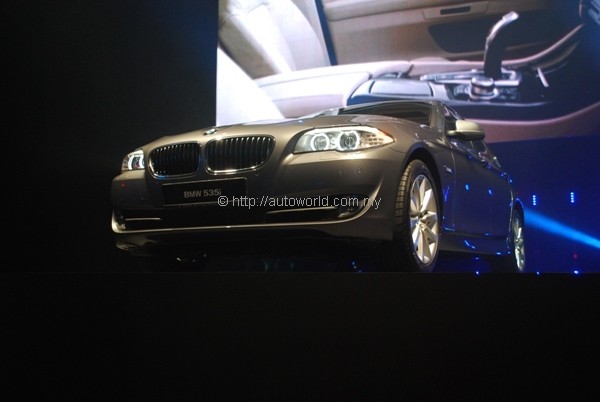 Just half a year after its global debut, the sixth generation BMW 5 Series has arrived in Malaysian shores. Designated with the F10 chassis code, the new 5 goes on sale in our market from 15 May onwards, with two six-cylinder petrol models deployed in the opening gambit.
While more variants are expected to join the fray at later dates, especially when CKD operations commence, customers looking to buy the F10 now will only have the 523i and 535i to choose from.
"The BMW 5 Series plays an iconic role in the history and success of the BMW Group. Time and time again, the car has proven itself to be the superior choice in its segment and with the introduction of the all-new BMW 5 Series, we at BMW Group Malaysia are confident that the legacy of the 5 Series will be one that continues to grow from strength to strength in Malaysia," said Mr. Geoffrey Briscoe, Managing Director of BMW Group Malaysia.
Starting the range is the 523i, powered by the venerable, though not outdated, 2.5-litre naturally aspirated N52B25 engine carried over from the E60 523i & 525i. Equipped with Valvetronic & Double VANOS, the ultra-light N52 produces 204hp @ 6,300rpm and 250Nm @ 2,750 – 3,000rpm in the F10.
Claimed top speed of the 523i is 234kph, with the century sprint dispatched in a reasonably brisk 8.5 seconds, and the quarter mile covered in just less than half a minute. Average fuel consumption is claimed to be 8.0 l/100km, a figure achieved, we believe, with considerable help from its class-leading 8-speed automatic transmission, standard on both variants here in Malaysia.
In comparison, the European market 523i is actually powered by the 3.0-litre N53B30 naturally aspirated direct injection engine rated at 204hp @ 6,100rpm and 270Nm @ 1,500 – 4,250rpm. When asked why the older N52 engine was offered for our market, BMW personnel informed us that the highly sensitive direct injection system cannot yet be tuned for our market's high sulphur fuel.
Above the 523i is the RM200k-dearer 535i, powered by the 3.0-litre N55B30 engine, which features twin-scroll turbocharging, Valvetronic, and direct injection. But wait a minute, if BMW said they could not offer us the Euro-spec 523i due to problems tuning the direct injection system to suit our fuel, why is it that the 535i can?
We presented the question to BMW personnel during the media Q&A session, and according to them, although their colleagues have managed to tune turbocharged direct injection engines to suit high-sulphur fuel, they have yet to crack the problem when it comes to naturally aspirated direct injection engines.
Direct injection engines use injectors that operate at very high pressure with very fine tolerances. If used with high sulphur fuel without proper re-tuning, these injectors can have a nasty habit of clogging up. With manufacturers increasingly favouring direct injection technology for both petrol and diesel engines, our market is in danger of falling further behind as we continue to stick with old Euro II fuel – petrol & diesel.
Back to the 535i. The all-new 2,979cc motor develops 306hp @ 5,800 rpm and twists out a very usable 400Nm of torque accessible from 1,200 all the way to 5,000rpm. Like the 523i, the 535i similarly gets an 8-speed automatic transmission, but with paddle shifts that the 523i does without.
Published figures show a top speed capped at 250kph, and the sprint from 0 to 100kph is completed in 6.1 seconds. Average fuel consumption is claimed to be 8.4 l/100km, marginally higher than the 523i.
"With an iconic legacy to live up to, the sixth generation BMW 5 Series is packed to the brim with the latest technological innovations from BMW to provide a car that is innovatively stylish, features superior dynamic performance and is fully equipped to satisfy the wide roaming connected lifestyles of the contemporary professional," said Briscoe.
Indeed, the F10 5 Series certainly cannot be accused of being lacking in terms of equipment. Both the 523i and 535i come with Brake Energy Regeneration and electric power steering as standard, under their much-touted EfficientDynamics package. BMW claims potential fuel savings of 3% due to the use of Brake Energy Regeneration.
Other technologies loaded into the F10 5 Series include Integral Active Steering, Dynamic Stability Control and Dynamic Driving Control. In the 523i, Dynamic Driving Control is packaged together with Dynamic Damping Control, whilst the 535i gets it together with Adaptive Drive, which allows for a high level of suspension setting personalization.
The much improved second generation iDrive is also standard feature in the F10, though the 523i and 535i get differently sized LCD screens. Additionally, the 535i also boasts quad-zone climate control and a multi-colour heads-up display.
"The new BMW 5 Series combines all the elements of driving dynamics, Efficient Dynamics, premium quality and artistic expression which drivers of the premium segment expect from their cars, and though it has a huge legacy to live up to, we at BMW Group Malaysia are confident that the new BMW 5 Series will be able to take us to even greater heights of success," said Briscoe.
Retail prices for the new BMW 523i and BMW 535i are as follows: