Formula Drift Singapore 2010 all set to go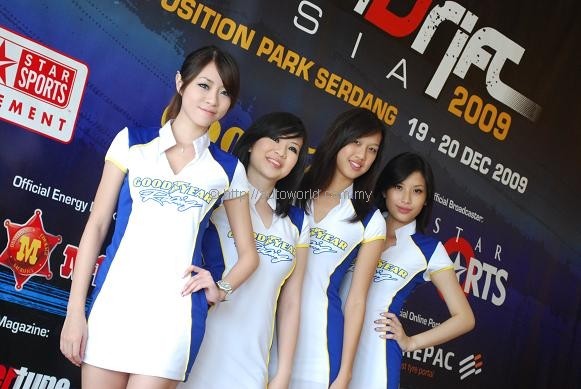 Formula Drift Singapore 2010 is set to kick-off this week, with Goodyear Malaysia returning as the event's title sponsor for the third successive year. Taking place at Singapore's F1 Pit Building, this year's event will take place from 24 to 25 April 2010, which is this weekend.
As usual, Goodyear will also be sending in a drift team of their own to mix it with some of the region's top drifters. This year, the team adds Hanizam bin Hamzah into a lineup which already features Ariff Johanis, Michael Gan, Azrina Jane Abdullah, and Ryuji Miki.
Japanese drift champion Miki, who finished second in Formula Drift Thailand and Las Vegas, enthused, "Formula Drift Singapore 2010 will be my first race of the season, and I am very excited to be returning to Singapore, as part of Team Goodyear, to battle against some of the region's most promising and talented drifters. With the sport garnering more interest and participation in Singapore and in Asia, I am certain that it will be a spectacular championship event. I will be aiming to do my best, and hopefully win here again!"
Hanizam, 38, who has been driving a Nissan Cefiro A31 for the past three years, finished in the Top 5 in a field of 53 competitors in the inaugural Formula Drift Malaysia 2009.
"We're proud to have Hanizam as part of Team Goodyear and are pleased with the great strides he has made within the local drift community. At Goodyear, we are committed to nurturing local drift talent, and we believe that Hanizam will play an integral role as part of the team for Formula Drift 2010," said Nasution Abdul Rahman, managing director, Goodyear Malaysia.
"I am honored that Goodyear has given me this opportunity. With Goodyear's support, local drivers like us now have the chance to enhance our skills and raise the bar to the next level as a viable contender of international events, such as with Formula Drift Singapore," said Hanizam.
Another new driver joining the fray for Team Goodyear is New Zealander Daniel "Fanga Dan" Woolhouse, who boasts a drifting CV that stretches back to 2003, with the title of D1 New Zealand champ 2006 a notable high point.
Team Goodyear will be drifting on Eagle F1 Asymmetric tyres. "Our participation in motorsports is very much second nature to us – especially since our company has been involved in racing for more than 100 years. Our involvement in motorsports around the world has allowed us to translate the knowledge gained from tire development to innovative technologies found in tires that people use every day," said Nasution. "The sport of drifting also reflects Goodyear's product promise of demonstrating control, precision and performance under extreme conditions."
Team Goodyear will join 40 other drivers hailing from China, Indonesia, Hong Kong, Japan, Malaysia, New Zealand, Singapore, and Thailand.