Yellow Pages set to organize massive treasure hunt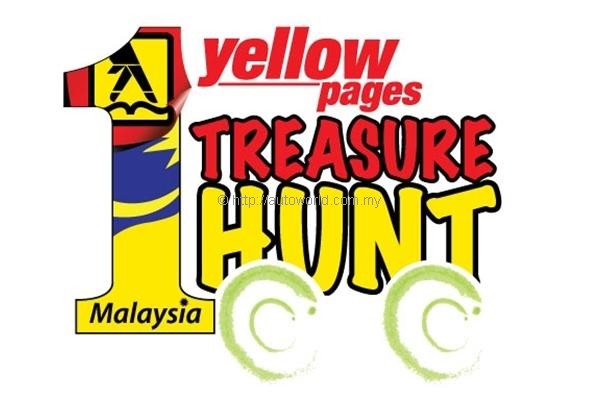 Oh yes, we kid you not. Autoworld has just conducted an interview with the CEO of TM Info Media, the company that prints and distributes the Yellow Pages directory.
They are not diversifying their business into the auto industry, and neither are they sponsoring any racing team. So, you may certainly wonder why did we speak to them in the first place.
The objective of this interview was for En Nasaruddin Mohd Zaini, the aforementioned CEO, and his Head of Marketing, Mr Jimmy Yong to tell us all about the upcoming Yellow Pages Treasure Hunt, set to take place on 10 April 2010.
Can you briefly introduce this hunt to our readers?
JY: The objective of the hunt, the 1Malaysia 1Yellow Pages Treasure Hunt, it is part of a plan of subordination to 1Malaysia, where we go down to the rakyat. In addition to that, we also wish to use this to thank the support of our advertisers and supporters. We want to organize a fun-day for our advertisers and public to participate. The difference between normal treasure hunts and this treasure hunt is that in Ipoh and Penang, there will be a six-hour carnival with 20 booths at each location. At each carnival site, there will be blood donation and visits from orphanages. Additionally the police and armed forces will be sending 200 personnel each to participate in the blood donation.
NMZ: In fact, in Ipoh, there will a tank – kereta kebal – from the army. Our parent company, Telekom Malaysia, will also be present to showcase their products, and we will also be showing our new products at our booth as well. We have new things such as Internet Yellow Pages, e-Yellow Pages, and Yellow Pages for Mobile, which we want to re-introduce to the public. In each participating car, we will also have a copy of the Yellow Pages, from which answers to the hunt questions can be derived.
That sounds like a hunt of massive proportions. How are you managing in terms of resource, logistics and manpower?
JY: We have divided into three major teams, one team at the flag off at Bukit Jalil, we have another team in Ipoh, and yet another team in Penang, both of which would be headed there two days in advance to prepare. There will be media artistes coming in on the day, along with 30 Harley Davidson bikers following the cars and bearing Yellow Pages flag.
NMZ: We are also getting help from TM officers based in Perak and Penang to assist, as they are also part of this project. They will be showing their own products as well. We are working together with them.
One of the stated objectives of this hunt is 'to have a deeper understanding of 1Malaysia mission through activities held'. What sort of activities are we talking about?
JY: The concept of 1Malaysia is rakyat didahulukan, pencapaian diutamakan (people first, results now). So, pencapaian diutamakan is that we seek for excellence in our own business. At the same time, rakyat didahulukan means that we really want to play a role in giving the rakyat the privilege and the honour to participate in a great many things. During the hunt, the Health Ministry will be setting up booths to give free health check-ups. The military and police will follow suit with blood donation.
NMZ: In addition to that, the key aspect of the 1Malaysia concept is perpaduan – unity. When you talk about unity, you talk about team work. In a treasure hunt, you need team work. You have four participants in a car – that alone will promote team work amongst the participants in the car, regardless of race. Also, at the ground level, there will be a lot of mixing around between people of all races.
The last time Yellow Pages organized a treasure hunt was five years ago. What made you revisit this idea?
NMZ: Over the past two years, we underwent a lot more development than years before. We want to share with the public what we have now.
JY: Yes, and we are doing that by going to the ground with excitement, fun and a new way of promoting. We want to show the public that we are transforming not just with regards to our products, but also our culture and approach.
NMZ: At the carnival sites in Ipoh and Penang, there will be "mini-treasure hunts" organized in a "down memory lane" concept at our booths, where we will be offering souvenir prizes to the people.
How is the response to the hunt both in terms of participation and also sponsorship?
NMZ: We are targeting to have 60 participating cars – 30 from the public, and 30 from our advertisers. They will be competing in separate categories with separate prizes.
JY: We have about 15 places left before filling up the quota of 60 cars. On the subject of sponsors, we are doing quite well. In fact, we've had turn down a number of interested sponsors.
This hunt is organized with the 1Malaysia branding prominently featured. You also mentioned of strong support from the police and armed forces. We presume you have strong backing from the government for this project?
JY: Yes we are. Tentatively, Datuk Seri Hishammuddin Tun Hussein and the Menteri Besar of Perak will be coming to grace our event.
The participation fee of RM888 is rather high for a 2D1N hunt to Penang. What extra value does your hunt offer to the hunters?
JY: Each participating team gets a Yellow Pages goodie bag, two rooms for a night at a four-star hotel in Penang, and food will be provided. At night we will have full-course dinner and entertainment to accompany the prize-giving ceremony at night. We are also giving away great prizes and extensive media coverage. Social networking site Friendster is sponsoring RM1.5m worth of media coverage for us.
NMZ: The grand prize of RM8,888 is among the biggest offered in the local treasure hunting scene. Participating teams will be competing amongst 30 cars, as advertisers and public teams compete in separate categories with separate prizes. Competing against 29 teams for RM8,888, your chances are pretty good.
Further Details of the Hunt
Prizes:
* 1st – RM8,888
* 2nd – RM6,888
* 3rd – RM3,888
* Consolation Prize 1 – RM999 + Hamper
* Consolation Prize 2 – RM888 + Hamper
* Consolation Prize 3 – RM777 + Hamper
Briefing
Date: 8 April 2010
Time: 4.30pm
Location: Bangsar Seafood Garden Restaurant
Flag-off: National Stadium, Bukit Jalil, 7:45am, 10 April 2010.
Ipoh Stopover
Location: Town Padang (In front of Majlis Bandaran Ipoh)
Time: 10:00 am – 4:00 pm
Finishing Line, Penang
Location: Padang Kota Lama, Penang
Time: 12.00 pm – 6.00 pm
Dinner and Accomodation: Copthorne Orchid Hotel, Penang.
Images: TM Info-Media