Race your Hot Wheels for Charity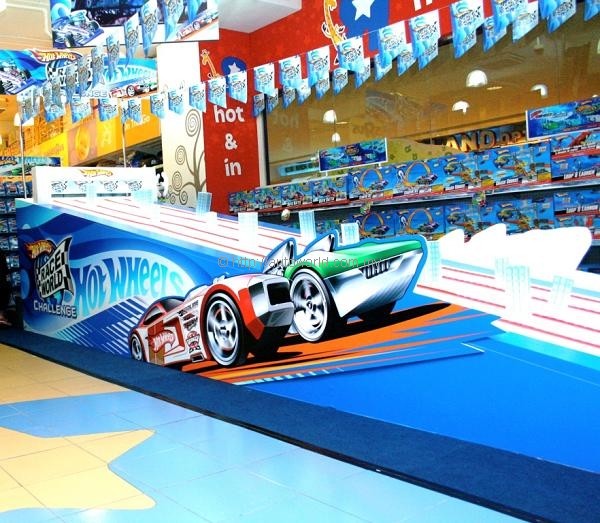 For the rest of the year, on each week that would coincide with a Formula 1 GP race, Hot Wheels will hold a Hot Wheels Race World Challenge as part of a charity project involving the Children's Home of Hope (under the National Cancer Society of Malaysia) and the Lighthouse Children Welfare Home Association.
The first leg of the challenge, which coincides with the Melbourne GP next weekend, takes place at Toys 'R' Us, Suria KLCC, and was kick started on 19 March 2010 with the Hot Wheels Celebrity Drive for Charity Challenge event.
Gracing the event was former F1 driver, Alex Yoong, who put his silver Hot Wheels #11 Mustang to the 20-feet race track, said to be the longest Hot Wheels race track ever to have been made in Malaysia. Alex clocked a time of 2.5 seconds, though he was beaten by Micheal of the aforemention Lighthouse Welfare Home Association with a time of 2.3 seconds.
Until the leg's conclusion of 28 March, each participant who beats Alex's time of 2.5 seconds will ensure the donation of a toy to the abovementioned charity homes. Members of the public who have bought two Hot Wheels basic cars can participate by bringing in their proof of receipt and showing it to the Hot Wheels Pit Crew.
A further 15 legs are planned throughout the year around the country, each leg to coincide with a F1 GP weekend. After the completion of 16 rounds, the grand finale will take place in November at Toys 'R' Us Bandar Utama, in conjunction with the Brazilian GP. Each leg will feature a celebrity setting the time to beat for that leg.
The grand finale to be held in November will feature the top two from each leg, 32 participants, with a top prize of a computer worth RM5,000, plus RM5,000 cash. The second place winner will walk away as a proud winner of a computer worth RM3,000, plus RM3,000 cash and the third place winner of the Grand Finale will win themselves a digital camera and portable MP3 player worth RM1,800.


Pictures: Official Mattel release.