Goodyear Eagle F1 Asymmetric Tyre Review – New Shoes For My Car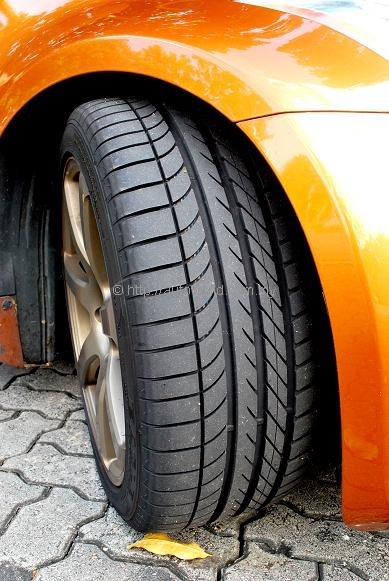 I'm afraid many people out there are still unaware of how important tyres really are. If you think about it, tyres are the only part of the car that has contact with the ground.
In exactly the same way, shoes to a person are like tyres to a car. I'm sure in your lifetime there have been occasions where the pair of shoes you bought didn't seem to work well with you after wearing it a few more times.
I've wasted money on shoes that seemed to fit well when at the store, but after putting them on for a while, they suddenly hurt in places you never felt before. Likewise, it is essential to have a good pair of tyres on your car so you can maximise the potential of your car and most importantly, protect the passengers of the car.
Previously using Toyo Proxes T1R tyres – 245/40 R18 front and 275/35 R18 back – I headed over to Binter's shop at Eunos Technolink to fit my Nissan 350Z Fairlady with a set of Goodyear Eagle F1 Asymmetric tyres.
What I noticed instantly upon changing to these tyres, was the reduction in noise. Finally, I could hear my Apexi N1 exhaust loud and clear. The F1 Asymmetric is indeed a quiet tyre and the ride is a lot smoother.
Ultimate Grip
Officially launched in ASEAN sometime mid-2009, the F1 Asymmetric is the latest Ultra High Performance (UHP) tyre from Goodyear. An extension of the Eagle F1 tyre range, the F1 Asymmetric sits next to the Eagle F1 GS-D3, a tyre that was designed for maximum wet weather grip.
The F1 Asymmetric focuses on maximum dry weather traction with a tread pattern that has large chunks of rubber on the outside for enhanced grip, and a water-channeling on the inside to assist wet traction. In addition, a continuous centre rib gives improved stability at high speeds.
Another selling point of the F1 Asymmetric is its Active Cornergrip Technology – something that fast cars demand when in need of strong traction, in both wet and dry conditions.
This Active Cornergrip Technology is actually the addition of aramid reinforcement in the inboard sidewalls so as to evenly distribute pressure at high speeds and give more contact with the road. The more contact the tyre makes with the road, the better the grip and hence the handling.
Putting it into high heel theory, just think about wedges versus stilettos. Wedges have a wider heel surface – meaning more contact with the ground – and so, give you more stability compared to stilettos.
For High-Performance Cars
Only produced in sizes 17" and above, the F1 Asymmetric is targeted at cars like the Porsche Cayman S, Audi S5 coupe, BMW Z4 or Mercedes-Benz E63 AMG.
If you hadn't already noticed, these are premium high-performance cars which are powerful, fast and have superb handling. For the price you already paid for these cars, why not just spend that bit more for a set of tyres that can allow you to have some fun yet keep you safe?
Owners of such cars will want more safety, without compromising on performance and comfort as far as possible. And that is what the F1 Asymmetric aims to fulfill – the ability to protect and control these powerful cars without any loss of performance.
Only a few weeks into the tyre test, there's a lot more about the F1 Asymmetric that I've yet to discover. As I'm writing this, I'm still in the midst of running in the tyres so I haven't been pushing the car. After racking up a good number of miles, I shall be back to share a more dynamic experience with the F1 Asymmetric. Meanwhile, here's something for you about running in of tyres…
Running In New Tyres
Usually, in an attempt to "break in" a pair of new shoes, my mother will use wax to run along the edges of the shoes in an attempt to soften them so that the material can reform to fit the feet over an initial period. In the same analogy, all new tyres like new shoes require a running-in period.
How to run in? Basically just drive moderately for the first 125 – 500 miles (200 – 800 kilometres) and do not execute any hard acceleration or sudden braking if you want optimal traction levels.
It's just like wearing new heels – the leather (or whatever material your heels are made of) feels stiff and you need time to adjust to them instead of immediately running or jumping in them (yes, I am quite capable of running for the bus or train in my three-inchers, once broken in).
Doing this also allows you to adapt your driving style to the new tyres (like how you tend to walk differently in different pairs of heels). Especially if your previous set was quite worn out, you might notice your car behaving differently with the new set.
In addition, a tyre needs to be seated on the wheel and this isn't fully achieved when the tyre is just fitted on. Thus the need to drive with more caution than usual so as to complete the running-in process.
When new, a tyre has a very smooth surface and to obtain optimum grip, this smooth surface needs to be worn off. However, do not try to shorten the run-in process by getting some abrasive material to scrub away the first layer.
I'm not saying that you have to drive slowly for the first 800 kilometres, but if you want to improve long-term performance of your tyres, then I would suggest you tolerate some sort of run-in period for your new tyres.


Pictures: Cheryl Tay & Walter Ong
Editor's Note: As tested by Cheryl, Tyrepac quotes the Goodyear Eagle F1 Asymmetric at RM1,039 per piece for 245/40 R18 and RM1,204 per piece for 275/35 R18 in Malaysia.
*This story was first published in FASTLANE #13 (Feb/Mar 2010) issue.