BMW Malaysia honours top dealers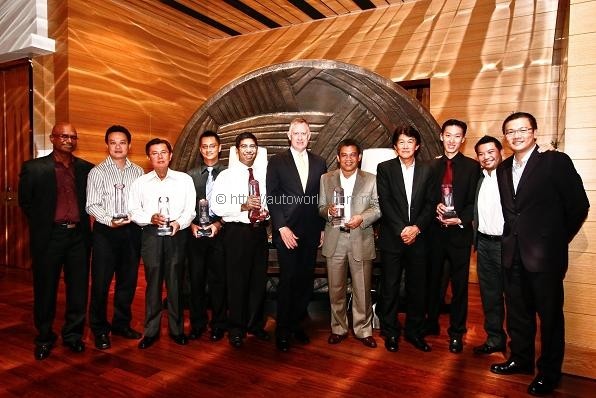 BMW dealers nationwide were gathered together at the Hilton Kuala Lumpur yesterday to attend the BMW Malaysia Dealer Trophy Night to honour the best performing dealerships in 2009.
Presenting the awards for the evening, Geoffrey Briscoe, Managing Director, BMW Group Malaysia said "Due to the state of the global economy, the year 2009 was a challenging year for the automotive industry both here in Malaysia and abroad. However, we at BMW Group Malaysia were still able to report record sales for all of our cars in the Malaysian market with a total of 3,564 BMW vehicles and 214 MINI's sold. Our success in the year was also marked with the fact that we grew to 40 per cent in the premium segment of the Malaysian automotive industry which is an important step forward in our presence here."
Currently, BMW's network in Malaysia consists of 14 strong 4S (Sales, Service, Systems & Spare Parts) dealerships scattered across the nation.
"The BMW Group Malaysia Dealer Trophy Night is our way of thanking our network of dealerships for all their hard work, patience and perseverance in helping us continue to be successful here in Malaysia. It is also our way of celebrating our successes for the past year as well as motivating our dealers to be the best! Not just in selling cars but in all areas of the business of representing the BMW brand which also includes business sustainability, market share growth and excellent customer service as well as after-sales service. These are all crucial elements in today's premium automotive business." said Briscoe.
Taking top honours for the year is Ingress Auto Sdn Bhd, situated along Jalan Damansara, being crowned champions in the Platinum Award Category (sales turnover exceeding 200 cars per annum). Auto Bavaria Sungai Besi and Auto Bavaria Bukit Bintang came in 1st Runner Up and 2nd Runner Up respectively.
The Gold Award Category, for dealerships with a sub-200 sales turnover per annum, was won by Auto Bavaria Kota Kinabalu, with Melaka-based Seong Hoe Premium Motors and Kedah-based Lee Motors Auto Care coming in at 2nd and 3rd placing respectively.
Additionally, Lee Motors Auto Care won a worldwide award for Excellence in Sales from BMW Group AG (i.e. BMW HQ), and is set to compete with 700 other BMW dealerships worldwide at the BMW Group Sales Excellence awards in Munich on 22 March 2010.
As noted by Briscoe in his speech, BMW made good sales figures for 2009. New models launched in 2009 included the F02 7-series, Z4, and the quartet of Advanced Diesel models – 320d Sports, 520d Sports Edition, X3 xDrive20d Executive Edition, and 730Ld.
For 2010, the company is expected to bring in the X1 mini-SUV (or SAV in BMW-speak) and also the F10 5-series which is set to replace the E60.
Pictures: BMW Group Malaysia