No Toyota recall in Malaysia, re-iterates UMWT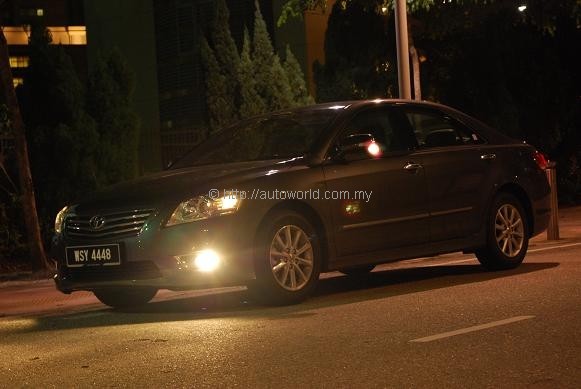 Just as Toyota Motor Corporation President Akio Toyoda prepares to face the US Congress, his official distributor here in Malaysia, UMW Toyota Motor Sdn Bhd, has issued an official statement to assure its customers that Toyota cars sold officially in Malaysia, with the exception of the Prius, remain unaffected by the current spate of recalls.
Thus far, Malaysia's Toyotas have not been included in the floor mat and accelerator pedal recalls. This was confirmed by a UMWT statement dated 29 Jan 2010. Then on 11 Feb 2010, 7,300 units of the 2010 Toyota Camry in the US were recalled to inspect against potential leakage by the brake fluid hose, caused by constant contact with the power steering hose.
On the same day that the news broke out, UMWT responded with a statement announcing that cars in Malaysia are not involved in this recall either. The company's press statement today, which we had just received, further re-iterates that 'all Toyota Camry models sold by UMW Toyota Motor Sdn Bhd are not affected by this voluntary recall exercise', before adding that 'components of the affected models used in the US markets are different from the Toyota models sold in Malaysia by UMW Toyota Motor Sdn. Bhd.'
The one that actually matters to Malaysian motorists is the ABS software glitch in the Toyota Prius, to which UMWT has called for all 60 customers of the Prius to bring their cars to the nearest Toyota service centre from 12 Feb 2010 onwards.
Another recall surfaced last week, when 8,000 units of the Toyota Tacoma 4×4, most of them actually still sitting in Toyota stockyards, were recalled due to manufacturing defects in its front driveshaft. This particular recall also affects certain Ford and Nissan models, who both sourced driveshafts from the same manufacturer, Dana.
Though the Tacoma is not officially sold in Malaysia, there were probably some concerns from customers that it might be mechanically related to the Hilux, and that the latter might be similarly affected by the driveshaft issue. In its statement, UMWT clarifies that not only are the Tacoma and Hilux unrelated to each other, but that they also do not share the same driveshafts.
Finally, the Toyota Corolla is also subject to investigations by US authorities following complaints on its power steering system. According to UMWT's statement, this does not affect Malaysian versions of the Corolla, as due to differences in body design and size, both versions use different components. Thus, Corollas sold by UMWT are similarly unaffected by this recall.
UMWT's statement was then concluded by saying, "We would like to advise the public that there should be no further concern on the matters above."