Ford Everest 2.5 XLT(A) – Ultimate Macho Symbol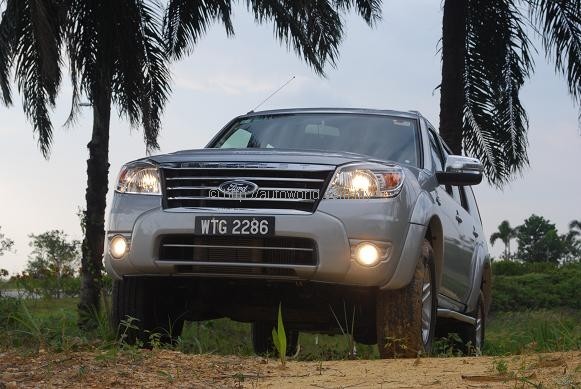 Unlike the days of our fathers, SUVs of our times are no longer the same battle-hardened cruisers like the Mitsubishi Pajero, Isuzu Trooper, or (pardon the pun) Toyota Land Cruiser. While the urban crowd like the higher seating position of SUVs and the increased carrying capacity, they still want the same level of refinement they get from a passenger car.
Looking to meet these demands, car manufacturers answered with a new generation of SUVs, better known as soft-roaders, or crossovers, which are vehicles built with the proportions of SUVs, but framed by a monocoque chassis. Consumers love them, and hence every manufacturer from Honda and Toyota to BMW and Porsche all have at least such vehicle in one form or another lining up in their showrooms.
Though popular with city dwellers, majority of these vehicles no longer possess the same essence as yesteryear's SUVs. Most can't tackle anything more than an inch of mud; some don't even have four-wheel drive. A case in point, the BMW X6 might be brilliant to drive on the road, but it will probably shiver in terror at terrains that a Suzuki SJ413 would dismiss with ease.
Today, your choice of an SUV with proper off-roading abilities are pretty limited, unless you have the budget to go for a Land Rover. Recently, however, a number of choices have emerged for those who still want some good old-fashioned ruggedness packaged in a body-on-frame 4×4. One of them is the Ford Everest, which was recently loaned to us for review.
The Test Car
The test car loaned to us from Sime Darby Auto Connexion was a two-month-old 2.5 XLT model with automatic transmission. When handed to us, it was a couple of hundred kilometres short of 8,000 on its odo, a difference which we helped make up during our brief stint with the car.
This test drive was arranged on very short notice. In fact, it was spontaneous, so SDAC did not have time to clean out the various 'fingerprints' left behind by previous journalists who reviewed the car. Besides some scratches on the front bumper, there were also notable stains on the beige portions of the interior. But that's not an issue, because it was good to receive the car in its service-typical condition – used and abused.
In terms of pricing, the 2.5 XLT(A) tested here occupies the middle-child position of the three-variant Everest range, nicely sitting between the manual 2.5 XLT and the bigger-engined 3.0 XLT at just a shade under RM163k on-the-road in the Peninsula.
Exterior
From its front fascia, it becomes immediately obvious that the Everest is a mechanical twin of the Ranger. They look identical at a glance, though closer inspection reveals slightly softer design touches than its pick-up brother. A good idea, since the Everest would make a likelier candidate to double up as a family car than the Ranger.
However, let's be frank here, the Everest is not going to win any beauty or design contests. It was never meant to. Even compared to its natural rivals such the Toyota Fortuner (2.5G – RM167k) and the Mitsubishi Pajero Sport (RM163k), the Everest still manages to come off looking decidedly square, so let's not talk about comparisons against more stylishly designed soft-roaders like the Hyundai Santa Fe or Chevrolet Captiva.
However, this simple and no-nonsense approach works not in its disadvantage, as the Everest is imbued with a dose of good old-fashioned ruggedness harking back to days when SUVs were vehicles built for the rough stuff. It's tailgate-mounted spare tyre further reinforces the point, as the Everest unashamedly projects itself a tough and macho image. It screams in the face of political correctness, and we like it for that.
Interior
Like its mechanics and front fascia, the Everest's dashboard, save for its different colour scheme, is carried over almost wholesale from the Ranger. Plastics used are hard, but they feel like they can last for a million years, even if, as mentioned earlier, the beige panels on our test car seemed to stain rather too easily.
However, the advantage of having a beige interior, at least from a visual perspective, is that beige gives cabins an airy and spacious feel, and space is what the Everest has in spades. Here, the square and boxy design of its body pays huge dividends. Occupants of third row seats won't feel shortchanged for space, and you will still have enough room to fit in your picnic gear at the back.
The middle and rear seats of the Everest are the strong points of its cabin. They can be a little stiff to operate, but if you inject enough strength, they fold into various configurations with sufficient smoothness. On our test car, however, the left middle row seat needed slamming before the mechanism locks it in place, and also the trim material of that particular seat appeared to be coming apart.
Engine & Underpinnings
Once again, the carry-over mechanicals from the Ford Ranger does not exactly place the Everest at the pinnacle of technology. But, there's certainly little need for the that. Even in 2.5-litre guise, the Everest's output is more than good enough to match what its rivals produce.
Powering the 2.5 XLT is the same DuraTorq engine found in the Ranger. Displacing 2,499cc with four cylinders arranged in-line, the 16-valve twin-cam engine is force-fed by turbocharging with common-rail direct injection squeezing the black stuff into the combustion chambers.
Quoted power output of the DuraTorq stands at 141hp @ 3,500rpm, while torque maxes out at 330Nm @ 1,800rpm, comfortably thumping its two closest rivals – the Pajero Sport (134hp / 314Nm) and the Fortuner 2.5G (101hp / 260Nm). Channeling that output to a shift-on-the-fly 4×4 system is performed by a class-leading 5-speed automatic transmission.
Being endowed with the Ranger's body-on-frame construction, the Everest's chassis architecture follows a typically robust truck-like structure. Supporting its weight up front are double wishbones with torsion bar, while the rear axle is propped up by leaf springs. Stopping power is provided by vented discs forward and drums aft, with ABS, EBD and Brake Assist helping out.
Finally, at the helm is the old-fashioned ball & nut steering system. Neither as responsive nor as precise as rack & pinion systems that we've grown accustomed to in passenger cars for sure, but certainly more robust – the more important quality for a vehicle like the Everest.
On & Off the Road
If your desired qualities in a car include agility, refinement, handling, and all that, then the Everest is not the car for you. In terms of handling, it's not anything close to scalpel-like precision; what you would get instead, is more appropriately likened to a butcher's knife.
On the move, the Everest never quite bothers to hide its mass and proportions from you. As such, you are always conscious of its two-tonne kerb weight and 5,062mm x 1,788mm x 1,826mm body measurements. It is not a stretch of the imagination to label the Everest as 'big and unwieldy', because it is.
The ball & nut steering, already not very refined in name, is hardly refined in nature. It is known more for its robustness rather than for petrolhead-cherished qualities such as accuracy, feel, and precision. You will not be getting a very engaging drive on the road, but the trade-off is that on the rough stuff, the elimination of excessive feedback by the recirculating ball system allows you to navigate terrain with great authority, and with less risk of a broken thumb.
Like its steering, the Everest's suspension is also built with ruggedness in-mind first above all else. So, while you know that the underpinnings will take a lot of punishing in the palm oil estates, you will also be conscious not to hammer corners too quickly in it.
Typical of vehicles with this kind of suspension setup, the double wishbones up front absorb bumps very well. But since there's a live axle resting on leaf springs behind, you'd be silly to expect a magic carpet ride. The back bounces quite a bit you hit a bump too fast, but that is deliberately engineered stiff to handle the heavy loads that a typical Everest owner would subject it to.
What truly sets the Everest apart from its rivals, however, is its brutally torquey powertrain setup. Even the entry level 2.5-litre engine has more than enough on tap to overpower class-rivals. With 330Nm of torque available at 1,800rpm, getting the Everest moving is an easy and painless affair. The 5-speed auto pairs well with the engine too. It shifts with a thump at times, but I don't mind that, because that's entirely keeping in character of the car.
The Duratorq engine is so strong on the move, uphill stretches along the Karak Highway and the route up Genting Highlands can be negotiated with the transmission in 'D', and you don't even have to floor the accelerator to do that. There really is very little for you to do as the driver other than steer the car and ride on that 330Nm-high wave of torque all the way up to the peak.
Going downhill is a lot trickier of course, as you'll need to summon the help of engine braking keep the descent of the Everest's two-tonne mass in check. Here, there's no escaping the need to use the '2' and '3' slots.
Considering its truck-based underpinnings and 4×4 abilities, the Everest was certainly more comfortable off the road than on it. Of course, this is not to say that you cannot live with the Everest in an urban setting. You can, though I personally found the Mitsubishi Pajero Sport to be more refined in its road manners than the Everest, even if the former doesn't feel as rugged or as spacious.
Verdict
The mechanics behind the Everest are simple and straight forward, but that's no issue, because what we want here is toughness and reliability, not sophistication and delicacy. Refinement was probably never on top of the list of priorities, though it was at impressive levels for a vehicle with its kind of underpinnings.
Amidst the sea of fanciful soft-roaders, the Everest and its rivals stand out as simple and unpretentious vehicles with genuine ability. No doubt it's not as good looking, or as refined as most alternatives in its price range, but it never meant to nor did it ever pretend to.
This lack of pretense is central to the Everest's charms. It exudes the aura of an old-style cowboy, feeling testosterone-laden almost. It not only embraces its own rugged personality, but also makes you wanting to do the same. It makes 'macho' almost a cool thing again.