7 new Bimmers for the Chinese New Year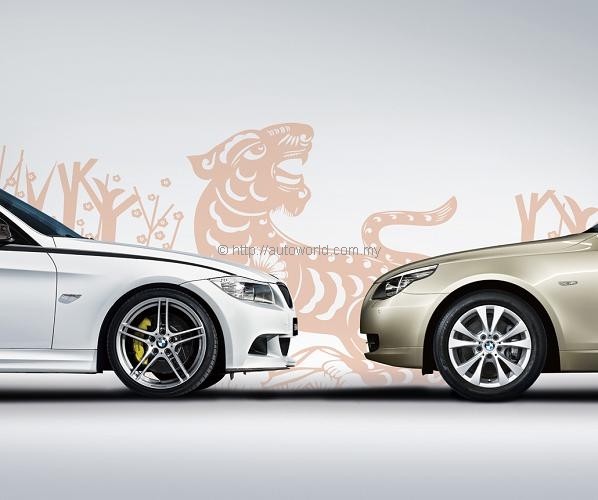 How much are you willing to pay in the name of exclusivity? Well, Aston Martin seems to think that a Toyota iQ slapped with their winged badge and limited to 2,000 units is worth double its original price. Lamborghini redresses the Murcielago LP640 as a jetfighter, calls it the Reventon, limits it to 20 units, and its worth is duly multiplied by four.
Analyzed from a purely logical standpoint, such purchase decisions make no sense. However, it is an inherent human nature that we all want to be different from others. That's why your girlfriend is never too happy when someone else in the party turns up in the same dress. That's also why anything slapped with the words 'Limited Edition' will always sell, even with a bigger price tag. Let's not deny it, vain as it may be, we love being exclusive, and most of would gladly pay handsome sums just to be labeled as such.
Now, if you've always fancied a BMW 3-series or a 5-series, but somehow think that they are still not exclusive enough for you, there's good news. Marking our entry into the new decade, and also the upcoming Chinese New Year celebrations, BMW dealerships nationwide will be organizing the CNY@BMW open showroom event.
In conjunction with the celebrations, BMW Malaysia is unveiling no less than seven new exclusive and limited editions of the 3 and the 5. The new cars unveiled are, get ready for this, the BMW 320i Lifestyle Edition, BMW 320i Performance Edition, the BMW 320d Performance Edition and the BMW 325i Performance Edition, the BMW 523i Executive Edition, BMW 523i Exclusive Edition and the BMW 525i Sports Edition. If you didn't quite absorb all that, no worries, we will sum it up again for you later.
Launching the new variants, Geoffrey Briscoe, Managing Director, BMW Group Malaysia said, "The BMW 3 Series and 5 Series, our best selling models here in Malaysia continue to be highly successful in their respective segments. In 2009, BMW Group Malaysia sold a total of 4,003 vehicles in Malaysia. Of this figure, the BMW 3 Series accounted for 2,025 units which once again made the car the segment leader here whilst the BMW 5 Series sold a total of 1,064 units. Both these impressive sales figures accounts for more than 75 percent of the total cars BMW Group Malaysia sold last year."
3-series Performance Editions – 48 units each
Each of the 320i, 320d, and 325i will be sold in a limited run of 48 units in this special Performance Edition guise. Inside, you get Alcantara and Walkanappa leather finished gear levers, Alcantara handbrake, and aluminium finish on the pedals and footrest. Outside, darkened double kidney grilles and stripes leave onlookers with little doubt of your car's identity.
In addition, four optional BMW Performance Accessories Packages are available for buyers to further customize their rides – the BMW Performance Aerodynamics package, the BMW Performance Carbon package, the BMW Performance Interior package and the BMW Performance Wheels package.
The Performance Aerodynamics package is available only to cars specified with the M-aerodynamic kit, to which it adds front and skirts plus a rear diffuser. For the 325i, this package is further available with the BMW Performance Cold Air package which is claimed to substantially aid in brake cooling – very useful for blasts up to Bukit Tinggi.
If carbon fibre finishing is your thing, then the Performance Carbon deserves your attention as it brings you carbon fibre front splitter, rear spoiler, mirror caps and rear diffuser. These items are said to be 'handmade with minute attention to detail', with actual benefits of weight saving included. The catch for this package is that it can only be specified together with the aforementioned Performance Aerodynamics package.
Inside, the Performance Interior package offers a distinctively designed dashboard and centre console in addition to carbon fibre door trim. Finally the Performance Wheels Package offers a choice of two lightweight rim designs, dubbed Double Spoke 269 and Double Spoke 313, shod with mixed run-flat tyres.
5-series new editions – Prelude to the F10?
The last time we saw this many limited/special/exclusive edition BMWs, it was when the E46 3-series was being phased out to make way for the E90. We therefore have very little doubt that a similar strategy is in place to speed up the moving of E60 stocks before the F10 5-series arrive here. New editions of the 5-series are namely, the 523i Executive Edition, 523i Exclusive Edition, and the 525i Sports Edition.
The 523i Executive Edition comes with a new and exclusive Neptune Blue metallic colour and 17″ alloys featuring what BMW calls the 278 Double Spoke design. Inside, Poplar Grain Brown wood trim is matched with Natural Brown 'Dakota' leather.
An alternate option of the 523i comes in the form of 523i Exclusive Edition sporting Platinum Bronze paintwork. Its side windows and windscreen washer jets are finished with chrome, while at the four corners are 17″ 277 V-spoke alloys. Additional toys in the 523i Exclusive Edition come in the form of Active Front Steering, Comfort Access System, Adaptive Headlights, High-beam Assistant, BMW Navigation System Professional with Voice Control capability, as well as a HiFi loudspeaker system with 6-CD changer.
Finally, topping off the 5-series range is the 525i Sports Edition, available with the option of either Carbon Black or Alpine White colours. As per the existing 525i Sports, the 525i Sports Edition (confused yet?) comes standard with the M aerodynamics package, M Sports Suspension, and a set of 19″ light alloy wheels.
The price for this exclusivity?
The differences separating these limited edition cars from the other run-of-the-mill BMWs, which they will be sold alongside, are primarily cosmetic and some additional accessories. These cars do not spot any technical enhancements. For this reason, these so-called special edition vehicles are usually pretty difficult from a journalist's point of view.
However, these new offerings from BMW are a bit of an exception. For a start, the new 5-series editions are priced unchanged from the existing 5-series variants, whereas the 3-series editions, each limited to a run of 48 units, spot a RM2,000 price hike over the originals. It's not too bad value, as the table below illustrates.