Hyundai i30 2.0 – The slanted 'H' comes of age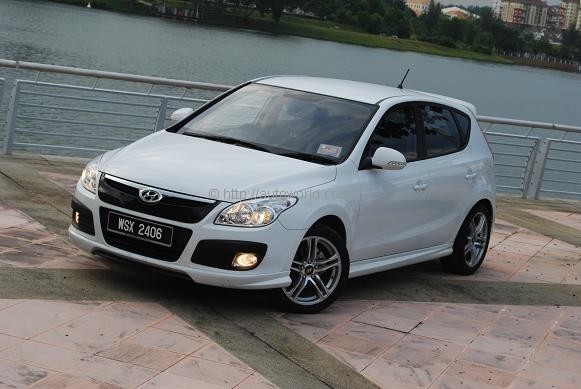 My first encounter with the Hyundai i30 didn't go down all too well, I'm afraid. With only a quick sprint up and down the highway during the media test drive in August, I was able to gain only precious little impressions on both the 1.6 and 2.0-litre versions, and had to fashion out a full-fledged test drive report from what little driving time that was available.
Needless to say that the i30 didn't do at all well in my initial review. Insufficient kilometres behind the wheel meant that too little of what's good were able to stimulate my senses. It felt pretty ordinary then. So, when Hyundai Sime-Darby Motor offered a car for an extended review, I accepted it, but not exactly with arms wide open.
The Test Car
Greeting me at HSDM's office during the pick up was the 2.0-litre version, the same unit which I drove last year, but with two crucial changes made – one which I liked, and one which I didn't. The one that didn't go down quite well with me was the M-Sport (I kid you not) bodykit – the all-round skirtings worked well, but not the black plastic addenda on the bumpers. For my tastes, the i30 looks good enough on its own.
However, the change that worked, was brilliant. Somewhere between then and now, HSDM swapped the 225/45 R17 Yokohama A-Drive R1 tyres for a set of Dunlop Formula D01 doughnuts of the same size. Having experienced the abilities of the D01 on the Nissan Sylphy Tuned by Impul, and I can tell you that this is one bloody impressive tyre. Tyrepac Malaysia quotes the same price for both these tyres – RM381 per piece.
Prices for the i30 start at RM92,388.00 for the 1.6 manual, going up to RM112,888.00 for the 2.0-litre version (all OTR with Insurance for the Peninsula). Opting for the M-Sport bodykit you see on our test car adds RM8,000, though the first 50 buyers for the i30 this year will get it for free.
When the keys were handed to me, the test car had already clocked in excess of 13,000 kilometres in the hands of various members of the media. So, it was a testament of Hyundai's much-improved quality that it has held itself together without so much as a hint of squeaking or rattling anywhere.
Getting Started
Those of you still living with the impression of dodgy Korean cars would be pleasantly surprised with what Hyundai has done with packaging the i30's cabin. Materials used feel upmarket and good to the touch. Panels are aligned with consistent gaps from one another. Control switches are also well-positioned and easy to understand. Nothing in the cabin encapsulates the overall feeling of quality quite like the gated gear shifter, which slots into positions with unmistakable solidness.
For some reason, however, the instrument panel appeared too dark to me during daylight, thus requiring me to keep the lights on at all times. This is, of course, a minor thing, and does not quite amount to criticism. Definitely not, when you compare it to the Pioneer-supplied audio head unit that sorely lacks user friendliness. I needed all of ten minutes just to be able to programme my five favourite channels into its memory.
That aside, there is little wrong with the i30's well-designed and roomy cabin. Indeed, for a hatchback, rear headroom is excellent, and when you remember that the i30 runs on multi-link rear suspension, the 340 litres of boot space that Hyundai managed to squeeze into the rear overhangs is impressive.
The rear seats feature 60:40 split folding, allowing you to expand cargo volume to 1,250 litres with a flat floor from aft of the B-pillar all the way to the tailgate. Operation of the folding mechanism is painless and easy, though Hyundai did not quite leave us with means to elegantly store the three headrests and parcel shelves.
On the Go
Let's quickly revisit the i30's specs sheet before we continue. Under the i30's hood is the 1,975cc 16-valve twin cam Beta engine with variable valve timing (CVVT in Hyundai-speak). Quoted output figures were 140hp @ 6,000rpm and 186.3Nm @ 4,600rpm. Not exactly class leading, but just on par with the competition nonetheless. Paired with the engine is a 4-speed automatic transmission.
Keeping the engine's power in check are disc brakes all round, the front pair being ventilated. The front wheels are held in place by MacPherson struts with heavy duty gas-filled telescopic absorbers. At the back, where everybody else is taking a step backward with torsion beam suspension, Hyundai has thankfully pressed on with independent multi-link rear suspension. Good.
So how did all these lines from the brochure translate to the road? Well, let's just say that for something not wearing an Alfa badge, it takes hard driving rather well. In fact, I would say that this thing actually loves being driven hard, which in truth, you'll need to.
That's because, say when you're cruising with the tacho hovering somewhere between 3,000 and 3,500 rpm, you floor the accelerator to overtake the vehicle in front, you get… nothing. The revs don't move, the transmission does not kick-down, you get no acceleration. There is a clear and obvious flat spot in the torque curve at those revs which blunted mid-range progress, which is certainly not helped by the kick-down-lazy 4-speed auto.
So, to get any meaningful acceleration, you'll need to push it hard, with some manual overriding of the transmission in the process. And, guess what, the i30 obliges. At above 4,000rpm, the engine comes to life, and happily revs its way to the redline, letting out almost a roar of approval egging you to step on it more. At times, it felt as if as there was a black hole behind the accelerator sucking my foot into it.
It corners just as hard too. The chassis effectively keeps body roll in check, with the four D01 tyres working in tandem, clinging on to the ground with unrelenting grip. This results absolute confidence when sweeping bends or cornering, once you trust the slightly artificial feel of the electric power steering.
Over less than well-maintained surfaces, the i30 further demonstrates the impressive credentials of its chassis engineering. Make no mistake, surface conditions make their way to the cabin, but you certainly can't expect a magic carpet ride with 17″ rims, 45-series tyres, and a naturally firm suspension setting. You feel the firmness, but it's not bone jarring, as the potholes are felt as nothing more than light thuds. I kid you not, the ride and handling of this car is properly sorted out and it feels properly sophisticated.
The overall driving experience of the i30 was very positive. While the 2.0-litre engine isn't exactly the most sophisticated motor around, it easily makes up for that with an eagerness to rev. In real world driving, nothing entertains more than a willing engine, and a well-sorted chassis – which, believe me, is what the i30 has. This is a properly fun car to drive.
Conclusion
Although the i30 and I had something of a dull first date, it has more than made up for that in this second encounter, for which I was pleasantly surprised. Despite managing to only cover a mere 250 kilometres with it, they were a very fun and enjoyable 250 kilometres.
When you consider the products that Hyundai were churning out even just five years ago, what they have managed with the i30 becomes even more impressive. It's now no longer about being the cheapest car with the most goodies, which has been Hyundai's key selling point for many years.
Now offering proper driving fun and quality into the mix as well, the i30 is now a properly credible alternative against more established opposition. The problem, in this part of the world at least, is that as a brand, Hyundai is still not exactly regarded as on par with the Japanese marques. Which is unfortunate, because, if the i30 is still not good enough to match the Japanese, then I don't know what is.