Modenas organizes CT110 media test ride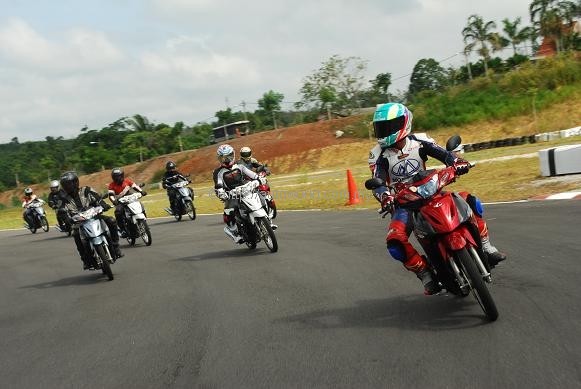 The Modenas CT 110 moped, recently launched to replace the ageing Kriss, has managed to chalk a total of 4,000 sales during its first two months in the market. A strong following has quickly developed for this bike, with owners and fans of the bike quickly establishing a dedicated online discussion forum already.
In an effort to build on its momentum and to generate an extra wave of publicity for the CT 110, Modenas recently ferried a bunch of media members to test ride the CT 110 at the Malacca International Motorsports Circuit just off the PLUS Ayer Keroh toll.
Powered by a four-stroke engine with de-comp starting technology, Modenas pitches the CT 110 as a moped (or kapchai in everyday speak) with sporty inclinations. It's largest-in-class 5.3 litre fuel tank is claimed to endow the CT 110 with a respectable 250km cruising range. Strong anchorage is provided in the form of a cross-drilled twin piston disc brake working in tandem with rear drums.
Notable features in the CT 110 include a second brake light, which is a first-in-class feature. The headlights feature leveling adjustment, something we don't even find in certain high-end cars, let alone motorcycles.
As further candy to the attending media members, Modenas brought along riders from Modenas' own racing team – namely Syahrul Yuzy Ahmad Zaini, Mohd Zulfahmi Khairudin and Mohd Farid Ahmad. Additionally, they were also offered a chance to test ride racing bikes used by Team Modenas in the AAM Petronas Malaysian Cub Prix Championship.