Naza-Kia launches all new Forte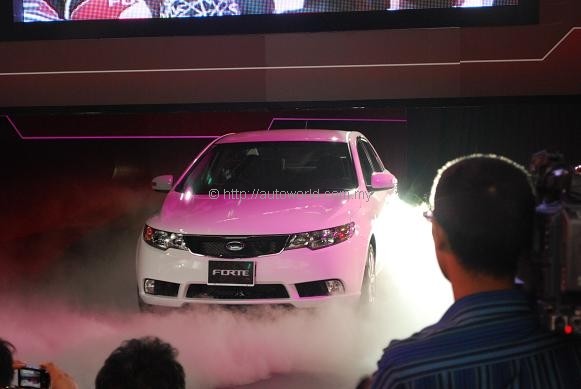 After much anticipation, speculation, and a media test drive, Naza-Kia Sdn Bhd finally unveiled the all-new Forte to the Malaysian public at Pavilion, KL, today. Three variants, all with 4-speed automatic transmission as standard, have been announced, namely the 1.6 EX, 1.6 SX, and 2.0 SX.
Styling of the Forte was penned by the highly-acclaimed designer Peter Schreyer, making this one probably the most attractive-looking car to come out of Kia's stable yet. Having driven it last week, we won't be surprised if this is Kia's best driving car yet.
At the launch, CEO of Naza-Kia, En SM Nasarudin SM Nasimuddin said, "The Forte is a complete package for those who want style, functionality, technology and safety. Its low wedge shaped design also enhances the performance of the car with increased fuel efficiency. The Forte is capable of delivering its worth, and we are confident that it will be a front-runner within its league."
Built to enable Kia to push the Japanese all the way, the Forte, even in base 1.6 EX guise comes loaded with a lengthy list of features and accessories. Though it comes with 15″ steel rims and hub caps, it still gets front fogs, ABS, dual airbags, and USB/iPod connectible audio.
The value-for-money preposition of the range is the middle-child 1.6 SX, which adds button-start, telescopic steering adjustment, "Supervision" meter cluster illumination, auto climate control, 6-disc CD changer, and the Electronic Stability Control pack. Bundled into the aforementioned pack, besides ABS, is Electronic Brake force Distribution, Cornering Brake Control, Brake Assist, and Traction Control.
Also added to the 1.6 SX's array of goodies are 17″ alloy rims, which, we found to make the ride far crashier than the 1.6 EX – the only real criticism to otherwise well-sorted dynamics. Where the 1.6 EX gets beeps to go with its reverse sensors, drivers of the 1.6 SX get an additional graphic display to show them exactly which of the four sensors are detecting obstacles.
Powering both 1.6-litre variants is the 1,591cc twin cam inline-4 Gamma engine rated to produce 122hp @ 6,300rpm. Max torque of 156Nm arrives at a high 4,200rpm. The figures are impressive on paper, and on the road it proved more than adequate for the Forte's modest frame, especially when shod with the smaller 15″ rims of the 1.6 EX.
The top dog Forte is the 2.0 SX, having the same level of equipment as the 1.6 SX, with the exception of leather upholstery, an additional four airbags, and electric power steering. Powering this variant of the Forte is the highly acclaimed 1,998cc Theta-II DOHC engine producing 154hp @ 6,200rpm, and 194.2Nm @ 4,300rpm.
On the subject of sales targets, Nasarudin said, "Our aim is to provide customers and potential Kia owners with vehicles of quality and performance. To date, the Forte has achieved a total overseas market sale of 237,402 units. We believe together with our Principals, we are able to continue contributing to increasing its sales. We hope to see Forte as a key player in the automotive industry. NKSB will target to sell 6,000 units annually."
Oh yes, before we conclude this piece, remember, this is neither known as the Kia Forte nor as the Naza Forte. It's Forte, just Forte.
OTR Prices with Insurance, Peninsula
* 1.6 EX – RM75,800
* 1.6 SX – RM81,800
* 2.0 SX – RM93,800
Writer's Note: East Malaysia prices to be published shortly.