Continental focuses on development of affordable cars

Most of you are familiar with the Continental brand. Many of you probably use their tyres, the product which their brand is renowned for. However, what most of you would probably be not aware of is that Continental's fingerprints on your car are present in areas beyond the four corners. Some of the less prominent appearances of Conti's logo in your car comes in the form of the airbag control unit, ABS, brake actuator, ECU, and transmission control unit. The Continental Automotive Group itself comprises of three huge divisions – Chassis & Safety, Powertrain, and Interior – supplying various automobile components.

With a global trend of the auto market shifting in favour of small affordable vehicles, Continental is responding with what they claim to be a 'comprehensive and scalable product portfolio to satisfy the growing market for small and compact cars'. It plans to offer 'cost effective and flexible product solutions' by leveraging on its strong worldwide market presence, integrated development networks, and streamlined production facilities that centre on localisation and modular assembly. In each market, Continental tailors its approach to suit local conditions but not at the expense of safety, sustainability or quality.
According to Helmut Matschi, President of the Interior division, "Affordable cars are not of a lower quality with only the most basic of components, they are vehicles that customers can afford. They are fitted with minimalist, market-specific functions based on state-of-the-art technology. They are tailored to customers and their regional expectations."
Further elaborating, Matschi added, "Affordability is not only relevant for China and India, it is now also extremely important for manufacturers and suppliers in the USA and Europe."
Indeed, the definition of 'affordable' varies significantly from person to person, let alone country to country. With my paycheck, my Waja is at the absolute threshold of what I would consider to be affordable. The man selling fried rice near my house, on the other hand, finds a Toyota Harrier to be well within his definition of affordable. So, if you were to compare between different markets, the difference become more pronounced. People living in India, China, Europe, Japan, and Malaysia all have different levels of affordability, due to varying levels of prosperity. The challenge for manufacturers is to be able to suitably tailor their products to account for this variance.
As Matschi puts it earlier, being affordable is not just about being cheap and barebones. It goes beyond that. These days, customers buying affordable cars will not settle for just manual windows and a cassette player. Companies need to tailor their products to meet the expectations of the customer in terms of features and quality. At the same time, costs must be kept down. In facing challenges like these, Continental has adopted the approach of localizing all of the supply chain, marketing, development, and production.
In designing their products, Continental uses the 'bottom up' approach, where a basic unit of a product is engineered and then features subsequently added to it. This is in contrast to the 'downsizing' approach, where existing products are made to suit lower range models by removing and scaling down features. An example of the 'bottom up' approach comes in their Body Controller, a system which controls all of the headlights, wipers, and central locking.
Conti started with the entry level Basic Function Controller, which is developed from scratch by its Interior Division. The basic module of the BFC handles controls of the low/high beams, central locking, daytime running lights, wipers and demisters. The auto manufacturer buying the BFC can optionally specify add-ons for the operation of remote control, and auto cruise. Moving up from the 8-bit BFC, Continental also offers the 32-bit Advanced Function Controller for cars with a greater demands.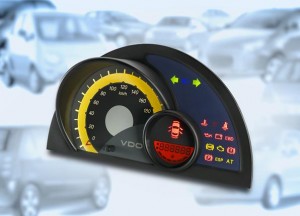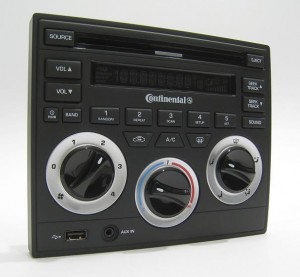 Components from Continental's Interior Division.
From their Chassis & Safety Division, Continental offers the Safety Platform for Efficient & Economical Design (the acronym is, wait for it, SPEED) airbag control unit. The unit is offered in three different versions: S, M, and L, each with increasing level of capabilities. The basic S module controls as many as 12 components in a car's airbag system, while the higher range M and L versions control up to 30. Also from the Chassis & Safety Division are various components of the braking system, such as the ABS module, and brake actuation mechanism. They are currently working to make S-class systems like lane-changing and speed monitoring available for small cars by 2011.
Meanwhile, the Powertrain Division, through their subsidiary Synerject, a joint venture with Orbital Engine Company, works on developing ECUs, injectors, fuel supply systems, sensors, and actuators. Having developed a 32-bit engine management system, Continental has also just launched a new transmission control module, known as the EAST Platform, capable of handling CVTs, AMTs, DCTs, and conventional torque converter autos. Continental's ventures in parts supply also go heavily in the direction of hybrid and electric driven vehicles, offering products from lithium-ion batteries to power electronics.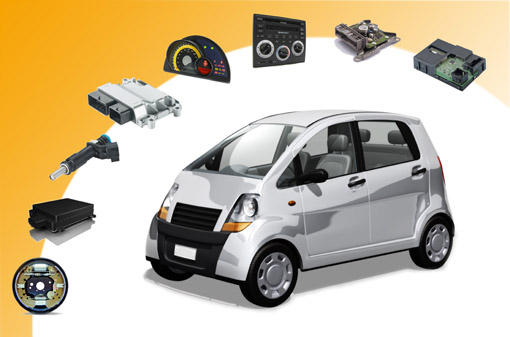 Continental offers a wide range of products.
According to Continental's projections, the number of cars worldwide is expected to swell beyond 940 million vehicles in the coming years, many of them to fall in the 'affordable' categories. They also expect that cars in the future, regardless of segment, will be subject to exactly the same demands: safety, economy, and user-friendliness. Continental Automotive Group plans to make these technologies available to people around the world through its global network of development and production sites.
KON
Further information of the three Continental Automotive Group divisions can be found in official press releases posted in our forum here.