GRA Round 3: Flying Silvias break Andy Kow's dominance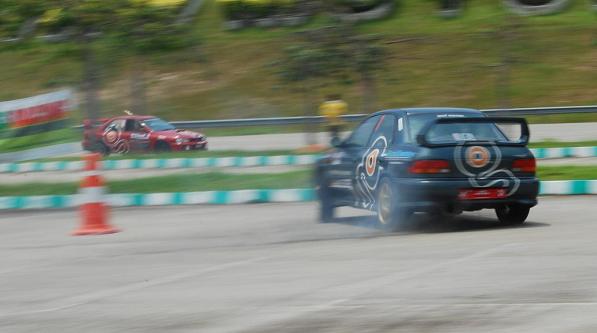 After pulverizing the opposition in Round 2, Andy Kow found the going a little tougher in the third round of the Grass Racing Autocross Championship 2009 held at the parking lot of the Sepang International Circuit. Having strolled to victory the first two rounds, Andy, in his Subaru Impreza WRX, found himself in an unaccustomed position of playing second fiddle to Ee Yoong Cherng's Nissan Silvia, who actually won by a comfortable margin. The other Silvia, piloted by Ariff Johanis, also prospered, holding off a stiff challenge for third place from Ivan Khong, back in action in his Impreza WRX.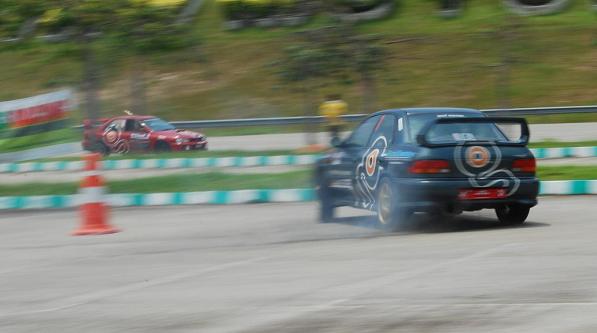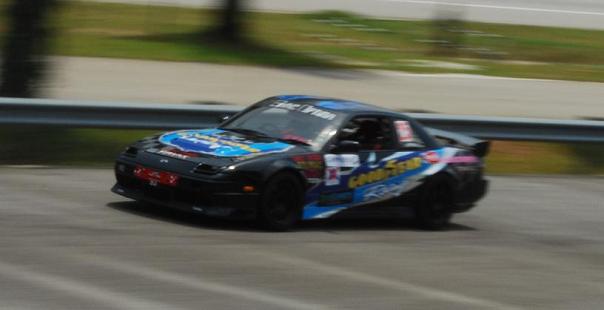 Ivan & Andy found themselves upstaged by Ee Yoong Cherng and Ariff Johanis
Unlike in earlier rounds, the course for Round 3 was designed to be a high speed circuit, with a long straight and two high speed follow throughs. Unlike in Round 2, where the emphasis is on the driver's ability to negotiate tight spaces, Round 3 hands the advantage back to the high powered cars, as William Lim found out in his Suzuki Swift 1.5(A). Competing in both Grass and Pro-Grass, William found himself much lower down the pecking order in the Pro-Grass classes as the bigger cars flexed their considerable muscles.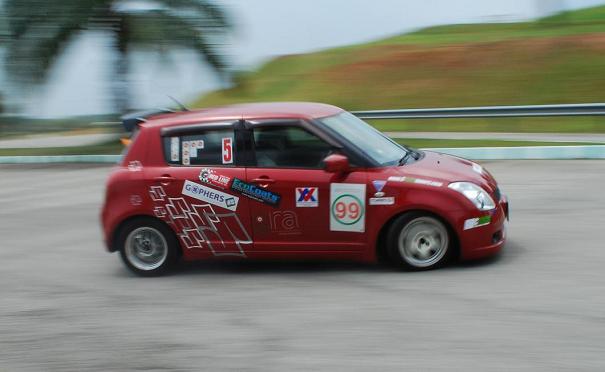 William Lim found the going a little tougher this time. Not that he didn't manage.
Nevertheless, William still returned home happy as he finished comfortably ahead of Adams Marcos' Honda Civic EG8 in the earlier Grass rounds. Drivers in the Grass class were given four timed runs, with the fastest run being used to rank them against each other. William's fastest time was 2:02.741, almost seven seconds ahead of Adams' 2:09.003. Both William and Adams are from Class AA (Up to 2,500 cc automatic transmission), as are Lok Kuan Wen and Chu Poh Kin, who steered their Suzuki Swift and Toyota Altezza to third and fourth place respectively, in both Class AA and also overall Grass. Indeed the Class AA vehicles have been dominating the Grass category all season, with the top positions all monopolized by drivers from this category.
Grass Class A, the playing field of cars below 1,300cc, saw the Saga BLM and the Proton Savvy make their debuts in this season's GRA. Syafiq Amsyar, piloting the BLM, finished second in the class behind Zaki Ahmad in his Perodua Viva 1.0. Charlene Khoo was third in her Perodua Kelisa. Their podium finishes enabled both Zaki and Charlene to propel themselves to second and third place respectively in the class championship point standings behind Danial Khairi. Danial took things easy in his Satria 1.3, finishing fifth in the category, but still managing to stay comfortably ahead of Zaki in the point standings.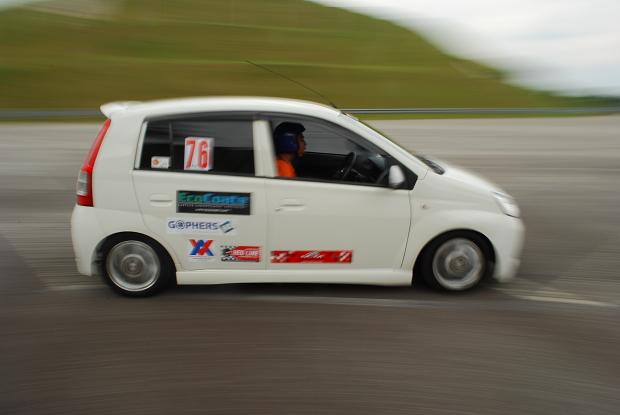 Zaki Ahmad wins Grass Class OA
Only five drivers participated in Grass Class B (1,301 – 1,600cc), with three of them being debutants. David Lau's absence from this round opened the room for competitors to slash his class championship point lead, and it was an opportunity that Hafis Shukor in his Proton Satria Neo exploited to maximum effect. Hafis' win moves him to within a point of David (or A4dave in our forums), setting the stage for a grand finale between the two at Round 4. The win did not come easy for Hafis, as his standard Neo had to fend off the challenge of debutant Jarryd Tan's Neo CPS, who finished just half a second behind. Hafiz Rahamat, also a debutant, finished a further five seconds behind Jarryd in his Toyota Corolla LE.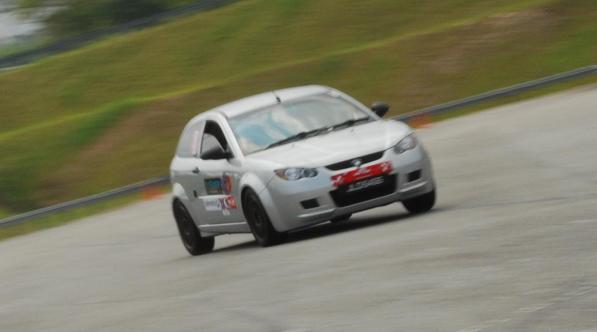 Hafis moves quickly to slash Dave's lead.
Action for the Pro-Grass classes commenced in the afternoon after the conclusion of the Grass classes. The 36 Pro-Grass drivers were given five timed runs and were ranked against each other based on the cumulative time of their two best runs. Ee Yoong Cherng's Silvia clocked a cumulative time of 3:44.394 to take first place, a full eight seconds ahead of Andy Kow's Impreza WRX at 3:52.592. Besides trying in vain to chase Ee, Andy also had to fend off Ariff Johanis, Ivan Khong and Jason Foo, all of whom finished within a second of his time. Despite this minor setback, Andy remains comfortably ahead in the Pro-Grass Championship point standings. Tied much closer and are Jason Foo and Julian Pang, occupying second and third places respectively, separated by just three points.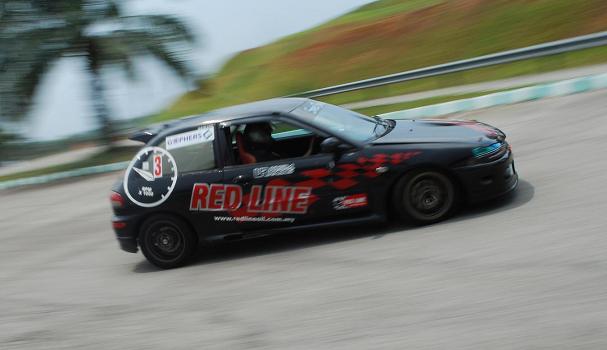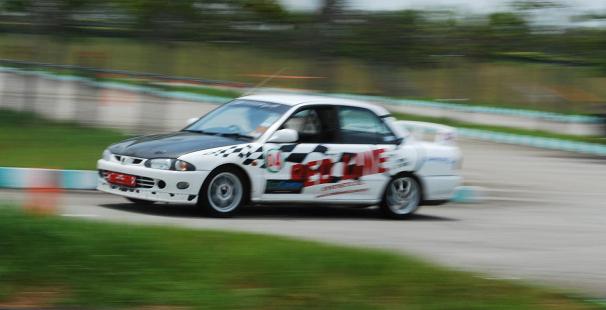 Jason Foo and Julian Pang go head-to-head in a battle royale
Even though finishing tenth overall, William Lim and his mighty Suzuki Swift still dominated Pro-Grass Class OA (below 1,500cc) by a huge margin, with a twelve-second gap separating him and Kenneth Chiew's Proton Wira 1.3. Asman Yahaya, driving a Proton Satria 1.3, finished third in this class. Coincidentally, this same order is repeated in the class championship point standings.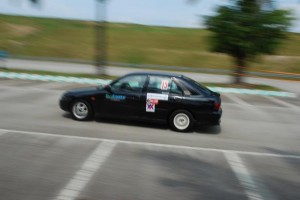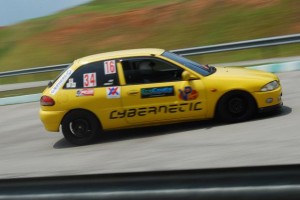 Kenneth and Asman could hardly keep up with William.
Pro-Grass Class OB (1,501 – 1,600cc) comprised of two Toyota Corollas and a Proton Satria Neo. The Neo, driven by Sia Chee Bin, won the class ahead of Zulraimi Yunus in second place. Leon Tan and Woo Wei Kuang, both sharing a Corolla KE70, finished third and fourth respectively. Sia's second successive win has propelled him to the top of his class at 17 points, with Leon Tan close behind at 14. Zulraimi also moved himself up the ladder, with his second placing putting him level on points with Tuah Damak and Nigel Chye.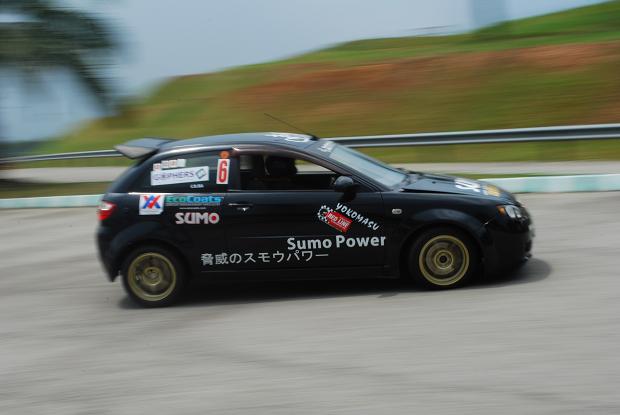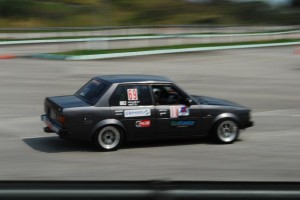 C.B. Sia's Neo beats the Toyotas again.
The hottest battleground is found in Pro-Grass Class OC (1,601 – 2,200cc), where Jason Foo and Julian Pang lock horns in the play ground of 1.8-litre Protons. Julian trails the class championship standings by a single point, but he was nowhere near Jason's blistering times, finishing a cumulative six seconds behind. Behind these two titans, even more closely locked, are Jordan Saw and Nicholas Teh, both driving Proton Putras, separated by a second on the day, and a point in the class championship. Jordan triumphed on the day, clocking a cumulative time of 4:11.875, ahead of Nicholas' 4:12.426. However, Nicholas still holds a slight upper hand in the class championship standings, leading Jordan by a single point. The stage is set for a pair of fierce showdowns in this class come Round 4.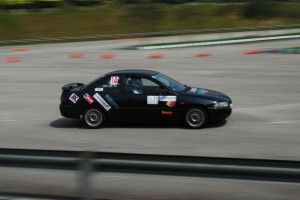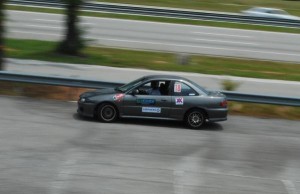 It's also tight between Nicholas and Jordan.
Like how the Class AA dominates Grass, the Class OD exerts a similar influence in Pro-Grass, as these cars, boosted by their four-wheel drives and turbochargers maintain a stranglehold in the top positions. The biggest surprise came from Ee Yoong Cherng, who stunned championship leader Andy Kow to take victory in this group and the overall Pro-Grass category. Returning to the fray after a brief hiatus, is Ivan Khong in his red Subaru Impreza WRX. Khong only managed a fourth place finish behind Ariff Johanis driving the other Nissan Silvia.
Barring an absolute howler, Andy should see himself bagging the Pro-Grass title at the conclusion of Round 4 later in the year. The championship leader needs only four points from the next round to seal it. Below him, Jason Foo and Julian Pang will be going all out in the fight for second place. Jason has a three point advantage, but Julian is too dangerous a competitor to be written off. Just below in the fight for fourth, four points separate the two Nissan Silvias of Ee and Ariff, with William's Swift sandwiched in between. The man's punching well above his weight, but he's really holding his own.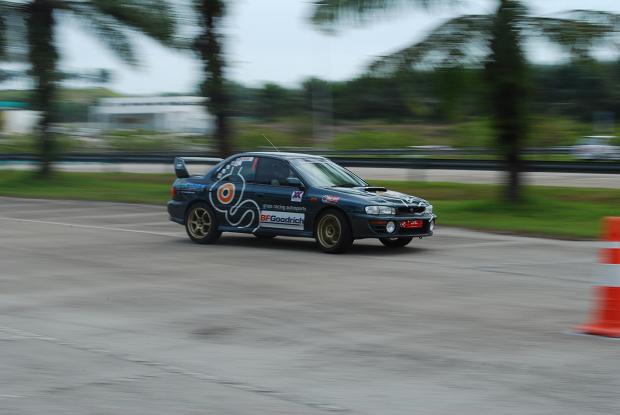 Not so fast this time, but Andy should still seal the Pro-Grass title come Round 4
William's chances of taking of the Grass title is as much a foregone conclusion as Andy taking the Pro-Grass title. Adams Marcos sits seven points behind him in second place, but a full eight points ahead of Fred Foong in his Proton Wira 1.5(A). Behind Fred, however, things can still change fairly rapidly, as fourth placed Victor Lim, at nine points, is only five points ahead of Wong Siew Weng and Chu Kean Wei. A massive shake-up among the Grass standings is still very much in the cards.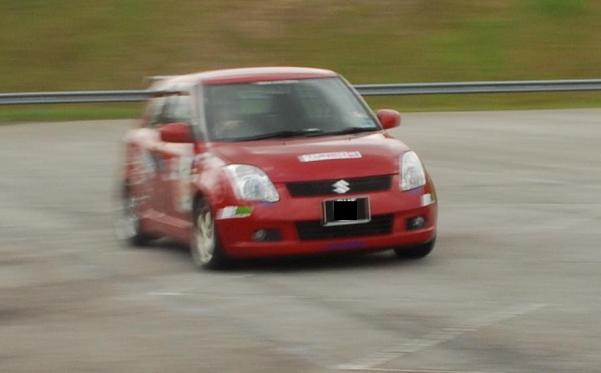 William should be taking the Grass title too.
KON
See also:
– Andy Kow & William Lim steal show in GRA Round 2,
– GRA Results