Out goes the Kancil, in comes ViVA 660BX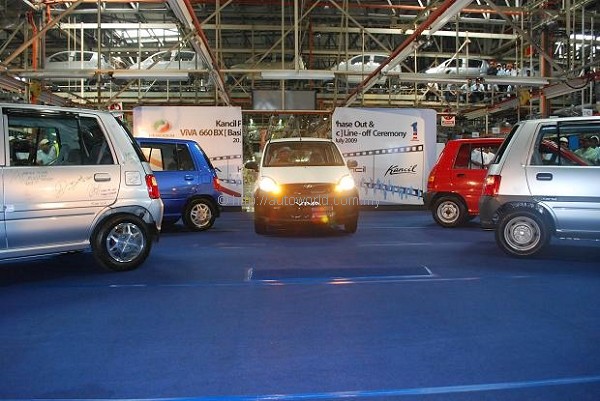 For a whole generation of Malaysians, the iconic Perodua Kancil defined motoring for them. Since its launch in August 1994, the 'mighty mouse' has since re-shaped the country's motoring landscape.
Racking up 50,000 sales after only a year in production, and reaching 100,000 two years later, the Kancil is the car that made Perodua. It was also the car that opened up the compact segment in Malaysia.
Most Malaysians below the age of 35 would recall the Kancil as the car which they honed their driving skills in. For many others, it made car ownership a far more affordable prospect.
When it was first launched, the Kancil came in two 660cc variants, the 4-speed manual EX, and the 5-speed manual GX. A 3-speed auto EZ variant was soon added to the mix, followed by an 850cc model. It has underwent three facelifts, in 1997, 2000, and most recently in 2002.
However, Perodua has decided that it is finally time to bid farewell to the very model which is the foundation of their success. The Kancil's retirement comes after fifteen years of distinguished service, selling an average of 4,000 units per month from launch until today.
In its place, comes a new no-frills variant of the Perodua ViVA, dubbed the 660BX, priced at RM25,300. Available only in manual transmission, the ViVA 660BX does without power steering, radio, power windows, central locking and alarm. The only amenity provided is air conditioning. It has three colours – Ivory White, Ebony Black and Glittering Silver.
Yesterday, Perodua invited members of the press to its factory in Rawang to witness the official 'handing over of the baton' between the two models in the Kancil Phase Out / ViVA 660BX (Basic) Line Off Ceremony.
"The Kancil was sold in 19 countries stretching from Brunei to the United Kingdom. The compact wonder had a very good run," Perodua Managing Director Datuk Syed Abdull Hafiz Syed Abu Bakar at the ceremony. Present with him were Perodua's MD of Manufacturing Osamu Oaki, senior management and some 400 Perodua staff.
Speaking at the press conference after the ceremony, Syed Abdull Hafiz also moved to quickly assure the public that the stocking and supply of Kancil spare parts will continue to come from Perodua for a minimum of ten years from the discontinuation of the model.
The sheer number of Kancils present on the road means that there is still a business case in continuing the production and supply of spare parts for the model.
This Thursday, Perodua will be unveiling a new variant of the ViVA. Stay tuned for our coverage!