Isuzu Malaysia announces D-Max Facelift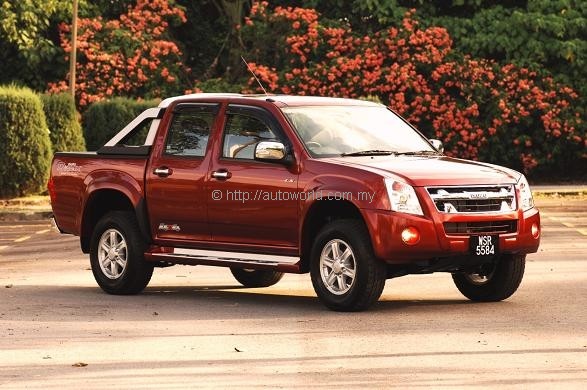 SNAZZY. This is the word that Isuzu is using to describe the facelifted version of their high-rated D-Max pickup. Thus far, Isuzu's only model in Malaysia has already proven itself to be a supremely tough vehicle with sterling performances in the AAM Malaysian 4×4 Rally Championship.
The facelift is primarily cosmetic, but little value has been lost in what is a very competitive package offered by Isuzu. They have taken out the plain-looking grille of the old, and subbed in a fiercer looking unit that resembles a predator baring its incisors.
Isuzu is offering the D-Max with two new colour options. The first option, shown in the photographs provided to us by Isuzu, is Mica Red. The second is called Galaxy Grey, which shares the same name with another colour option Proton once offered for the Waja.
Also upgraded in the D-Max are new-look 16″ six-spoke alloys, an LED third brake light, and a new side-step with reduced slip when wet. In addition, the 3.0-litre models get dual airbags as standard.
CEO of Isuzu Malaysia Takashi Hata explained that the new features of the D-Max focused on enhancing the aesthetics of the car to give the car a broader appeal. "The Isuzu D-Max has been associated with excellent value, durability and low running costs. With its vibrant new looks, the D-Max will definitely be a hit among drivers who also want to be noticed driving a stylish pick-up truck," he said.
"This new outlook extends across the board so both the 2.5-litre and 3.0-litre versions remain similarly stylish in appearance whether you choose to own a good value 2.5-litre version or the versatile and powerful 3.0-litre model," added Hata.
For the demanding motorist who desires higher trim levels, Isuzu is adding a new variant to the range called the D-Max Plus. Its equipment list features leather seats, and, get this, a 2-DIN in-car entertainment centre featuring a GPS navigation system cum DVD player.
Whether the facelifted D-Max will, as Isuzu claim, 'make heads turn' is up for debate, but what cannot be denied is that, with its comprehensive equipment and outright ability, the D-Max remains a value-laden purchase in a competitive market.
The facelifted D-Max will be available for viewing in all Isuzu dealerships nationwide beginning 15 July 2009. For information or to contact the dealer nearest to you, log on to www.isuzu.net.my or call 1-300-88-1133.

Prices of the facelifted Isuzu D-Max