Pajero Sport Comes to town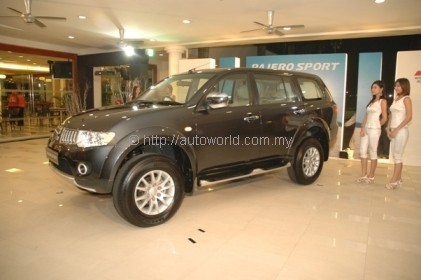 Shah Alam, 5 June 2009 – The true nature of the Mitsubishi Triton was revealed last night at the launch of the Mitsubishi Pajero sport last night at the Glenmarie Golf and Country Resort by Mitsubishi Motors Malaysia.
The Mitsubishi Pajero Sport is a mid-sized SUV featuring a 2.5 litre common-rail turbo charged diesel engine and a 4-speed automatic transmission that also includes a Sport mode for manual shifting. The front end looks a lot like the Mitsubishi Triton save for a few cosmetic details; however, there is a complete SUV body that comes complete with seven-seater capacity. The rear suspension is revamped to include coil springs and a live axle with a panhard rod.
When one media mentioned that the Pajero Sport looks very much like the Triton, Mr. R Kobashi Vice Corporate General manager of Asia & Asean Department explained that the Pajero Sport design actually preceded the Triton. "At that time, we were part of DaimlerChrysler, and the company was against us developing a SUV body. As a result, we developed the Triton instead. Therefore it is the Triton that was developed from the Pajero Sport and not the other way around," said Mr. Kobashi.
This explains the 'softer' looks of the Triton in comparison with the other brands of light trucks; not a real problem, as the Triton shape seems to have gained great popularity amongst customers in Malaysia. Now with the Pajero Sport, Mitsubishi Motors Malaysia offers yet another attractive alternative for the buyer who likes the Mitsubishi Triton, but wants a SUV instead of just a truck.
With the new rear coil spring suspension, the ride promises to be even more comfortable than the Triton, which already is known to provide the best ride in its category.
The engine of the Pajero Sport is mechanically identical to that in the Triton, and its 16-valve layout with an air-to-air intercooler located in front of the radiator provides 136PS of power at 3,500 rpm and 314Nm of torque at 2,000 rpm.
The Pajero Sport is designed with off-roading in mind, and with Mitsubishi's vast experience in long distance rallies like the Dakar; the Pajero Sport has full off-road capability, with a 36 degree approach angle and a 25 degree departure angle. Ground clearance is 215 mm and the ramp break away angle is 23 degrees. Mechanically, there is a hybrid LSD at the rear for additional grip, in addition to the various traction options of RWD, 4WD high and 4WD low.
ABS and EBD come as standard equipment. Front brakes are ventilated discs while the rear are fitted with large drums.
The retail price is RM 158, 609.80 (on-the-road without insurance). Insurance premium is RM4, 370.20 (insured value RM157, 000). The new Pajero Sport can be viewed at any Mitsubishi showroom from today.