Exorbitant parking rates!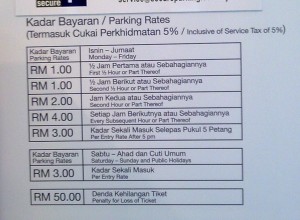 Did anyone have any comments on parking rates – especially those around Klang Valley? Since my office has been for the past many years, located in the golden triangle of Kuala Lumpur, I have noticed that the parking rates here are high rising. One of them where I am parking now…used to be RM3 per entry (3 years ago) and is now RM5.50.
And talking about per entry, does it really mean per ONE entry? What if I park my car there for 3 days, still it is considered per entry right? (Comments are welcomed at the comments section below).
Ok, I have to complain about this particular parking in a high-rise building in downtown KL.
Scenario:
Ticket stamp entry at 16:45 = 4.45pm.
When inserted into ticket machine, machine stamp exit at 17:42 = 5.42pm.
That's 3 mins to 1 hour right? And I did enter before 5pm right?
Question: How much should I pay for the parking?
The machine shows RM5.00!!!!!  Being in and out of this building quite often recently, I knew I have to exit before 1 hour to avoid the exorbitant charge (I exited 4 mins late the other day and was charged RM4 extra that equates to RM1 per minute…sigh!) but alas, rushing to exit has no effect… I think the machine overcharge me RM3! Complaining to the guards and staff there is to no avail, one pointing to another, and the final one who answers says "after 5pm, charge is RM3" – but hellooo…. I ENTER BEFORE 5pm!!
Secure Parking, if you read this; please relook at your machine programming!