UMW Toyota Klang Gets A Fresh Look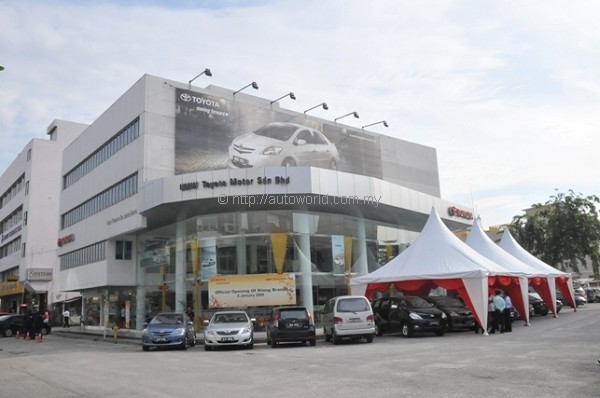 UMW Toyota Motor Sdn. Bhd. has upgraded its Klang sales outlet to its latest showroom standards to serve customers better.
The newly renovated showroom, located at Jalan Kepayang, in the heart of Klang town was first opened in 1990 and has gone through many changes before it was upgraded to the current standard.
"Our move to enhance the existing Klang showroom is to incorporate our latest ideas on how we can best deliver to customers our brand promise and to give them the Toyota Quality Experience (TQE) that we are known for," said Mr Kuah Kock Heng, Managing Director of UMW Toyota Motor.
In his speech, Mr Kuah shared UMW Toyota Motor performance in year 2008. "We are indeed very happy to mark a new sales record of more than 101,600 units of vehicle sold, which is slightly above 18% percent of the Total Industry Volume compared to 2007, sales of 82,000 or 17.1% market share."
He also said that the company's efforts to expand and enhance its sales and after sales network for the past few years to give customers the best sales experience and after sales support has paid off when UMW Toyota Motor achieved the No.1 position in both JD Power CSI and SSI 2008 survey.
Mr. Kuah further added that the accomplishments are indeed very significant achievements to UMW Toyota Motor. He said, "We could have not achieved this without the support from our customers. I would like to take this opportunity to thank all our customers who have been supporting us all these years.
"We will continue to put more focus on our customers and at the same time, train our staff to be customer-centric. In doing this, we would more responsive and flexible in our dealings with our valued customers and adjust to our customers requirements due to market changes," he said ending his speech.
Also present at the opening ceremony were Tan Sri Asmat Kamaludin, Chairman of UMW Toyota Motor, Mr. Takashi Hibi, Deputy Chairman of UMW Toyota Motor, and Dato' Dr. Abdul Halim Harun, Group Managing Director and CEO, UMW Holdings Berhad.
UMW Toyota Motor is reported to have invested RM2 million for the reconstruction of the Klang outlet, which has a total built-up area of 11,375 square feet. The branch is well equipped with the latest showroom facilities, including a spacious showroom area that can display 7 vehicles at any one time, a delivery bay and a customer lounge.
The Klang showroom has a team of 27 staff to serve customers and provide services such as insurance renewal.