Autoworld Dgdream contest winner installs in-car multimedia player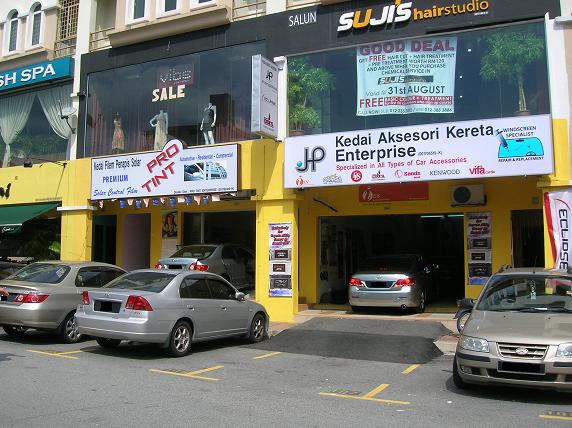 My attitude towards cars are focused almost entirely on its performance. When I evaluate a car, the few criteria I always look at are cornering grip, high-speed stability, straight line acceleration, and may be fuel consumption. I never really cared much for most of the luxuries because I bet most people don't use them. Though I do have a set standard for what I consider as acceptable specs.
To me, any half-decent car's interior must at least have four power windows, electric side-mirrors, enough cup holders for all passengers, twin airbags, air-conditioning and a radio. Things like auto climate control and a built-in hands-free set would be useful additions. So, all along, I never quite saw the point of spending thousands of ringgits on fanciful ICE (In-Car Entertainment) setups. The most I would need from my audio unit is MP3 support. I can't even tell the sound quality of a good setup from a bad one (unless it's real bad).
However, to borrow a famous cliche, one man's meat is another's poison. There are people who do see the point, and there are people who do see the value of a good ICE setup. While not every ICE kaki would splurge five-figure sums pimping up their cars to be moving boomboxes, many are willing to pay for a decent setup installing a set of good speakers, a good HU (head unit) and may be even an amp.
One man who spends his time reading up on ICEs is Mr Choy Wai Hun. Mr Choy recently participated in the Autoworld DGDream Contest and won himself an original DVD player (sponsored by Dgdream) for his three-month old Toyota Corolla Altis. The contest, which ran from 8 July till 22 August required participants to create a hypothetical ICE setup which costs no more than RM2,600. The winner would then be given a choice of three DVD players to choose from, which are catered to fit into the dashboards of the Altis, Camry or Honda CR-V.
Mr Choy claimed his prize on Sunday, at the premises of JP Enterprise at Kota Damansara, who also helped him install the system into his car. JP is one of many dealers for the contest sponsor Dgdream. According to Mr Jeffrey Foo of Dgdream, the new system installed in Mr Choy's Altis is worth RM2,590 and comes with USB connectivity, SD card reading, bluetooth compatibility and touchscreen interface. Check here for more info on this unit offered by DgDream.
Mr Choy also had the cost option of adding a reverse camera, iPod connectivity and a GPS system.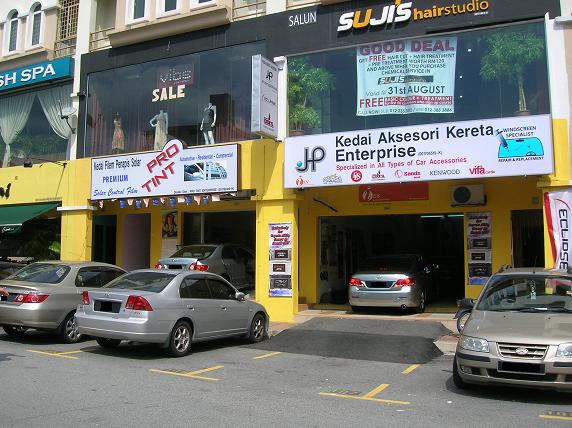 JP Enterprise, Kota Damansara. (The Camry was getting the same system installed too, but at his own cost.)
The unit integrates seamlessly into the Altis' dashboard and requires absolutely no modification of the car's wirings being a plug and play unit. The biggest problem in the whole installation process is probably the dismantling of the dashboard. Although only offering HUs for the Altis, Camry and CR-V for this contest, Dgdream also brings in integrated HUs like these for the new Accord, Golf GTI, Nissan Latio, Sylphy and Grand Livina.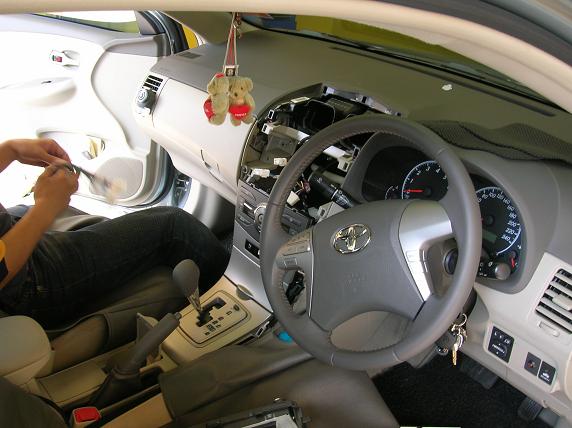 Mr Choy's dashboard being dismantled.
I had an upclose look on the setup installed in Mr Choy's car and I was thoroughly impressed. ICE kaki or not, this is one accessory that gives the owner endless bragging rights. The most appealing part is that it integrates so seamlessly into the dashboard, it can actually pass off as being a factory setup with the fascia material matching almost perfectly, as each of these units are designed to match a specific car model in mind.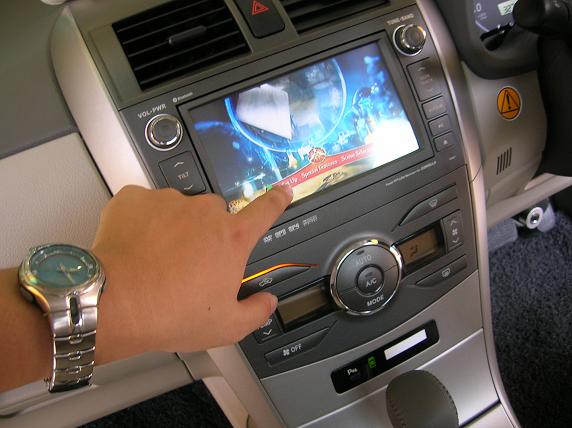 Can see cannot touch. (Notice the near-perfect fitting)
As said earlier, I am usually ambivalent towards ICEs, often dismissing most fanciful setups as being too excessive. However, with this one, I am impressed. If they have a model for the Waja, I might even consider one for myself!
Finally, congratulations to Mr Choy on your winning of the contest. Autoworld wishes you many happy miles on the road with your new DVD player. Also thanks to Dgdream for sponsoring this contest, and to JP Enterprise for performing the installation process in Mr Choy's car.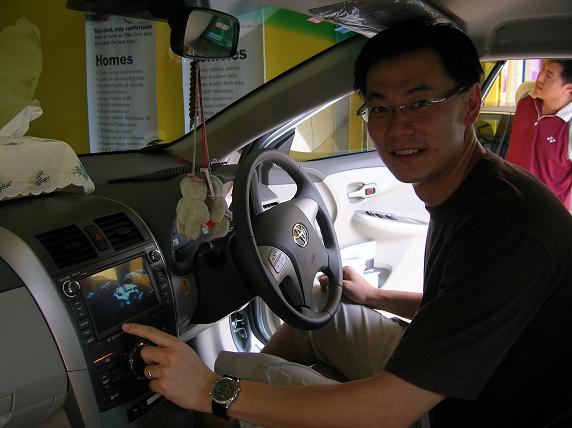 Mr Choy Wai Hun with his new pride and joy.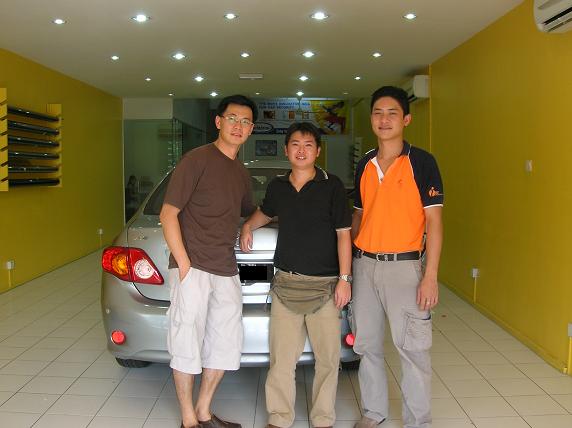 (L-R): Mr Choy, Mr Jeffrey Foo of Dgdream, Mr Yap of JP Enterprise
Visit http://dgdream.com/index.php to view Dgdream's entire range of products.