Honda Malaysia Launches All-New Jazz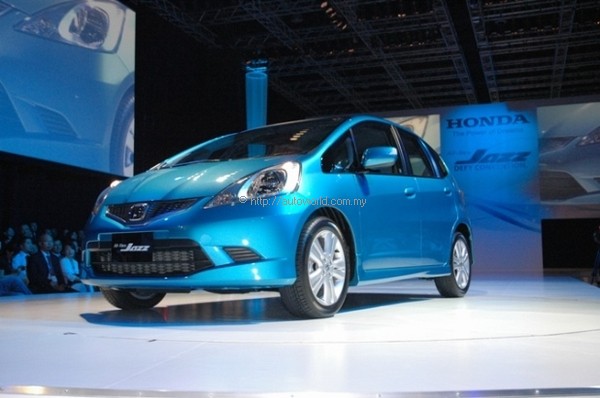 Kuala Lumpur, 20 August 2008 – Honda Malaysia launched the all-new Honda Jazz today in a new and novel way, combining a fashion show with the introduction, with the Honda Jazz as one of the models on a larger than life-size catwalk. What was even more exciting than the beautiful models who paraded in the latest fashion designs was the new Jazz, which features a brand new body and many improvements.
Appearing even more sporty-looking, with a new nose and a tail end, the Jazz is not a face-lift, but a completely new body. It is slightly wider and longer, but retains the same height as the outgoing model. Interior dimensions have been revamped to provide more living space for its occupants, and there are nine cup-holders, more than you will ever need.
Changes to the suspension geometry make the straight line tracking better, and overall handling should be improved. Tyre sizes are now either 16-inch or 17-inch (depending on the model variant).
The 4-cylinder 1.5 litre i-Vtec engine now puts out a whopping 120PS, which should be good news to the performance buffs who may have found the already impressive 110 PS of the previous model lacking. The CVT transmission is also replaced by a 5-speed automatic transmission, effectively putting the Jazz at the top of the class insofar as its competitors are concerned. I consider this a very positive move on the part of Honda, to offer an up-market feature such as this. The benefit to the user is improved driveability, and improved fuel efficiency. I don't think it is necessary to go into details as to why a five speed auto is better than a 4-speed. As to why there is a switch to a conventional automatic transmission versus a CVT, I would suspect the world is not quite ready for CVT. Personally, I like the driving sensation wherein you can feel the speed picking up as the engine RPM goes up.
Being a CBU, the lower spec Grade-S Honda Jazz retails for RM104, 800, while the higher Grade-V model sells for RM109,800. The official Honda Malaysia target is 200 units a month. Keep your eyes on this site for our test report in the near future.