Nissan Latio Tuned By IMPUL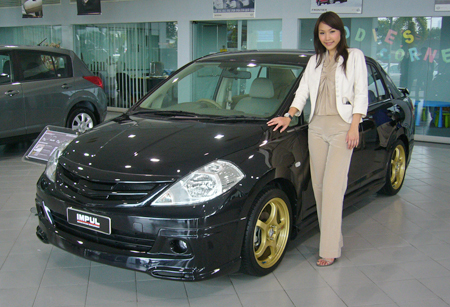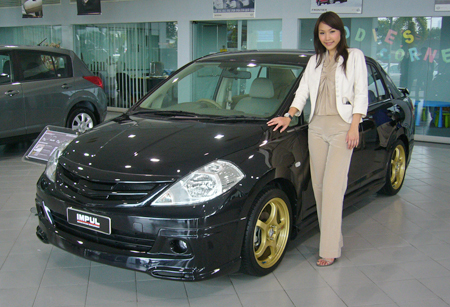 Edaran Tan Chong Motor Sdn Bhd (ETCM) has just introduced the all-new Nissan Latio Tuned By Impul. The Nissan Latio Tuned By Impul will be a limited production run and is targeted at customers who want their Latio to be more distinctive and at the same time take driving performance to a whole new level said Dato Dr Ang Bon Beng, Executive Director of Edaran Tan Chong Motor Sdn Bhd.
The Impul parts fitted onto this limited edition model are:
IMPUL Aerokit
The Impul aerokit exudes visual drama and dynamic presence. It comes as a set with a new front grille, front and rear bumper spoiler, side skirts and at the rear, Impul's trademark wing spoiler.
IMPUL Sports Suspension System
A high performance suspension system consisting of absorbers and springs designed for a lowered vehicle ride height of 25 mm to provide a firm foundation and a flexible but comfortable ride at the same time. Repeated actual vehicle suspension testing was done to achieve the exhilarating sporty ride with increased lateral force support when cornering and enhance the neutral cornering characteristics of the Nissan Latio.
IMPUL Blast II Exhaust Muffler
A high quality stainless steel exhaust muffler in a polished finish and etched Impul logo tail pipe, not only provide sharper engine response with a sporty note but also complements the overall aesthetics of the exterior.
17″ Team IMPUL NS GTII Alloy Wheels with Dunlop Formula D 01 205/45 R17 Tyres
The Team Impul NS GTII Alloy Wheels are the most recognizable wheels from Impul and only weighs 6.48kg! They not only optimise the handling and enrich the steering feel but also provide a more poised stance on the road. Gold finished exclusively available only for the Limited Edition Nissan Latio Tuned By Impul.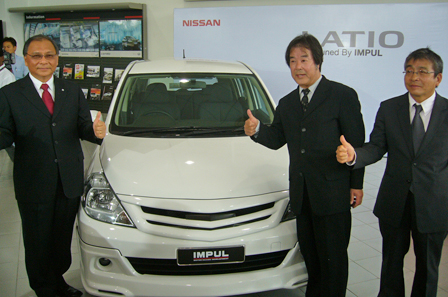 L to R: Dato Dr Ang Bon Beng, Kazuyoshi Hoshino, Yutaka Kaneko
The Nissan Latio Tuned By Impul version is only at a cost of RM10,500.00 above the standard Nissan Latio. That is a saving of  RM5,000 if one were to buy the parts individually.
The all new Nissan Latio Tuned By IMPUL can be exclusively viewed at selected Nissan showrooms nationwide and comes with a 3-year or 100,000 km (whichever comes first) warranty. After-market purchase for IMPUL Performance Parts will also be available to existing Nissan LATIO owners.