MME Should Remain a 12-Hour Race, says Stuck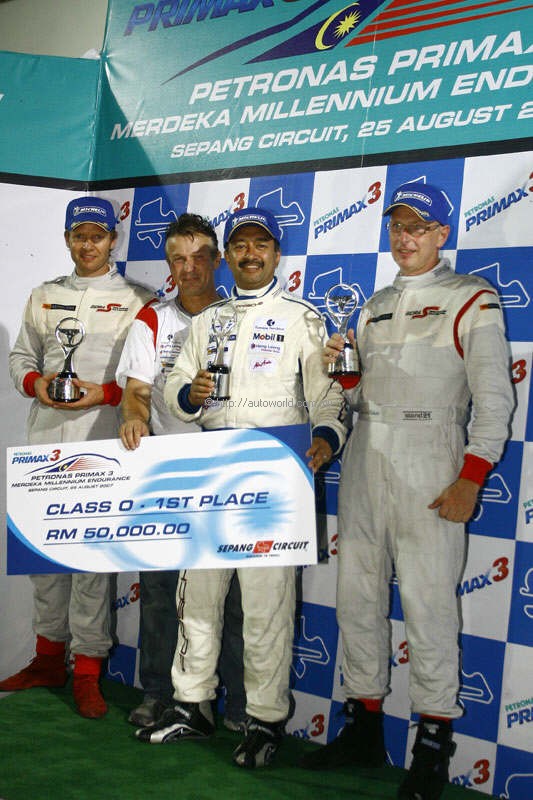 Monday, 27 August, 2007, Sepang – While a proposal to turn Sepang's prestigious Merdeka Millennium Endurance into a 24-hour race is fast gaining momentum, racing legend Hans Joachim Stuck believes the race should remain as it is and instead build further as a prominent 12-hour international endurance race.
"Making the MME a 12 hour race will make it just another LeMans, Nurburgring or even Dubai 24-hour race. It will just be another 24-hour race. Nothing more … they should keep it as 12-hour race. It's unique and exciting," said Stuck, who had a heartbreaking debut at Sepang after his Petronas Syntium Team was forced to retire from the front with just 55 minutes before the checkered flag.
Twice overall winner in LeMans and three times at the Nurburgring 24Hours Endurance Race, Stuck, who partnered his son Johannes and Malaysian Fariqe Hairuman, said the endurance race in Sepang provided plenty of excitement for the drivers and fans as a 12-hour race.
"It's half sprint and half endurance … it's a good racing period, it's a perfect combination … 12 hours is just nice," Stuck said, adding that at the moment, there was only one international 12-hour endurance race in Sebring, Florida and it is commanding huge interest among the world class participants.
"Sepang should remain as a 12 hour race … at least for this side of the world," says Stuck, who said that he would love to come back again next year to compete in the MME. The event was introduced by Sepang International Circuit (SIC) at the turn of the millennium to promote Sepang as an international hub for motorsports activities ans as part of the National Day celebrations.
"If you ask me, I really love this track. The track has everything … fast corners, challenging turns and it is very demanding. I am sure other foreign drivers that had never competed here would love to race in Sepang as well," said Stuck, who partnered his son Johannes and Malaysian Fariqe Hairuman, completing 275 laps before retiring due to electrical problems to their BMW Z4M Coupe race car.
Despite that massive number of laps covered and even surpassing last year's total laps of 271 by overall winners Proton R3 Motorsports, the team were classified as DNF (did not finish) as the rules requires competitors to take the checkered flag to have their results classified by the race officials.
It was even more devastating for Team LKM Racing with drivers Siu Tit Lung, Siu Yuk Lung and Keita Sawa when their Porsche 911 stalled with just 200 meters short of checkered flag as the car caught fire before being immediately put off by the marshals. Covering 268 laps, the team could have taken third place in Class O.
As the race enters its eighth edition this year, SIC Chairman Datuk Mokhzani Tun Dr Mahathir had said that it was time for the event to progress to its second phase, and that making it as a 24Hours race like LeMans, Nurburgring and Bahrain was one of things being considered.
There was widespread discussion at the paddock among the drivers and teams over the proposal during the race last weekend with their opinion divided, though most of them were thrilled with the prospect of racing for a full day around the 5.543-km challenging Sepang Circuit.
Commenting on the proposal, Class A winner Eddie Lew said that he was looking forward to compete in a 24-hours race; but stressed that his participation would entirely be decided by his Honda Malaysia Racing Team.
"As a driver, I would love to compete in a 24 hour race to actually test myself a driver. It would be very interesting," said Eddie, who won his fourth Class A winner trophy – this time with Japan's Super GT drivers Hiroki Katoh and Shinya Hosokawa.
The winning Class B trio from Type R Racing – Kek Tean Kang, Wong Yew Choong and Soh Kee Koon – said that they were ready to continue competing in the MME irrespective of the number of hours.
"We have been here from the first race and we will be here all the way to support this event. Every driver and every team in Malaysia loves this event. This is the biggest race in Asia and we as Malaysians, will always support this event," said Tek, who also won the Class C in 2004.
Class C winner Harry Chai of JC Racing Team, however, was cautious in his comments, saying that a 24-hour race would incur more expenses for the local teams and that it could deny many local drivers like himself from continue competing in the MME.
"We must study everything first … we must consider the local drivers who want to compete in the MME," said Harry, who was installed as the winner of Class C for cars below 1600cc with after the partnership of Kenny Lee, Sherwood and Chris o'Shannessy was disqualified.
Of the 77 cars flagged off by Deputy Youth and Sports Minister Datuk Liow Tiong Lai, only 42 cars were classified with the remaining cars either being disqualified or failing to finish.
Imagine what could happen if it was a 24hour race.
2007 Petronas Primax 3 Merdeka Millennium Endurance
Sepang Circuit – 5.543km
Top 10 Finishers
(Number of laps covered after 12 hours)
1. Mokhzani Mahathir, Sven Herberger, Lars Erik Nielsen) (Porsche 911 GT3 RSR) 288 laps
2. Hiroki Katoh, Shinya Hosokawa, Eddie Lew (Honda Civic Type R) 282 laps
3. Rueben Wong, Fahrizal Hassan, Aaron Lim (Honda Civic Type R) 282 laps
4. Marcus Goh, Yasuhiro Kuhara, Ken Yap (Honda Integra DC5) 271 laps
5. Unemoto Junichi, Kusumoto Yoshiharu, Nagano Kenya (Honda S2000) 271 laps
6. Shaun Juniper, Paul Kelly, Craig Bird (Porsche 911 GT3 RSR) 270 laps
7. Helmi Ilyas, Adam Ilyas, Hisham Jahudi (Lotus Exige 240) 269 laps
8. Erwin Azizi, Adam Azizi, Johnson Chen (Honda Dc5) 268 laps
9. Keifli Othman, Peter Leemhuis, Tony Ford (Honda Integra DC5) 267 laps
10. Wong Yew Choong, Kek Tean Kang, Soh Kee Koon (Honda Integra DC2) 256 laps
Class Winners
Class O (Open class)
Mokhzani Mahathir, Sven Herberger, Lars Erik Nielsen (Porsche 911 GT3 RSR) 288 laps
Class A (production cars above 1900cc)
Hiroki Katoh, Shinya Hosokawa, Eddie Lew (Honda Civic Type R) 283 laps
Class B (production cars between 1601cc and 1900cc)
Wong Yew Choong, Tek Kean Kang, Soh Kee Koon (Honda Integra DC2) 256 laps
Class C (production cars below 1600cc
Harry Chai (Toyota AE101) 259 laps