Naza Kia Launches All-New Kia Optima and new-look Spectra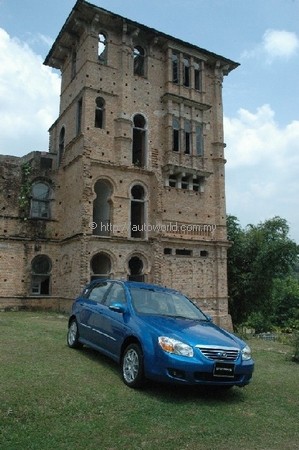 Kuala Lumpur, August 15, 2007 – Naza Kia Sdn Bhd launched the Kia Optima, a new D-Segment sedan at a launch ceremony at the Kuala Lumpur Convention Centre (KLCC) attended by Naza Kia's chief executive officer, Tan Sri Dato' Seri Utama SM Nasimuddin SM Amin. Officiated by Minister of Trade and Industry, Dato' Seri Rafidah Aziz, Naza Kia also unveiled the new Kia Spectra5 at the event. The two new additions are the latest in an already extensive model line up at Naza Kia.
Said Tan Sri Dato' Seri Utama SM Nasimuddin SM Amin, "the Kia Optima is one of the best selling and most admired models in the Kia line-up. We are confident that this current model that we are launching today will offer quality, value and driving satisfaction that discerning Malaysians demand today." Targeted at the business professional, the Kia Optima is claimed to offer build quality and state-of-the-art technology with superior ride comfort and style.
Also at this launch, the Kia Spectra5 was introduced with an all-new 5-Door body. Since its introduction in 2000, the Kia Spectra sedan has had a fair share of success, posing a credible competition to other marques in the C-Segment.
Tan Sri Nasimuddin added that the new Kia Optima and Kia Spectra5 are expected to perform strongly in a market that is becoming increasingly discerning and value driven. He also expects that the new models will contribute significantly to the company's bottomline. "We believe the new Kia Optima and Kia Spectra5 will easily be two of the more competitive brands in Malaysia with its user-friendly features, durability and performance. We expect to sell 750 and 1,500 units of Kia Optima and Kia Spectra5 for the remainder of the year, respectively."
Voted highest in safety
The Kia Optima is an all-new 2.0 litre Theta DOHC CVVT unit that develops 145PS, and it comes with a new Sports Mode four-speed automatic transmission as standard.
The Kia Optima has earned the highest possible safety rating – five stars – for all seating positions in the latest frontal and side impact crash tests by the U.S. Department of Transportation's National Highway Traffic Safety Administration (NHTSA).
All versions of the Kia Optima are equipped with air-conditioning, dual airbags, high power Infinity Audio System (special package only), powered driver's seat height adjustment and a tilt-adjust steering column suede and leather upholstery (special package only), with powered drivers seat, a leather-wrapped steering wheel, powered door mirrors, four electric windows and remote central locking.
It also has automatic lights, a trip computer, telescopic steering wheel adjustment, full climate control with an air quality monitoring system (special package only), powered driver's seat (special package only) and stability and traction control with emergency brake assist.
The new Optima is a safer and quieter car to travel in. Standard features across the range include front airbags, active headrests on both front seats and anti-lock brakes with electronics brake force distribution. In addition, all Optima models have emergency brake assist and electronic stability programme with traction control.
Most delightful model
For Spectra5, the high level of standard equipment across the range includes dual airbags, air conditioning, remote central locking, anti-lock brakes with electronic brake force distribution and Brake Assist, 6-speaker audio system with MP3 player and USB input, trip computer and split folding rear seats.
The Spectra5 is powered by an all-new 1.6 litre four cylinder 16 valve DOHC CVVT unit. The transmission is a four-speed automatic gearbox with Sports Mode.
Developing 121PS at 6200rpm and 153Nm of torque at 4200rpm, the DOHC CVVT engine is mooted to be suited to buyers wanting a balance between performance and economy.
The interior design of the Spectra5 is simple, modern and efficient, with high quality materials. The dashboard is divided horizontally, with the upper surfaces in a dark colour to reduce reflections and glare.
In 2006, Kia Spectra was named the "Most Delightful Vehicle of 2005" by Strategic Vision in the Small Car Segment, a Consumer Guide "Recommended Buy" and a "Best Buy" by Consumers Digest. Spectra also was named one of the "Greenest Cars for 2006" by the American Council for an Energy Efficient Economy (ACEEE).
In the 2005 J.D. Power and Associates Initial Quality Study (IQS), the Spectra sedan was ranked second in the Compact Sedan Segment, with a better IQS score than its key competitors. The Spectra sedan also received Consumers Digest's coveted "Best Buy" award in 2005.
Kia Optima and Kia Spectra5 come with top of the range specifications and very attractive price points. Optima is available in Ebony Black, Clear Silver, Light Almond Beige, Deep Ocean Blue, Dark Red Wine and Midnight Grey while Spectra sports the colours Clear Silver, Sand Beige, Ebony Black & Sports Blue.