New Toyota Avanza – Larger Capacity Engine, Same Fuel Consumption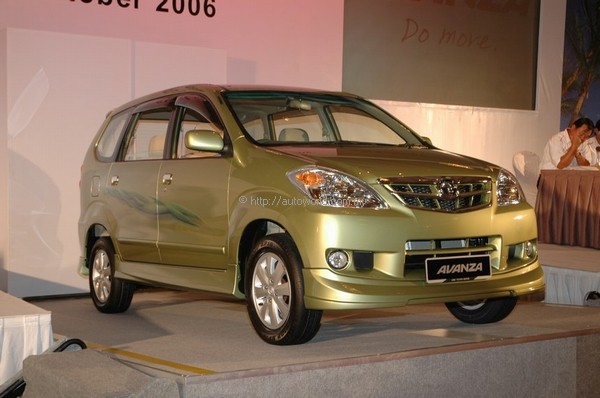 Petaling Jaya, 4 October, 2006 – UMW Toyota Motor Sdn Bhd launched the updated Toyota Avanza to the media tonight, ahead of its scheduled public launch in a couple of days to go. In addition to a model update on the current 1.3 litre model, UMW Toyota also launched a more powerful version with a 1.5 litre DOHC engine with VVTi (Variable Valve timing).
The overall shape remains the same, with small changes to the front mask (chrome grill and a re-designed front bumper), and six new colours have been added. You can now get your Avanza in Light Green Metallic, Garnet Red, Sparkling Gold, Platinum Silver, Dark Grey Metallic, and Black Mica.
The 1.3 litre specifications basically remain the same, except for a slight increase in the horsepower by 2 KW to 67KW or 92 PS at 6,000 rpm. Unfortunately, the final drive ratio for the 1.3 remains the same at 5.571:1, which translates to an engine rev of around 3,800 rpm at the highway regulation speed of 110 km/hr. During the preview, I had the opportunity to have a discussion on the matter with Mr. Kazuhiko Yamamoto from the Vehicles Development Centre of Toyota Motor Corporation, and he mentioned that the 1.5 model has a final drive ratio of 5.125:1, which translates to a 9 percent increase in the overall ratio, and coupled to a wheel size of 15 inches on the 1.5, it is expected that the overall speed per 1000 rpm would be around 3,300 to 3,500 rpm. According to Yamamoto-san, the 1.5 litre variant was designed with a target fuel consumption to be the same as the 1.3 litre variant. Depending on driving style and speed, my current model Avanza gets anything between 15.6 sen a kilometre to 19.7 sen a kilometre.
Mr. Yamamoto also stated that there is an option for a 5.375:1 final drive ratio in some other countries; that would be something that I would try out in Malaysia, to reduce the cost per kilometre, bearing in mind the rising cost of fuel here. The concern that Yamamoto has regarding the 5.375 ratio would be the hill-climbing ability, and acceleration, which would suffer a little because of the heavier load, but bearing in mind that in Indonesia, where the Avanza originated from, the usage of the Avanza is different from here. In Malaysia, my personal observation of Avanza owners is that a vast majority of owners are light-duty users. Perhaps a choice of final drive at the point of purchase could be an option that can be explored. After all, car makers all over the world do allow for customisation, such as choice of engine, trim type and colour, type of transmission, etc. Over here, what is done in this area is the manufacturer making vehicles in certain 'popular' configurations, and offering them as variants. Having a final drive option is just going one step further. After all, David Chen, the MD of UMW Toyota, in his opening speech, did say that the developments in the new Avanza stemmed from Toyota's 'Voice of the Customer', and my comments are exactly that.
Other than cosmetics, the 1.3 model remains unchanged, except for one feature that I consider very thoughtful; the second row of seats now have both left and right seats being able to fold and 'tumble' forward for easy access to the third row of seats.
The 1.5 litre variant is more interesting. It has an engine that is very similar to that in the Vios in terms of design and power (109 PS at 6,000 rpm and 141Nm of Torque at 4,400 rpm), but is placed in a 'North-south' direction to cater for the rear wheel drive configuration of the Avanza, and whereas the Vios engine has an aluminium block, the Avanza block is cast-iron. With a fuel consumption mooted to be the same as the 1.3 litre variant, but with more power, it will probably overshadow the 1.3 variant in sales numbers.
The 1.5 also comes with airbags, ABS, and EBD, plus 15-inch wheels, features that will make it more appealing. Personally, I am looking forward to testing the vehicle, and doing a comparison to the 1.3 litre model, but on paper, I am already considering a change.