Jazzier Honda Jazz Unveiled by Honda Malaysia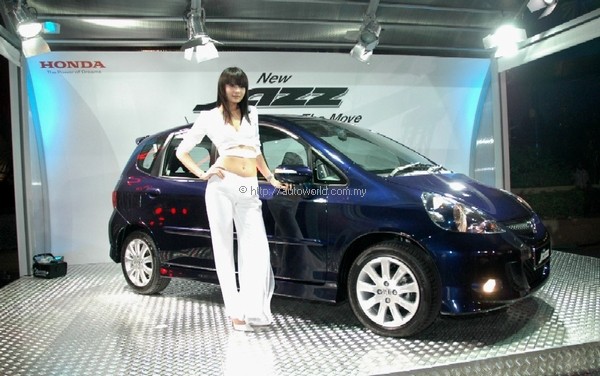 Petaling Jaya, 16 August 2006 – Honda Malaysia Sdn Bhd unveiled the new Honda Jazz at the Curve today. In industry terms, it is called a 'MMC' or minor model change, an interim enhancement to maintain excitement in a model. First launched in 2001, the Jazz, known as the Honda Fit in Japan, has garnered a good following amongst the young and trendy set, who like the extra versatility of a mini-MPV type of vehicle. The Jazz complements the Honda City, in that it offers a little extra for the customer who wants the qualities of the City, but wishes for a more exciting shape.
Since its launch the Jazz/Fit has sold more than 1.6 million units in 117 countries worldwide. Introduced in the Malaysian market in 2003, the Jazz remains somewhat of a premium, being imported as a CBU from Thailand.
The Jazz continues to be offered with two alternative engines. The IDSI engine is a little less powerful at 88PS, but what it has going for it is outstanding fuel economy. Alternatively, customers can opt for the VTEC model that has an output of 110PS. Both the models feature a 7-speed CVT (Constantly Variable Transmission).
Enhancements that come with the minor model change include new front and rear bumper designs that make for a cleaner looking silhouette, and LED (light Emitting Diode) tail lights. The VTEC model also has new body-colour headlights, a newly designed gear knob, a self-illuminating meter and side-turn light door mirror.
Mr. Yasuhide Mizuno, Managing Director of Honda Malaysia Sdn Bhd, said at the launch, that the Honda Jazz's core appeal lies in its combination of a sporty body styling and functional features. " The new Honda Jazz emphasises the unique elements of the Jazz with stylish exterior and spacious interior in a neat package that complements the driver's lifestyle. We believe that this is something that the discerning market, which is always looking for something new that personifies them, is looking for," he added.
Honda Malaysia looks to sell a total of 1,800 units of the Jazz in 2006. Price on-the-road is RM94,800 for the IDSI model and RM103,800 for the VTEC model.