Friendship Is Worth More Than You Think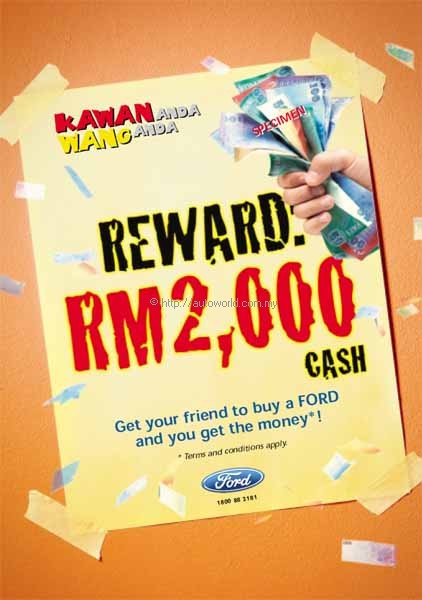 Ford Malaysia's latest, "Kawan Anda, Wang Anda" promotion, definitely proves that friendship has its rewards. How? Just tell your friends about your experience owning a Ford vehicle and if they decide to buy one, you stand to receive RM2,000 for each friend introduced. The more friends introduced the more you stand to receive and with the excellent track record of Ford vehicles that should not be too hard to do.
This promotion kicked off from April 1 and will last till May 31 and is applicable only for the sale of the Escape 2.3L VICS, Escape 3.0L V6, Ford Ranger Hurricane and Ford Ranger 4X2 (AT). The introducers are eligible for the RM2,000 for every friend that purchases and registers any of these vehicles within the promotion period.
This promotion is subject to terms and conditions as listed in the promotion form that can be obtained at Ford dealerships nationwide and is only valid for privately registered vehicles. For more information on Ford vehicles or to locate your nearest Ford authorised dealer, go to www.ford.com.my or call Ford's Customer Relationship Center toll-free at 1-800-88-3181.
Ford Malaysia Sdn. Bhd. is a joint venture between Ford Motor Company and Tractors Malaysia Berhad. Its product range includes the Focus, Escape, Everest, Ranger and Econovan.
Ford Motor Company, a global automotive industry leader based in Dearborn, Michigan, manufactures and distributes automobiles in 200 markets across six continents. With about 300,000 employees and 108 plants worldwide, the company's core and affiliated automotive brands include Aston Martin, Ford, Jaguar, Land Rover, Lincoln, Mazda, Mercury and Volvo. Its automotive-related services include Ford Motor Credit Company. For more information regarding Ford's products, please visit www.fordvehicles.com.