Guinness World Record Fuel Economy Attempt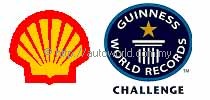 Guinness World Record Fuel Economy Attempt Set to be More Successful than Expected with Forty Fill-Ups or Less
Record-setting couple John and Helen Taylor are achieving ongoing success on their latest Guinness World Record attempt, known as the Shell Fuel Economy World Record Challenge.
They have driven through 14 European countries on less than five tanks of fuel and are now in Asia. Using Shell's latest fuel economy formula and following their fuel efficiency driving tips, they are averaging close to 60 miles per gallon (4.7lt/100km or 21.2 km/lt). This beats the official VW figures over the combined cycle (a combination of urban and extra-urban cycles) for the 1.6 Golf of 40.4 mpg (7.0 lt/100km or 14.3 km/lt). John commented, "based on the extraordinary performance so far, we are confident that we will achieve a lower fuel consumption than expected and complete the journey with 40 fill-ups or less."
John added, "To achieve fuel economy statistics like this when faced with such difficult terrain and climate is quite an achievement. We have been stuck in Milanese traffic for three hours and have driven through sleet, snow and winds on the mountain roads of Eastern Europe and Greece. We have also faced challenging roads in Pakistan and India. Our fuel efficiency high point so far was travelling 1,223 km on only 50 litres of fuel, which is less than one tank, when driving through the Alps!"
An innovative new Shell petrol formula designed to give drivers improved fuel economy is fuelling the Taylor's Guinness World Record attempt. The fuel, which is still in development, is being put to the ultimate road test on this challenge, and Shell will use the results to develop the formula further.
Shell fuel economy expert Roger Cracknell commented, "After extensive development and testing of this new Shell Fuel Economy Formula in a range of vehicles, we are delighted that Team Taylor is achieving such inspiring results. The only surprise to me is the way the fuels performance was maintained in such arduous conditions. This trip is acting as further testing for the new fuel and the increased mpg/km per litre, is helping to demonstrate its efficiency."
John and Helen Taylor began their journey from Waterloo Place in London on 17 January 2006, near The Reform Club, where Phileas Fogg began his fictional journey "Around the World in 80 Days." They are due to return to London in late March, setting a new Guinness World Record for fuel efficiency in a standard petrol-powered car.
To view day by day images from the journey and keep abreast of the Taylor's adventure visit: www.fuelchallenge.com
Don't miss out on the opportunity to win 2,500 litres of Shell fuel by playing "Guess the Gauge" on the website. See website for terms and conditions and country eligibility varies according to local promotion law.