Proton Tanjung Malim Plant – Building The Next Generation of Cars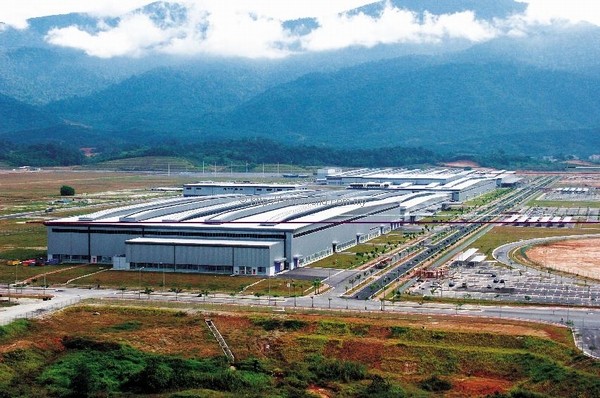 PROTON PLANT IN TANJUNG MALIM – MANUFACTURING A NEW GENERATION OF PROTON CARS
High efficiency and consistency of automation combined with the experience and finesse of manual practices is the foundation PROTON's state of the art manufacturing and assembly facility in Tanjung Malim is built on.
The technologically sophisticated facility integrates a skilled workforce of 2,000 personnel with the 180 precision robots making it the most advanced and exemplary manufacturing and assembly facility in the country and in the region outside of Japan and Korea.
Costing RM1.8 billion and occupying 1,280 acres, the plant is five times larger than PROTON's existing facility in Shah Alam, and houses five main complexes; the engine shop, stamping shop, body shop, paint shop, and trim and final shop.
This translates into optimizing operational costs by 20 per cent, and accelerating in reducing the man-hours per unit by 30 per cent. PROTON Tanjung Malim operates on a 95 per cent productivity level and has a pass ratio of 85 per cent compared to the 65 per cent pass ratio at Shah Alam. (pass ratio = number of vehicles passing through the line) The output per man has been increased to 100 cars.
In its first year, the plant is expected to produce 150,000 units. Fully operational, it is capable of producing up to one million vehicles per year, five times the capacity at Shah Alam that is limited to 230,000 units per year.
PROTON Tanjung Malim Plant
Construction of the new PROTON plant commenced in 1996, but was deferred in late 1997 as a result of the Asian economic crisis. In January 2001 work resumed.
Five times larger than PROTON's existing plant in Shah Alam, the Tanjung Malim automotive manufacturing plant is capable of producing multi-model products on a common line, allowing flexibility in production change to meet the changing market demands.
At Phase 1, the installed capacity will be 150,000 units per year and commercial production has already started in the first quarter of 2004. The design allows for expansion to 250,000 units per year and the plant has a maximum capacity of one million cars per year.
The core production buildings are the Engine, Stamping, Body Assembly, Painting, Trim and Final Assembly. Ancillary facilities include a Production Test Track, Consolidation Centre, Motorpool, Administrative Office complex (Visitors' Gallery, Customer Collection Centre, VVIP lounge, Theaterette) and a Sports Complex (with Indoor and Outdoor Stadium).
Total investment on these manufacturing facilities and its peripheral infrastructure cost RM1.8 billion (excluding investments in new models intended to be manufactured in the new plant as well as those development work within PROTON CITY for Housing, Schools, Town Center and amenities)
The Tanjung Malim plant is designed, at concept stage, to be one of the leading automotive plants in the region. Key features in the design of the manufacturing process are classified in five (5) main areas:
1) Lean Manufacturing Systems
Several Features have been incorporated in the assembly process to achieve a lean manufacturing environment.
Each individual line will be responsible for the quality of its output and will not pass rejects to the next process in the line. An inspection and repair station is installed at the end of each line to guarantee quality prior to transferring to the next line.
A door-less assembly concept – already used in the assembly of the Waja- is used, whereby all the doors of the car are detached from the main body after painting, conveyed to a door assembly sub-line for installation of the various door components. The completed doors will then be reassembled at the last portion of the assembly line matched to the original painted body.
A Human Error Proof (POKAYOKE) System in the assembly equipment is installed in critical and safety related torque devices (bolts, nut runners, wrenches, etc). Any operation missed by the operator will cause the line to stop automatically and the operator will need to manually reset the torque.
A modular component supply and assembly is another highlight of the Tanjung Malim Plant. A total of 14 modular components are developed during the design phase of the new models, resulting in a simplified assembly operation, 25% less components to be installed, elimination of sub-assembly lines to integrate the components, lower logistics cost and direct delivery to line. In addition, a system integrator of 1st Tier vendor concept is also applied to allow only components for immediate use at the production lines.
2) Worker Friendly and Conducive Working Environment
Several ergonomically designed assembly processes are introduced to the plant, aimed at creating a worker friendly production line. They include features such as power-assisted equipment for heavy components (tyres, batteries, cockpit module, doors, seats etc) and automation systems for critical installations.
The plant operates on 60 per cent automation with a total of 180 robots, of which 138 units are employed in the Body Shop, 31 units in the Paint Shop and 11 units in the Trim & Final Assembly. Overall automation levels of each shop are body 60%, Painting 32% and final assembly 2%.
For enhanced working environment the building ceiling height has been raised to 10-12 meters high, with ventilation louvers in the jackroof and employing wind powered turbine ventilators. To induce more natural lighting into the building, there is extensive use of glass window panes on the perimeter walls and the central jackroof.
3) ALC – Automatic Line Control
The ALC is the heart of the Tanjung Malim plant operations, integrating the various process functions of each shop. An Ethernet network links the process equipment, data feedback terminals, vehicle tracking, production planning programs, parts demand forecast, production performance monitoring into an effective management tool for production.
The ALC system provides real time information on PC's and strategically located Central Display Panels for quick action and response in the event of a line trouble. ALC can also broadcast information on production sequence and delivery information directly to the line side, therefore eliminating wrong specification build during assembly.
In critical assembly jigs in the body shop, ALC is linked to the jig controller and confirms that correct parts for the many variants of components are produced (a form of Pokayoke System). ALC also broadcast information to vendors for the confirmed sequence of cars on the line to facilitate parts supply arrangement.
4) Simplified Logistics
The Tanjung Malim Plant, being a Greenfield operation is an opportunity for the adoption of efficient logistics systems – JIT (Just-in-time), Kanban and Consolidation Centers – to realize up to 4 hours stocks of common parts. These concepts have been fully employed and proven even in Shah Alam operations, and further enhancements have been put in place.
For JIT parts, vendors are automatically notified via fax from the ALC system on the daily sequence of cars with adequate lead-time to deliver the right parts (colour, specifications such as Right Hand or Left Hand drive, quantity and correct variant) directly to line side.
A Vendor Industrial Park, located within a 1.5 kilometer radius of the plant, is currently being developed to allow for big, bulky and sequenced parts component suppliers to be located in close proximity.
FAST FACTS ON PROTON TANJUNG MALIM / MANUFACTURING PROCESSES
1. The plant has a 60 per cent automation level, allowing man and machine to interact more efficiently, productively and safely.
2. The plant has an Automatic Line Control or error proof system to assist workers to enhance on quality and achieve better production efficiencies.
3. PROTON Tanjung Malim is capable of producing multi-model products on a common line, allowing greater flexibility in production. Each line can assemble vehicles on three different platforms and produce up to nine different models at one time
4. Currently producing 4,000 units of the GEN.2 per month since the factory began operations in February 2004. It has also started delivering orders of the GEN.2 to the United Kingdom and Australia. The plant is being readied for two shifts that will allow it to produce between 6,000 and 9,000 units of the car per month.
5. It is equipped with 4,600-tonne transfer press, the largest stamping equipment and the biggest of its kind in the Southeast Asian region.
6. PROTON Tanjung Malim sets new standards for a more conducive, comfortable and safe working environment. Among the worker friendly features include a high roof concept and utilizing natural aspirated ventilations that channels a cooling effect into the complex, bright coloured floors, good ergonomics and brightly lit complexes.
7. In July 2004, PROTON Tanjung Malim was awarded the Conformity Of Production (COP) crtificate by the United Kingdom's Vehicle Certification Agency (VCA)*. The certificate is in recognition of the factory's ability to produce cars in line with the specifications, performance and requirements set by the UK for cars exported to the country and to the rest of Europe.
8. In September 2003, PROTON was awarded the prestigious ISO 9001:2000 certification by the VCA and SIRIM Berhad, the body to develop and maintain Malaysian Standards. This certification allows it to export cars worldwide.
9. PROTON's In-Plant Built-Up quality of cars, as of August 2003, has improved 4 times better over the past 8 years. From an average of 25 defects per car, it has been reduced to 6 defects per car rectified before cars being delivered to the distributors. In the first 200 days of ownership of GEN.2 the recorded defect per car was 0.83.
10. PROTON as of October 2004, enlists the services of 247 local vendors and 3,000 sub-vendors who supply more than 5,000 individual components and parts. A total of 108 vendors are Bumiputra companies. A total of 179 vendors have been audited by the TUV (European Standards Authority).
Note* : The VCA is a leading European approval and quality/environmental
management system certification body and the United Kingdom's national
approval authority for new road vehicles, agricultural tractors and off-road
vehicles.